International Literacy Day 2023: How a Home Chef is spreading smiles among underprivileged children in Gurugram
"The best way to find yourself is to lose yourself in the service of others." – Mahatma Gandhi.
There are very few people in this world who find immense joy serving others, placing the needs of others before their own without looking at their self-interest. These people represent a minority of the population but they do exist, and that is perhaps a reason why the world is a beautiful place to live in even today. One such person known for her kindness and acts of humanity is Samita Halder.
Gurugram-based Home Chef Samita is working to spread the light of education among underprivileged children, especially school dropouts. She not only enrols these children in schools but also regularly monitors their progress so that their parents don't discontinue their education and engage them in child labour. How did her journey begin?
Serving free meals during Covid-19 pandemic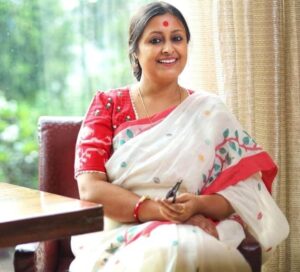 A masters in English and B. Ed, Samita has been residing in Gurugram since the last 9 years. Her husband is an Electrical Engineer and runs a consultancy firm.
Passionate about cooking, Samita started distributing home cooked meals free of cost during the nationwide lockdown in 2020. These would comprise simple meals low on spices like steamed rice, daal, mashed potatoes, mixed vegetable and egg curry.
On request from her friends who were battling Covid-19, Samita started cooking simple but nutritious meals and delivered them using food delivery apps. Sometimes she also went out to deliver the food all by herself.
Gradually Samita also started delivering food for essential workers like nurses and other hospital staff. Word of mouth spread rapidly and more people started calling her asking for home cooked food, but she never charged them a single rupee.
Talking to The CSR Journal, Samita Halder said, "My husband has been very supportive. When people started calling me for food, he asked me not to accept any kind of payment. However, people who have been taking meals for some time started offering me money requesting me to use the same for delivering free meals to medical practitioners and other essential workers during the pandemic."
Home Chef
Mother of a 20-year-old, today Samita is a successful Home Chef and enjoys huge popularity across Delhi and NCR for her amazing Bengali cuisine. She runs her own website, shares mouthwatering recipes on social media and also conducts cooking classes regularly.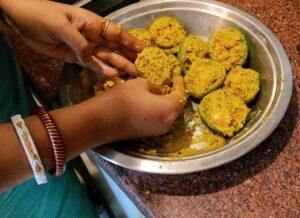 A native of Ashok Nagar, a town in the North 24 Parganas district of West Bengal, Samita focuses mostly on traditional Bengali and Bangladeshi delicacies, even vegetarian ones which many people outside Bengal are unaware of.
These include items like Tel ilish (Hilsa curry), Panta Bhaat (rice soaked and fermented in water mixed with mustard oil, chopped onions, green chilli and salt) served in earthen handi, Mochar Ghonto (Banana blossom sabzi), Ghugni (chickpeas curry), kochur shaak (colocasia leaf sabzi), Kochur Loti (Taro root sabzi), Shaplar Bhela Bhaja (batter fried water lily stem), Kakroler Pur Bhora (stuffed spiny gourd) and Bengali sweets which have been forgotten over time. A lot of items are enjoying a huge demand from consumers across Delhi and NCR.
Educating underprivileged children
Samita is also working for underprivileged children residing in and around Gurugram. She is associated with non-profit organisations like Robin Hood Academy and We Care Foundation.
She enrols children coming from underprivileged backgrounds such as migrant labourers, abandoned and street children to Government and charitable schools, especially the school dropout ones. She also buys school uniforms and stationery for these children.
Talking about this, she informed, "The process is not easy as most of these children do not have a birth certificate or any valid documents without which government schools or any other schools do not enrol students. I also regularly monitor these children's progress at school in order to ensure that their parents do not take them out of the school and engage them in child labour which is a common tendency."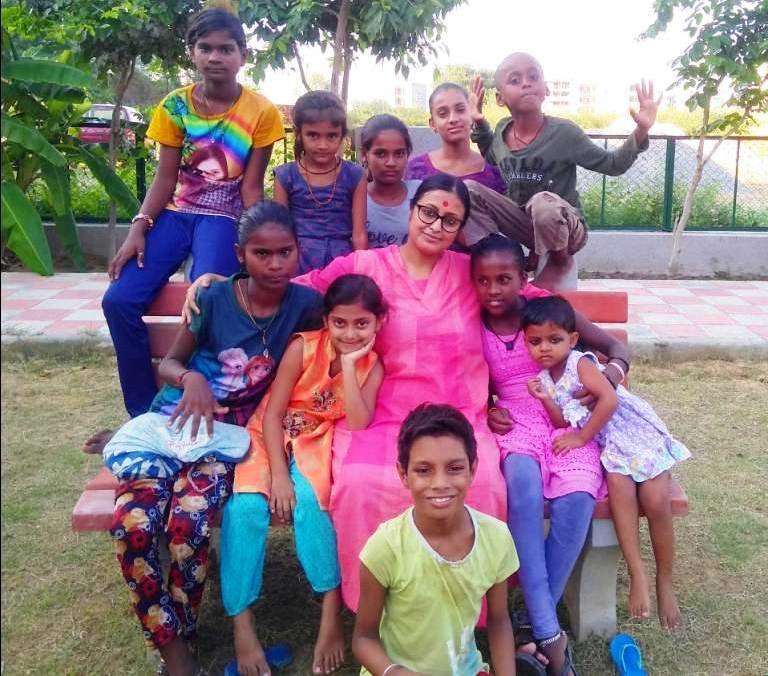 Spreading smiles
Not just ensuring education of these children, Samita also takes care of their other needs. The Home Chef has started dedicating all her free time for making colourful organic diyas. Children from Robin Hood Academy are also being taught to make diyas under her guidance. Almost 2000s diyas are being made which are organic, prepared without using chemical-based colours.
"I am sure we will be able to sell at least 1500 diyas ahead of the festive season. These will be sold ahead of Durga puja and Diwali and the money will be used for buying new clothes for these children on Diwali. I will personally take them to the market to buy clothes of their choice and size," Samita signed off with a smile.

Ahana Bhattacharya can be reached at ahana@thecsrjournal.in