Global CSR Report: De Beers Group Committed to 'Building Forever'
The De Beers Group is the world's leading diamond company, with unrivalled expertise in the exploration, mining and marketing of rough diamonds since 1888.
As the world's largest producer and distributor of diamonds, and in partnership with the countries where they operate, the De Beers Group considers it their responsibility to protect the natural world and improve the lives of people along a diamond's journey. This is why 'Building Forever' – their blueprint for creating a positive and sustainable impact that will endure well beyond the discovery of their last diamond – is at the heart of everything they do.
1. Contributing $10M in Response to COVID-19
Across the world, few people remain untouched by COVID-19. For the diamond industry, communities and partners, it will continue having far-reaching impacts for many years to come. Diamonds and the communities from which they come are intrinsically linked. It has therefore been imperative for De Beers Group teams around the world to work alongside partner communities and government leaders to understand what and where support is needed most.
As a result, alongside the provision of food, medical supplies and water, their response has focused on two key areas: firstly, sourcing and donating PCR testing equipment to partner countries to aid national testing, and secondly, aligned with their commitment to standing with women and girls, tackling Gender-Based Violence through a $200,000 donation to support services in partner countries.
In total, De Beers Group and their joint venture partners have contributed $10 million through their community response efforts to date, split between national relief funds and community and logistical support. As lockdowns ease, their teams continue providing support to aid the recovery of livelihoods and education.
1.1 Standing with partners
This pandemic has presented a burden of unprecedented proportions for many in the diamond industry, including suppliers, diamantaires, designers, jewellery manufacturers, craftsmen, sales ambassadors. Throughout it all De Beers has been working together closely to navigate this uncharted path. For example, they've held a series of open online events entitled 'Stronger Together' to share learnings across marketing, finance, innovation and human resources.
They also made their online Institute of Diamonds education course available for free for partners to expand their diamond knowledge during lockdown. Additionally, they launched a series of monthly Diamond Insight Flash Reports to share data on consumer behaviours, attitudes and expectations as they shift throughout the course of the pandemic. They continue to support and recognise clients who have provided cash and in-kind donations in response to COVID-19. This has included the distribution of fresh meals to local communities made by employees who normally cut and polish diamonds.
R&D and manufacturing expertise has also been provided, both to keep employees safe through AI technology to encourage social distancing, as well as to support response efforts. One client has been using their 3D printers to produce 10,000 face shields a day, and another creating a budget mobile ventilator unit. A further client was creating ventilator splitters in China to enable one ventilator to be used by two people.
2. CSR by Partners in India
Many companies across the diamond industry recognise their shared responsibility to continuously improve community, environmental, operational and supply chain practices to realise the shared ambition of creating an enduring impact for generations to come. Many of the De Beers Group business partners contribute to achieving the UN Sustainable Development Goals (SDGs) and have made significant progress thanks in large part to their dedication and innovation. Below is a snapshot of the initiatives De Beers Group are proud to be connected to through industry partners.
2.1 Providing comprehensive healthcare
Since 1997, the Bhagwan Mahaveer Cancer Hospital and Research Centre, run by diamond cutting and polishing company KGK, has been providing cutting-edge medical care to rural districts in northern India. The hospital contributes to the wellbeing of local communities by offering treatment to cancer patients who would find it difficult to make the long trip to Mumbai or Delhi. It also provides free care for those who live below the poverty line.
Extending care to those who have previously struggled to access it, the hospital has a unique reach throughout the region. An all-women cancer centre also provides focused support to the region's women, while the KGK-funded Dreamz Foundation ensures children suffering through illness can be supported with the appropriate care.
2.2 Making environmental care a community project
We all have a part to play in caring for the environment, and SRK, an Indian diamond cutting and polishing company, is demonstrating this through its approach to sustainability, which includes the wider community as much as possible.
The company leads an array of sustainability initiatives, including the planting of thousands of trees and a large-scale dam-building campaign in association with the Saurashtra Jaldhara Trust. Through a community-wide effort, 100 check dams have been constructed, helping to raise the ground water level of the region.
The Saurashtra region of Gujarat has suffered from chronic droughts since 2001 and SRK's check dam project has helped to increase the agricultural production of the area, positively impacting millions of people. Recognising that it has an important role to play as part of its community, the company has helped engage people in the ongoing care of their local environment.
2.3 Turning wastewater into a resource
Sustainability often requires reimagining established processes and accepted outcomes, particularly when it comes to reducing waste and making better use of natural resources. Cutting and polishing company Dimexon demonstrates this through their innovative environmental initiatives in Tamil Nadu.
One example is the multifaceted approach the company has taken to its water usage. Dimexon has created a sewage treatment plant, which cleans wastewater and reuses to irrigate the surrounding land. Water is also used in the company's efforts to limit pollution and rainwater reused it to flush toilets. Dimexon's approach to reusing its wastewater shows that rethinking traditional methods can have wide-reaching positive effects.
3. Leading ethical industry practices
Through their Best Practice Principles, they have set leading ethical, social and environmental standards, including on human rights and labour conditions, not just themselves, but for the whole value chain (operations, customers and their contractors) – more than 2,700 entities. They verify implementation of these standards annually through independently assured audits.
They also continue to invest in technology and innovative solutions to increase transparency around the provenance and journey of their diamonds, including through GemFair™ and Tracr™, and look for ways to improve the livelihoods of artisanal miners.
3.1 Best Practice Principles
In 2003 De Beers Group played a key role in the establishment of the Kimberley Process – an agreement put in place to eliminate the trade of conflict diamonds across international borders. However, they also wanted to apply best practices in other areas of the industry to ensure an ethical diamond supply.
In 2005, the company launched the strictest set of standards that the industry had ever seen: the Best Practice Principles (BPPs) Assurance Programme.
The BPPs ensure that all De Beers Group diamonds can be trusted to be conflict-free, abide by international human rights frameworks and labour regulations, alongside further rigorous ethical, social and environmental requirements. These standards apply throughout their value chain from exploration to retail, not only within own operations but as a mandatory requirement for all those doing business with them.
Each year, every entity, including their own business units, as well as our clients and contractors, must provide a self-assessment against every relevant standard. A randomised selection of these assessments are then independently audited and assured by a third party to confirm compliance annually. Failure to comply ends the working agreement.
When they launched the Best Practice Principles (BPPs) in 2005, it raised the bar for ethical, social and environmental standards in the diamond industry. The BPPs are widely available for all to study and learn from. Today, more than 2,700 entities and 350,000 workers across the diamond industry are covered by these exacting standards.
3.2 GemFair™
With an estimated 150 million people dependent on Artisanal and Small-Scale Mining (ASM), prohibiting ASM is not a sustainable option. Instead the De Beers Group is investing in programmes to formalise the sector, making practices safer and more transparent, improving livelihoods and fostering the sector's development as a trusted and credible source of diamonds.
In 2018, they launched the GemFair pilot programme, creating a secure and transparent route to market for ethically-sourced ASM diamonds from Sierra Leone using a digital solution to track and trace diamonds directly from their mine of origin. They also rolled out a set of sourcing guidelines, aligned with the OECD, with requirements relating to human rights (such as no child labour or forced labour), fair labour practices, business integrity, health and safety and environmental impact management, amongst others.
ASM miners who meet these standards are invited to use equipment provided by De Beers Group, including an app, a dedicated tablet and a diamond toolkit, to digitally record and log each diamond they find, making it harder for the diamonds to be swapped out or stolen. Though not obligated to sell through GemFair, the miners can also choose to sell through their buying office in Sierra Leone, which offers market value for diamonds and provides ASM miners with a competitive, fair, safe and transparent route to market should they wish to use it.
The group has also been rolling out training programmes for these miners around how the 4Cs contribute to diamond valuation, to better equip them with the knowledge of what their diamonds are worth, giving them a stronger position to negotiate a fair deal when selling their diamonds.
Following the success of the GemFair™ programme to date, they are looking to embed these standards and learnings through a regional training programme run in partnership with the Deutsche Gesellschaft für Internationale Zusammenarbeit (GIZ) and the Mano River Union to improve ASM practices in Sierra Leone, Liberia, Guinea and Ivory Coast.
The company believes it is important to support ethical practices across the whole diamond mining industry, so by 2030 they will deliver scalable solutions to improve the livelihoods of artisanal miners.
3.3 Tracr
Tracr is enhancing trust for the diamond industry by assuring provenance, traceability and authenticity of natural diamonds. Initiated and led by De Beers Group and built collaboratively with the diamond industry, Tracr is an inclusive platform, with current participants ranging from large producers, artisanal and small-scale miners and manufacturers to grading laboratories and retailers.
Tracr uses emerging technologies – the Internet of Things (IoT), artificial intelligence (AI), Blockchain and high-grade security and privacy – to create digital assets that represent each physical diamond registered on the Tracr platform.
A digital asset is created at the diamond mining company level, registering the diamond's country of origin and authenticity. The diamond and digital asset are then transferred to the next participant in the value chain, such as the company that cuts and polishes the diamond. Tracr continues to keep track of the digital asset along each step of the diamond's journey, from manufacturer to retailer and finally to the end consumer. The Tracr digital process looks at two key checkpoints: the diamond's transformation from rough to polished and a change in the ownership.
With many thousands of diamonds being registered every month, Tracr has successfully proven the ability to trace diamonds along the entire value chain. By connecting the diamond industry value chain via a common platform, Tracr documents the story of a diamond's journey, including the positive social and environmental impact it has made on local communities.
3.4 Diamond Dialogues
In 2007, the De Beers Group launched the Diamond Dialogue series, roundtable sessions with a range of stakeholders both within and beyond the industry to discuss important issues. These sessions are designed to provide an opportunity for open and constructive conversation across business, civil society and academia to learn from others and find collaborative solutions.
Over the years, Diamond Dialogues have provided a platform to engage on emerging – and sometimes sensitive – topics in a safe and constructive environment, such as risks facing the luxury goods sector, the influence of China in Africa, and the impact of technological innovation on jobs and development.
4. Supporting livelihoods in Botswana and South Africa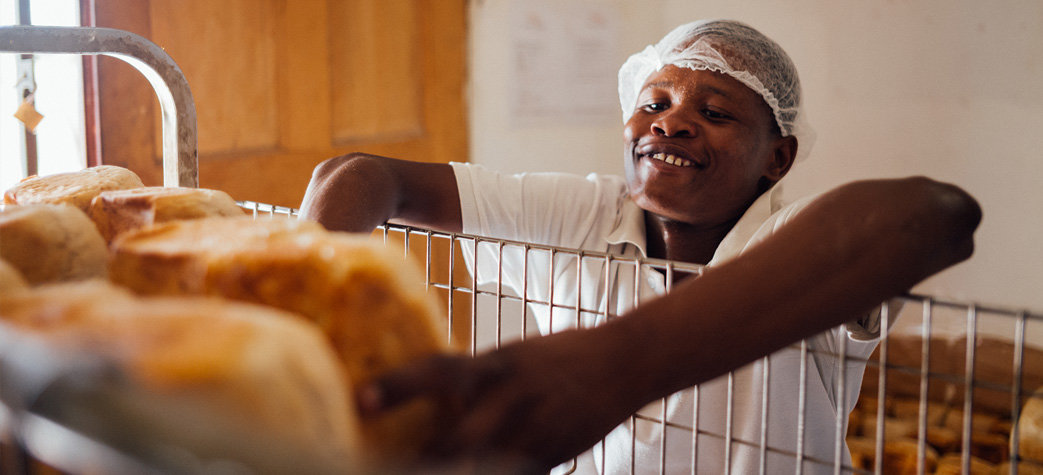 Central to ensuring a positive legacy of Building Forever is supporting economic diversification away from diamond mining. One way the company is enabling this is through CSR programmes that provide support for local small, micro and medium enterprises, including Zimele in South Africa and Tokafala in Botswana.
4.1 Tokafala
The Tokafala programme was launched in partnership between the Government of the Republic of Botswana, Debswana, De Beers Group and Anglo American in 2014. With Tokafala meaning 'to improve' in Tswana, the CSR programme aims to promote economic development and job creation by helping local entrepreneurs in Botswana develop the skills needed to build successful businesses through mentoring and access to market.
Tokafala also supports youth development through it's STRYDE (Strengthening Youth Development Through Enterprise), which supports young people with personal and professional skills to help find jobs and start and grow businesses.
4.2 Zimele
In South Africa, Zimele was launched in 1989. With 'Zimele' coming from the Zulu word meaning 'to stand on your own two feet, the programme supports emerging black-owned businesses, empowers entrepreneurs and supports job creation by providing funding, training, support and mentorship.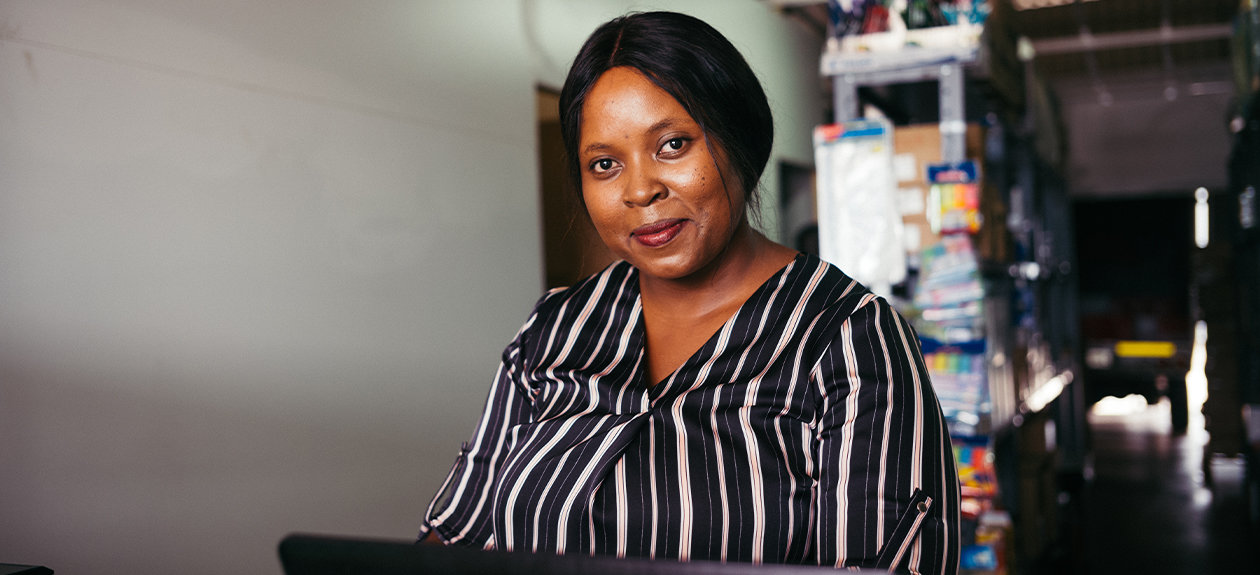 Tebello Makintane owns Pheregong Transport and Services and is a participant in the Zimele programme. She now supplies stationary to Venetia mine as well as offices and schools in Musina, South Africa. Says Tebello, "Zimele has done a lot through exposure, training and continuous assessments which helps track your performance and identify where your weaknesses are so you can improve. So it has been amazing working with them. There has been great support from Zimele."
5. Education
Through Anglo American's pioneering South Africa Schools programme, De Beers Group CSR is working in partnership with the Ministry of Education to provide inclusive and high-quality education for children in the communities where they have operations.
5.1 Botswana and Namibia
De Beers Group has a long history of building, assisting and running world-class schools around their operations. From supporting kindergartens to colleges, they are actively involved in enabling the next generation to thrive.
In Botswana, for example, the Government's careful stewardship of diamond revenues has transformed their education system. Before De Beers Group started operating in Botswana in 1966, there were just three secondary schools; today there are 300. Every child receives free schooling to the age of 13, and beyond primary school, education is 95% funded by the government.
Launched in 2018, the company is piloting the five-year programme around their Venetia operation in South Africa to improve primary school education, focusing particularly on reading, writing and numeracy, for children living close to the mining operations.
6. Moving Giants
The Venetia Limpopo Nature Reserve in South Africa is part of the De Beers Group Diamond Route. Whilst it is home to a flourishing ecosystem, its fertile lands and safe conditions created a unique challenge – too many elephants!
In 2018, working in partnership with Peace Parks Foundation, the company began the longest elephant translocation ever attempted – with the aim of moving 200 elephants 1,700 km to a new home in Mozambique.
Established in the early 1990s, the Venetia Limpopo Nature Reserve (VLNR) covers 32,000 hectares of incredible landscapes, from the lush riverine forests of the Limpopo River, to rocky ridges and ancient baobab trees. Home to over 400 species of birds, as well as numerous flora and fauna, the reserve sustains a diverse ecosystem. As the area can only adequately accommodate 60 elephants, they sought to help find a new home for 200 of the elephants that lived there.
6.1 Solution at Zinave National Park
With Peace Parks Foundation, a leading conservation charity focused on the preservation of larger cross-border ecosystems, they began to translocate the first of the elephants from the VLNR to Zinave National Park in Mozambique. In stark contrast to South Africa, Mozambique's wildlife population, including elephants, was depleted following a civil war in the country three decades ago. Despite being over 408,000 hectares, Zinave was home to fewer than 60 elephants before the translocation began.
6.2 A New Generation of Giants
Over 100 elephants have arrived at their new home in Zinave and have settled in well. There have been sightings of new elephant babies, the first to be spotted in the park for a long time. This positive news provides the first milestone to indicate the translocations have been successful, with the elephants successfully adapting and thriving in their new location.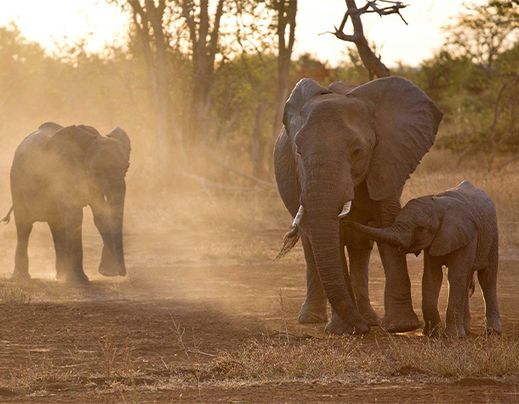 Since the elephants have arrived, the park has also seen a marked change, with numerous 'elephant highways' now crossing the sanctuary, enabling thicket-loving species such as nyala, kudu and bushbuck to thrive. Bird species not seen in the past few years are also now making an appearance. With a further 100 elephants to be moved in the coming years, the story continues.
7. Diamond Route
Through the 'Diamond Route', their dedicated ecology teams protect 200,000 hectares of land for conservation, making it one of southern Africa's most extensive and important conservation networks.
Diamond mines are, unsurprisingly, some of the most secure areas in the world. As a result, the land around their operations creates excellent conservation areas for flora and fauna, including many endangered species.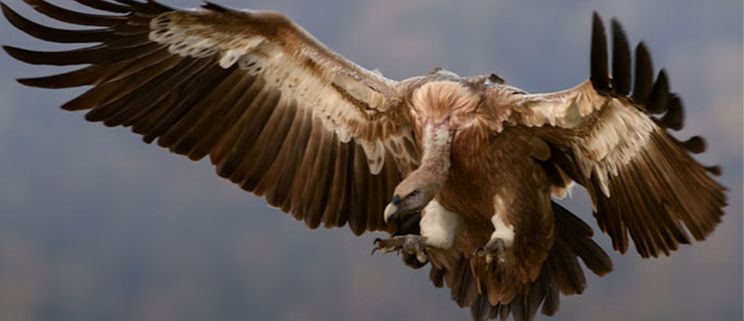 Comprised of eight different nature reserves in South Africa and Botswana, all with a strong diamond-related legacy, the network stretches from the Succulent Karoo of Namaqualand on South Africa's west coast, to the Venetia Limpopo Nature Reserve on the country's northern border, right up to the edge of the Makgadikgadi Pans in Botswana with the Orapa Game Park.
Alongside supporting a rich variety of wildlife and protected species, the reserves also host scientific research programmes with international universities, educational outreach programmes with local schools and tourists to support local economic development. The De Beers Group hopes that through the Diamond Route, they can ensure that nature's treasures are protected for future generations.
8. Equal Opportunity Initiatives
It takes continuous focus to identify and remove systemic barriers to social and economic inclusion. Equal opportunity will benefit us all. People at the De Beers Group therefore are implementing and continually strengthening programmes to support equal opportunities across all forms of diversity including gender, race, age, disability, sexual identity and orientation.
8.1 UN Women Partnership
In September 2017, the company partnered with UN Women to become a HeForShe Thematic Champion, and pledged to make a tangible difference. They agreed to invest US$3 million in CSR programmes that support women and girls in southern Africa and Canada, and committed to achieving parity in the workforce appointment rate and to ensuring that they are a positive force for gender equality through marketing campaigns.
8.1.2 #CountMeIn
HeForShe invites people from around the world to stand together as equal partners to speed up the pace of change around gender equality so this can be achieved in our lifetimes. #CountMeIn is a campaign designed to encourage as many people as possible, regardless of gender, to commit to HeForShe.
De Beers Group joined #CountMeIn on International Women's Day 2017, to encourage everyone to work together across the business to find solutions to support gender equality for the benefit of all. Since then, they have been raising awareness of HeForShe through the communities in which they work, with customers and within the diamond industry.
8.2 AWOME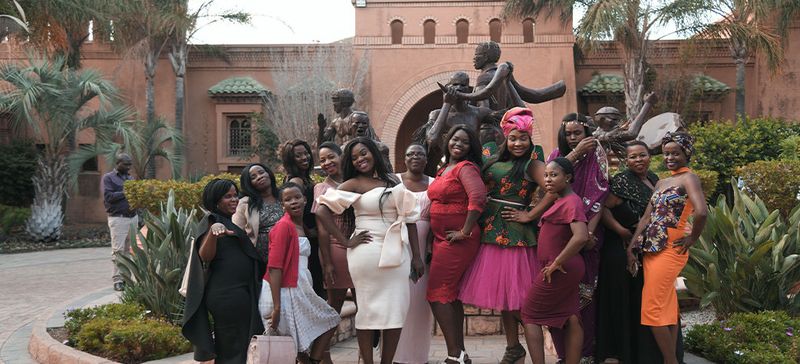 AWOME (Accelerating Women Owned Micro-Enterprises) aims to help women micro-entrepreneurs build their businesses, create more jobs and generate more secure income. The CSR programme provides mentoring, network, business and life skills training, which will in turn create new jobs, regular wages and a wider range of businesses to help local communities to thrive.
The programme uses a holistic model, upskilling and equipping local trainers to ensure the initiative will endure long into the future. Micro-entrepreneurs who are already involved in the training range from children entertainers, fashion designers and diesel mechanics to florists and farmers.
8.3 STEM for Women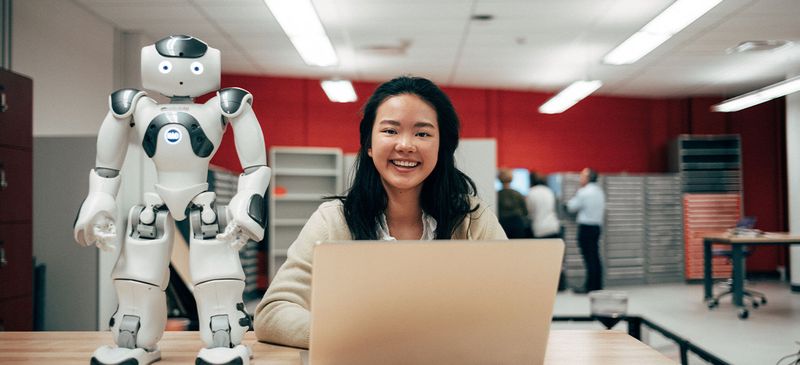 De Beers Group is partnering with UN Women and WomEng to provide opportunities for future generations to pursue studies in science, technology, engineering and maths.
8.3.1 STEM in Canada
Partnering with UN Women, the University of Waterloo and the University of Calgary, they are working to support female students with scholarships in science and engineering, with a particular focus on supporting women from indigenous communities in the Northwest Territories and northern Ontario. The aim is for more than 40 women to be sponsored over a three-year partnership with UN Women.
In addition to the scholarships, they provided funding through 2020 to sponsor 10 Grade 7 and Grade 8 girls from indigenous communities each year to attend the University of Waterloo's summer IMPACT Camps in Canada. The first three-day camp was held in August 2018 (followed by a second in August 2019) and saw the girls take part in interactive science experiments including ice-cream making using liquid nitrogen as well as cultural teachings and practices. The camps are aimed at building greater awareness and confidence in girls to encourage them to consider a career in the STEM fields.
8.3.2 STEM in southern Africa
In Botswana, Namibia and South Africa, they are working in partnership with WomEng, an award-winning organisation with a mission to develop the next generation of highly skilled women for the engineering and technology industries.
Through the partnership, they are investing more than $300,000 with the aim of encouraging young women to study STEM subjects and to pursue engineering careers. Through workshops, exhibitions and innovation challenges, high potential girls are supported from school age, through university and into their early careers, with access to application support, mentoring and networks.
8.4 De Beers Group Designers Initiative
De Beers Group Designers Initiative (DBGDI) is open to young and aspiring designers from producer countries, providing an opportunity to showcase their talents, and through the prestigious Shining Light Awards, win world class training opportunities to develop their jewellery design skills.
For over 20 years, the DBGDI has been changing lives for those involved. By providing skills development opportunities, the initiative provides a platform for diversification beyond mining and propels the evolution of the jewellery industry, developing the next generation of designers.
Through a two-year process, road shows are held to engage students from universities and technikons across Botswana, Namibia, South Africa and Canada, raising awareness of the initiative and the design approach. The process culminates in the Shining Lights Awards Finale, where the very best talent is selected from each country.
All Shining Lights finalists receive opportunities to further their design skills, with the winners each receiving a one year post graduate scholarship at one of the world's leading jewellery design schools: the Polytechnic di Milano in Milan, Italy. Runners up receive a three-month internship at the Forevermark Design and Innovation Centre in Milan or a one-year scholarship to attend training at a jewellery design school in South Africa.
Disclaimer: The contents of this article are extracts of the company's sustainability reports