Home
Press Release
Fujifilm India and Indian Cancer Society join hands for 'Cancer Mukt Dilli'
Fujifilm India and Indian Cancer Society join hands for 'Cancer Mukt Dilli'
Fujifilm India, a pioneer in imaging technologies, has strengthened its pledge to contribute to society's betterment and overall development by partnering with Indian Cancer Society in its flagship programme titled 'Cancer Mukt Dilli'. Emphasizing on the importance of 'Early Detection; Early Cure', the campaign will reach individuals living in semi-rural villages of Delhi NCR and belonging to the economically weaker sections of society. The aim is to generate awareness around preventive screening and provide patient support wherever needed.
Under 'Cancer Mukt Dilli', Fujifilm India along with ICS will screen 1000 individuals across camps in Delhi NCR, while 10 individuals will receive financial support depending on the fund utilization. The company will offer financial assistance of upto Rs 1 lakh per annum for curative cases. Trained volunteers will deliver cancer awareness talks and distribute informative pamphlets. ICS will amplify the campaign through social media and radio channels, electronic media and social networks to disseminate knowledge and spread awareness of the disease and its prevention.
Under the campaign, Fujifilm and ICS will set up around 10 camps across Delhi NCR where professionals will screen 100 persons at each Camp. Indian Cancer Society volunteers will also visit 16 leading hospitals in Delhi NCR to provide emotional and financial support to individuals affected with cancer. So far, we have set up 8 camps across Jwalapuri, Gurugram, Greater Kailash, Bhajanpura, Najafgarh areas of Delhi/NCR and have screened around 900 people.
This will help the general public to enhance their understanding and recognition of the disease in most commonly affected areas in the body, avail preventive screening leading to detection of disease at early stage, and commencement of timely leading to better recovery outcomes for the patient.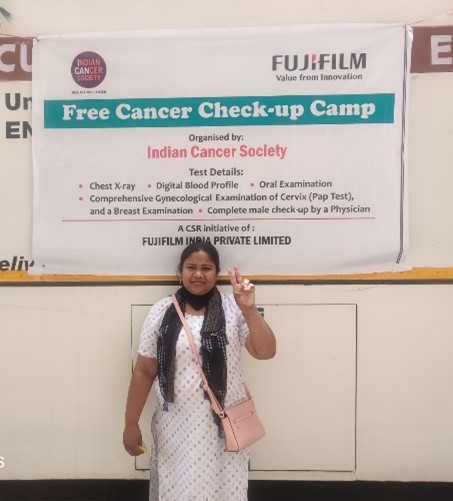 Speaking on the occasion, Mr. Koji Wada, Managing Director, Fujifilm India said, "Cancer has become a growing health concern in India, with cases being found in young people as well. Due to the pandemic, there was a downward trend in cancer cases in India because of lockdowns and COVID-19 taking priority. However, the disease continues to be one of high concern, and through our collaboration with the Indian Cancer Society, we hope to improve the understanding of cancer via campaign- Cancer Mukt Dilli."
"Fujifilm has always been dedicated to providing the most cutting-edge healthcare technology and advances in order to make healthcare more accessible to everyone. We will always strive to make the world a better and healthier place. With this campaign, we hope to slow the spread of the disease and contribute to India's goal of becoming a cancer-free nation," he added.
India's cancer rates are now rising at a substantially faster rate according to recent projections. Cancer, traditionally regarded to be a disease found in the elderly, is now a reason for concern among teens and youngsters as well. The country's cancer burden can be lowered by enhancing government health services, including universal health coverage, health education, treatment compliance, and community-based early detection centers.
Disclaimer: This media release is auto-generated. The CSR Journal is not responsible for the content