DP World and CCSE launch scholarship for girl students in Gujarat
Mundra, Gujarat: On Teachers' Day, DP World Subcontinent launched Pragati, a unique scholarship initiative promoting girl child education,in association with the not-for-profit arm of Innovative Financial Advisors Pvt Ltd (Fiinovation) – the Centre for CSR & Sustainability Excellence (CCSE).
The scholarships were announced by Adhendru Jain, CEO, DP World Mundra at an event held at the MICT Township in Mundra, Gujarat, in the presence of Dr. L. V. Fafal, Principal, S.D. Shethia College of Education, Dharmendra Karan, Director, Yusuf Meherally Centre, and Sudhanshu Jain, General Manager, Programme Operations, Innovative Financial Advisors Pvt Ltd, along with Principals from 15 regional/government schools and representatives from Saath, an Ahmedabad-based NGO and implementation partner for the scholarship initiative.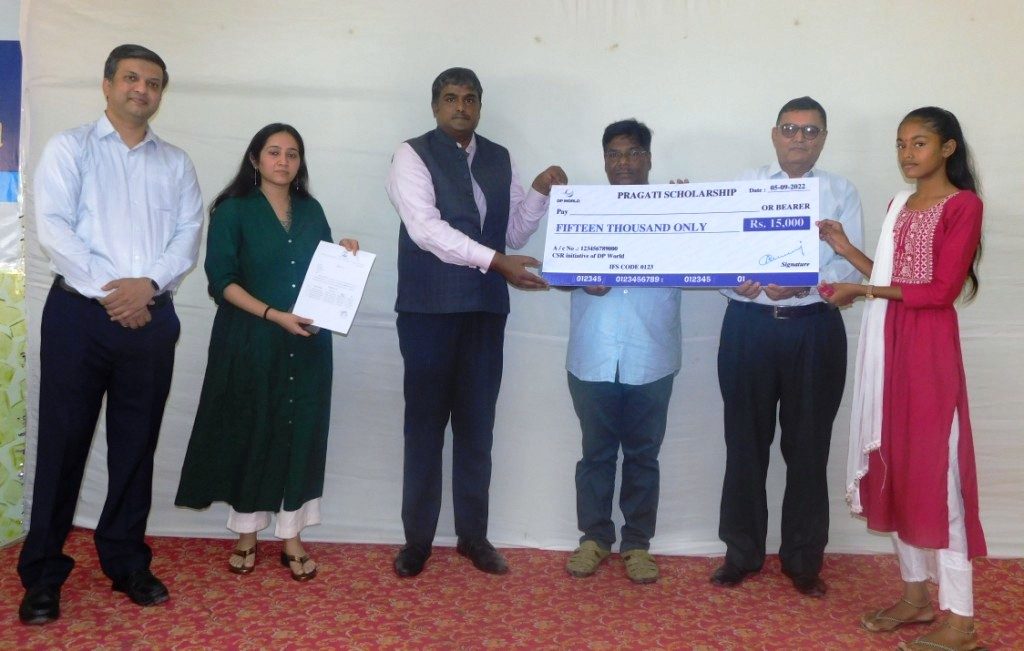 The launch was attended by 65 girls receiving the scholarship in its pilot year, as well as their parents. Over the next three years, DP World aims to support 120 girl students through this initiative.
Commenting on the occasion, Adhendru Jain, CEO, DP World Mundra said, "At DP World, we believe in the right to quality education, and are committed to creating accessible education for all. The pandemic was a deterrent for many students due to the prolonged school closures, which unfortunately led to an increase in dropouts.Through the Pragati initiative, we believe we can make a difference and empower each of these girls in the community around Mundra to spread her wings and fulfil her career goals helping them create better futures for themselves and for the country".
Dr. Soumitro Chakraborty, CEO of Innovative Financial Advisors Pvt Ltd and Chairman of CCSE, said, "The pandemic has gravely impacted universal access to education for all, affecting education of girls the most. Owing to inherent gender prejudices, education of girls has been disproportionately affected. We are certain that this scholarship programme will positively aid the education landscape and bring out the students' potential."
'Pragati' seeks to benefit students from lower-income families, who are facing difficulties in completing their high-school education due to COVID-led economic stress. The scholarship programme will cover education-related expenses for each academic year from grade 10th to grade 12th.
The Pragati scholarship aims to nurture girl students, providing them an opportunity to pursue their dreams and advance their careers. We believe these students will in turn educate and influence their peers and help in furthering the cause of education. Pragati focuses on the upliftment of the students, through the creation of a robust mentorship mechanism. This also involves the creation of peer groups for learning through interaction.
Disclaimer: This media release is auto-generated. The CSR Journal is not responsible for the content.