The Ultimate CSR Report of Tata Motors
Tata Motors Limited is a leading global automobile manufacturer of cars, utility vehicles, pick-ups, trucks and buses. Tata Motors' focus on engineering and tech-enabled automotive solutions, catering to the future of mobility, has made it India's market leader in commercial vehicles and one of the top four in the passenger vehicles market. From its brand promise of 'Connecting Aspirations' arises the Company's innovation efforts that aim at developing pioneering technologies that are both sustainable as well suited to the evolving aspirations of markets and customers.
Tata Motors has released its 8th Annual Corporate Social Responsibility (CSR) Report highlighting its comprehensive efforts to address societal and environmental challenges in FY22 while fostering inclusive growth to drive impact and promote sustainable development and nation-building.
1. Healthcare Initiatives
Tata Motors aims to build a stronger and healthier today and tomorrow for India's children to address malnutrition among children between birth and the age of six. In addition to augmenting diets and providing nutritional supplements to malnourished children, Tata Motors also focuses on behavioural change and awareness building in the community to accomplish sustained health. Tata Motors also extends preventive and curative health care services to both infants and their mothers.
1.1 Fortifying Against Malnourishment
Malnutrition and related issues can be prevented if the community is saturated through awareness and interventions that address the first or golden 1000 days of a child. At Pune and Sanand, Tata Motors has adopted a comprehensive approach to, on a sustained basis, make undernourished children achieve a healthy status via clinical as well psychosocial methods. Each year, nearly 600 malnourished children at Pune receive nutritional supplements under the supervision of the Company's team, while the lives of 200 children at Sanand are being positively impacted. In FY22, 95% of malnourished children in Pune became healthy on sustained basis, Sanand has achieved 100%.
1.2 COVID-19 Vaccination
The culture of inclusivity was the determining factor in Tata Motors setting the target that no eligible person in its communities would be left unvaccinated against COVID-19. In order for the decision to vaccinate 100% of its communities around TML's operations to be effective, planned deployment of resources, convergence with Government efforts and rapid rollout was imperative.
Rather than take a standalone approach Tata Motors converged its efforts with that of local Governments to bridge gaps in their programmes and scale up their efforts. A critical gap was access to remote communities, which was bridged via the introduction of mobile vaccination vans, adding mobility and enhancing coverage of India's vaccination programme where Tata Motors operates.
Through the Sumant Moolgaokar Development Foundation, Tata Motors deployed customised, fully-equipped Mobile Vaccination Vans in October 2021. The Vans transported personnel and vaccines across rural areas and administered vaccines at the doorstep of beneficiaries
The Company supported Government agencies in zones with vulnerable communities, an initiative that will continue for the next two years providing vans and human resources, after which it will extend support for generic health services. The Government is ensuring the availability of vaccines, and coordination between the health department, Block Development Officer (BDO) and Taluka Medical Officer (TMO), besides mobilising communities and supporting online registration (COWIN App). The Indian Red Cross Society is implementing the project via its State Chapters and Company-floated Societies, providing updates on coverage and impact. Red Cross will also implement generic health interventions after the two-year period is over for the succeeding five years.
2. Education Initiatives
The Indian Education System is one of the largest in the world, with more than 1.5 million schools, 8.5 million teachers and 250 million children from varied socio economic backgrounds. The pandemic resulted in 250 million students being affected due to school closures.
After the onset of the pandemic, rather than allow any child from its communities to be excluded from having access to education, Tata Motors opted to work with its stakeholders, set stretched goals, take unconventional routes and leverage digital platforms to ensure its initiatives continue unabated. The effort expended in doing so also opened opportunities to scale up its programmes rapidly.
2.1 ENABLE Initiative
The Engineering and NEET Admission Bridge Accelerated Learning Engagement (ENABLE) initiative of Tata Motors is an e-enabled remote learning programme that grooms and coaches students of Standards XI and XII from 477 Jawhar Navodaya Vidyalayas (JNVs) across the country to appear for JEE and NEET competitive examinations, for Engineering and Medical colleges, respectively.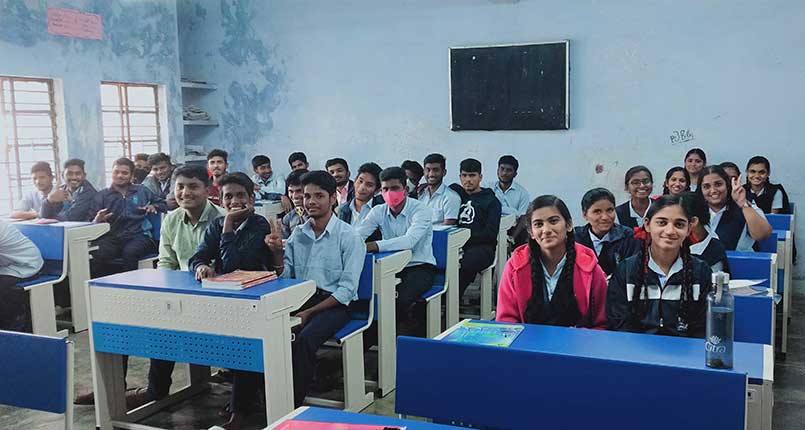 JNVs are co-educational free residential government schools that house talented and meritorious students from Rural India and are among the highest-ranking CBSE schools. Its central governing committee, the Navodaya Samiti (NVS), has successfully nurtured academic aspirations among the students by ensuring 100% of their students clear the CBSE board exams. However, training JNV students for leading professional institutes was a major challenge because private coaching classes for medical entrance tests and IIT JEE is unaffordable for the students. Tata Motors acknowledged this gap and joined hands with NVS to provide JEE and NEET coaching to all JNVs students from the science steam across India via the virtual mode
It began with a residential Centre for Excellence in Puducherry in 2014, later expanding to ~80 plus schools in 2019 by offering advanced coaching during the vacations (Summer and Winter) with rigorous doubt-solving undertaken during the rest of the year. This programme went entirely virtual in 2021 post the Pandemic. Remote learning offered by Tata Motors now reaches 477 JNVs in 26 states and eight UTs. It was Tata Motors' agility in responding to the lockdown and school closure that led to the inception of this remote learning model that addressed the learning gaps and digital divide among JNV students.
The teachers, deployed by knowledge partners Avanti Fellows and Ex Navodayan Foundation, broadcasted the classes to students' homes with homework and weekly tests during the COVID lockdown and the at-home learning phase. Now with in-school learning commencing, classes are conducted and broadcast live through YouTube by master teachers. The programme reaches out to each individual to ensure attendance and monitor performance. Telegram app and WhatsApp are used extensively for grouping, communicating, doubt-solving, etc. Teachers are constantly available online to respond to the queries of students.
In FY22, Tata Motors has helped 3400 students enrol in India's top engineering and medical schools, 40% of which have been women, under this initiative.
2.2 Technology Aids Coaching
Students attending the Pre-Matric Coaching Centre (PMC), run by Tata Motors through Shiksha Prasar Kendra, were performing exceeding well, benefitting under the daily guidance of the teachers, as they worked diligently to improve their academic performances. But the disruption caused by COVID-19 had brought their coaching classes to a halt, threatening to wreck their plans.
Prior to the pandemic, the Tata Motors team at Jamshedpur had launched free coaching classes for economically underprivileged rural students from Scheduled Tribes and Scheduled Castes communities, Other Backward Classes and others. But the pandemic added a seemingly insurmountable challenge to an already hard life. Their financial condition and lack of resources were certain to impact their education drastically.
The lockdown, containment measures, social distancing requirements and quarantines all made matters worse. Since the students could not venture out and it was undesirable for them to attend the classes physically as they did earlier, PMC took up the challenge to fit the classrooms into the screens of the computers and mobile phones of students. To mitigate the impact of the adversity and recoup lost time, the PMC kept the students connected with online classrooms without allowing them to lose interest. The introduction of online classrooms encouraged students to stay motivated and develop resilience against any pandemic-induced anxiety. The result of the earnest endeavours of the teachers at PMC is now evident in the grades secured by their students.
In the year 2019-2020, several students scored more than 80% marks, in matriculation, despite the challenges of COVID-19.
2.3 Scholarship Programmes
The COVID-19 pandemic had its harshest impact on the lives of those from vulnerable communities. While the impact on children is not readily evident, the impact of having the classroom and school environment taken away from them as well inequity inflicted by the digital divide is likely to be evident in the years to come. Some, especially girls, were even forced to work to augment family incomes or care for their siblings.
At Pune, Tata Motors immediately took recourse to address this looming challenge. The Girl's Scholarship Programme is intended to stem dropout rates among girls from Standards VIII to X and delay marriage until the beneficiary attains 18 years of age. In addition, it aims to resolve complex problems associated with poverty, such as forced labour, school dropouts, social injustices, or inequalities. A constant effort will also be made to guide and motivate children and their families to understand the importance of education, with the need to be given a chance to have a brighter future
In 2021, Tata Motors, Tata Auto Comp Systems Ltd and Forbes Marshall launched a joint initiative to offer a Girl's Scholarship Program for communities around Tata Motors' Pune operations
The objective is to assist meritorious girls from lower-income families to continue their schooling and to encourage them to pursue higher education, leading to career opportunities and to becoming financially independent.
3. Employability Initiatives
India's employability index improved from 45.97% in 2020-21 to 46.2% in 2021-22. The gender gap in employability is also improving, with the pool of employable women steadily rising 51.44% of women are highly employable, while 45.97% of men are highly employable.
Tata Motors provides employability skill training, especially to youth who dropped out of school in three areas; Auto & Technical Trades, Non-Auto Training as well as Agri & Allied Training.
3.1 Learn Earn and Progress ( LEAP )
The Learn Earn and Progress Programme (LEAP) imparts automotive skills (service technician) to youth from underprivileged communities. A flagship programme of the Company has grown from being available at two institutes when initiated in 2013-14 to 2021 being available at 60 institutes, with a footprint across 16 states. Preference is given to youth who have dropped out from Standards X and XII, who, if they remain unskilled and unemployed, may be susceptible to unlawful activities.
Deployed via a public-private partnership model, LEAP is offered at member Industrial Training Institutes (ITIs) under Skills for Progress (SKIP), Tata Motors dealers, and Authorised Service Stations (TASS).
Trainees receive theoretical knowledge at the ITIs for three months, followed by nine months of on-the-job training with a stipend provided by Tata Motors and TASS. Once they complete their training, youth are assessed and certified by Automotive Skill Development Council (ASDC).
3.2 Skilling the Rural Women
Rural women were forced to compete with men for daily wage labour opportunities because of the job losses, rise in unpaid domestic work, limited or no work opportunities for the men of the house and limited mobility Covid-19 pandemic. Families were surviving on scarce resources, and the sudden influx of job seekers within the village after the return of migrants imposed inordinate mental and physical trauma on rural women. The women of the Ahmedabad district near the Sanand plant of Tata Motors were no different.
The adverse economic impact on them was the driver for the Company to bolster an already popular Non-Auto Trade Training programme of the Company, to provide much-needed succour. The Company's skill development and vocational training courses helped women in the district become employable, benefit from opportunities and attain financial independence.
The Company began actively promoting training under Kaushalya's Sewing Machine Operator (SMO) programme in the villages under the Bavla & Viramgam blocks of Ahmedabad district. Initially, only a handful of girls and women obtained permission from their families to enrol despite many being willing to join. Their families were apprehensive about them living away from home for the residential training programme. Some even doubted their ability to acquire a new skill. But once the Tata Motors team counselled their parents and explained the future prospects of the women to their families, persuading them to enrol at the training centre, a wondrous journey began for the women.
Any apprehensions that the trainees held of their own capabilities were erased on the first day of training, which focussed on instilling confidence in these rural women and making them believe in their basic abilities. Once all impediments to their progress were removed, the women thrived; their zeal to learn saw them attempt a wide range of garments in addition to acquiring the skill of running a business.
A group of confident 215 women finished the Sewing Machine Operator training successfully, marking the first step towards self-reliance. Of them, 102 were recruited by Arvind Mills at a starting salary of Rs. 9000/- per month. But once again, they faced the challenge of obtaining permission from their families to go out to work. Their struggle to break the shackles of dogma was compounded by the daily struggle to get to work and spend the day away from home. But as the women grew and began earning, these challenges soon ebbed away as family members appreciated the financial benefits of a stable income, and the members of the community acknowledged the benefit of having confident, upwardly mobile, aware women within them.
4. Environment Conservation Initiatives
The total forest cover of the country is 7,13,789 sq km or 21.71% of the geographical area of the country. The India State of Forest Report (ISFR) 2021 shows an increase of 1,540 sq km (0.22%) of forest cover, 721 sq km (0.76%) of tree cover and 2,261 sq km (0.28%) of forest and tree cover put together compared to the 2019 assessment.
Tata Motors had been planting one lakh trees annually and now has taken an aspirational target to plant about five to seven lakhs saplings annually across its plant locations, enhance awareness of the environment among school-going children and encourage communities to use non-conventional and renewable sources of energy to prevent the felling of trees.
Tata Motors has developed a unique, nationwide participatory model to plant over one million trees to benefit 4000 farmers across its locations. Partners in this process are the Government, beneficiary communities, NGO partners and the Company. The aspirational target is to ensure that in the next five to 10 years high, yielding fruit trees begin reaping economic benefits for tribal communities, providing them with food and income security.
Conclusion
Cumulatively, Tata Motors' efforts positively impacted over 7.9 lakh lives during the year, with over 40% of beneficiaries coming from SC and ST communities. The Company spent Rs. 23.7 Crores on its CSR initiatives in the last financial year.