CSR Report: Piramal Enterprises Spent Rs. 68.86 Crores on CSR in FY 22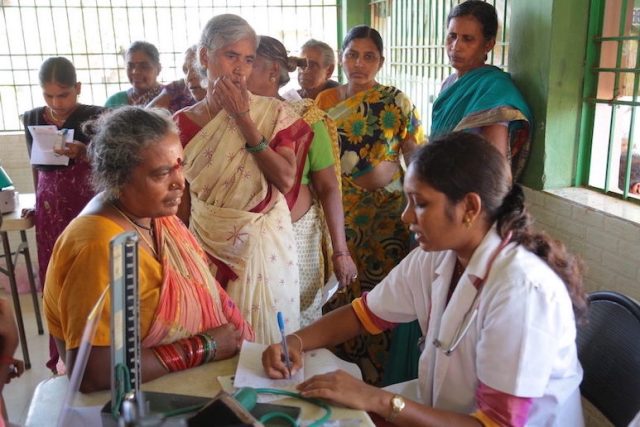 Piramal Enterprises Limited (PEL) is one of the large listed companies in India, with a presence in Pharmaceuticals and Financial Services. Within Pharma, the Company offers a portfolio of differentiated products and services through end-to-end manufacturing capabilities across 15 global facilities and a global distribution network in over 100 countries.
Apart from its business operations, the company has been reaching millions of people through its CSR initiatives. It focuses its CSR campaigns mainly on Primary healthcare and nutrition, and Education Leadership and Women & Youth empowerment. The company conducts a majority of its CSR initiatives through the Piramal Foundation.
1. Piramal Foundation
Piramal Foundation, the philanthropic arm of the Piramal Group, is a Section 8 company that develops innovative solutions to resolve issues that are critical roadblocks towards unlocking India's economic potential. With sustainable development at its core, the foundation, which was set up in 2006, has been diligently working towards providing healthcare & nutrition and education across India, largely in partnership with the central and state government. It has succeeded in creating a better life for people and has impacted over 120 million lives.
2. COVID-19 Response
The COVID-19 pandemic has been a health as well as an economic crisis that has deeply affected the lives
of millions around the world. During these trying times, the company adapted quickly across its operations to support all stakeholders. Piramal Foundation collaborated with NITI Aayog and the district administrations, re-aligning its strategy and strengthening its response in dealing with the direct and indirect impacts of the COVID-19 outbreak.
The company helped galvanise the pandemic response mechanism of 25 districts in India. It supported the district administration in operationalising COVID-19 care centres. It ensured the supply of PPE kits, masks and sanitizers. The company strengthened the First Referral Units and Isolation Wards in various districts. It also monitored quarantine norms adherence and the health of migrants who returned home.
In addition to this, Piramal Foundation helped track over 115,000 suspected cases and trained over 56,000 frontline workers on the MoHFW (Ministry of Health and Family Welfare) COVID-19 training protocol. It also sensitised and briefed 950 faith leaders and 22,065 Panchayat Raj Members about COVID -19 related myths and misconceptions and encouraged them to play a key role in addressing those myths and misconceptions within their communities.
The foundation piloted the m-TMC (Door to door Mobile Telemedicine Consultation) initiative in 23 blocks in 5 districts of Bihar and in selected non-aspirational districts in Assam for high-risk pregnancy (HRP) cases. 2,454 cases were registered and 109 teleconsultations were conducted with the doctor till March 2021. A COVID-19 response telemedicine centre was set up in the Sheikhpura district of Bihar to track home-isolated COVID patients and ensure that the protocols are maintained and reinforced.
SARATHI 104 helplines in Assam was aimed to roll out government initiatives such as the 'Assam Cares Migrant' initiative, supporting Assamese stranded in other states. Monon, mental health counselling program, and Dhanwantari, a door delivery of medicines to patients program during the lockdown were initiated. Between March 2020 to April 2021, a total of 210,885 calls were received and 1,229,786 were made from the health helplines in Assam.
Helplines responded to COVID-related health-related queries, mental health-related calls, and grievance resolution. A total of 968,540 COVID calls were received at the health helpline service in the eight states between March 2020 – April 2021. The Health Helpline in five states (Assam, Bihar, Chhattisgarh, Jharkhand and Himachal Pradesh) responded to over 23,900 COVID vaccination-related calls between January to March 2021.
3. Education Interventions
Piramal Foundation for Education Leadership (PFEL) aims to bridge the gap in the education system to provide children with the opportunity to progress. It started its intervention with a focus to improve learning outcomes in public schools in India by supporting public education system learners to bring about a self and systemic behaviour change. During the year, PFEL dedicated its efforts to finding innovative ways to minimise the impact of COVID-19. It created active forums to support stakeholders, including government officers, teachers, headmasters, students and internal staff.
The company converted the Piramal School of Leadership at Jhunjhunu, Rajasthan into a dedicated COVID-19 Isolation Centre by the state medical department. It optimised digital platforms and technologies
to screen-deliver learning at home, facilitating teacher-student connect through WhatsApp, Teams, Zoom, etc. It leveraged smartphones and the internet to ensure learning continuity.
Digi-Sath initiative in Jharkhand drew special appreciation from the Government. The foundation launched the 'Google BOLO App' across Rajasthan to improve language proficiency through interactive stories. This has been planned to get implemented across 65,000+ schools catering to 3,300,000+ primary students, class 1-5, as well as children in Anganwadis.
In addition to this, the company's State and District teams trained Block Resource Coordinators (BRCs), Cluster Resource Coordinators (CRCs) and other officials on efficient and effortless use of technology. This was followed up with special training sessions for teachers and headmasters on differentiated content and pedagogy to ensure effective online teaching. The company worked with State Council for Educational Research and Training and other related institutions to create relevant content for enabling regularity in the delivery of learning material.
3.1 Saksham Bitiya Abhiyaan (SBA)
Under the guidance of NITI Aayog, Piramal Foundation rolled out SBA to maintain the continuity of education of underprivileged girl children in the post-lockdown phase of the pandemic. It has supported 163,000+ girl children so far. Keeping in mind the ground realities of socio-economic constraints and the lack of digital education infrastructure for families in remote areas, the campaign has a two-pronged approach:
Learning through art, theatre, poetry, sport, health and wellness: A curriculum that helps the girl child cope with her life and prepare her for the future, where she is learning and deriving joy from it.
A safe zone for the girl child where she can learn, share, and seek guidance from a young woman volunteer to ensure her a fear-free environment to learn.
3.2 Centres of Excellence
Centres of Excellence (CoE) are the creators and distributors of original and high-quality knowledge to build education leadership in the country. Under the District Transformation Program (DTP), 'CoE- Demo Schools' developed and contextualised foundational learning content with National Education Policy (NEP) 2020 for ensuring the holistic development of children.
Likewise, 'DTP CoE- Coaching & Facilitation' developed support mechanisms to respond to the community needs in the COVID-19 crisis besides enabling middle managers to optimise learning in the post-COVID environment.
'STP CoE – Jhunjhunu Innovation' designed a Lite-Touch Implementation Strategy for Panchayat Elementary Education Officers, Master Teachers, District Institute for Education Training and Child Development and Education Officer to orient them on the roadmap and relevance of implementing PISA-aligned Project-Based Learning and Home-based Mini Projects. These centres are a very effective tool for capacity building in our education system.
3.3 Karuna Fellowship
Karuna Fellowship is a 2-year program that aims to empower women and equip them to be financially independent. The first batch of the Fellowship has 183 Karuna Fellows. 78 Karuna Fellows with non-Math and Science backgrounds are now certified coders under the Code-Star program. Fellows are also learning core 21st-century employability skills.
4. Healthcare Interventions: Piramal Swasthya
Piramal Swasthya is one of India's largest non-profit organisations in the field of public primary healthcare. It strives to make basic healthcare accessible to everyone with a focus on maternal, child and adolescent health & nutrition, and non-communicable diseases. Piramal Swasthya has 35 programmes currently active in 21 Indian states.  It has cumulatively touched 120 million people in India through our healthcare initiatives and interventions. Under this, there are several programs that the company undertakes.
4.1 ASARA
The programme focuses on maternal and child health. It is executed in collaboration with the Integrated Tribal Development Agency for the socio-economic development of tribal communities. The program has a unique delivery model for extremely remote, hilly and difficult-to-access tribal habitations in Araku Valley, Andhra Pradesh. It includes monthly Ante-natal Care (ANC) and postnatal care (PNC) provision, counselling and social interventions, and training of traditional birth attendants. In addition to this, it provides for promoting institutional deliveries and health education to adolescents in 925 habitations across six mandals of the Araku valley.
This project has served over 10000+ women's lives in the project area.
4.2 Aspirational District Transformation Programme
Piramal Foundation partnered with NITI Aayog and the Government of India (GoI) to provide support and bring transformation in Health & Nutrition indicators in 25 aspirational districts across 7 states in the country, which led to the inception of the District Transformation Program (DTP). The team is actively engaged in COVID-related initiatives.
The following were covered under the program:
– 461,471 pregnant women
– 420,472 lactating mothers
– 870,286 children under 2 years
– 1,338,902 children under-6 years
The teams are also engaged in pandemic-related support activities to the district administration. These include facility preparedness, creating awareness on COVID-19 protocols while also bursting myths and misconceptions around it. A total of 60,943 frontline workers; 32,737 Panchayati Raj Institution members and 966 interfaith leaders were trained. Further, a continual follow-up with 2,164,463 suspected/high-risk cases was done.
4.3 SATH
Sustainable Action for Transforming Human Capital (SATH) initiative commenced in 2020 to improve various elements of the public health system in Assam. The SATH team plays a catalytic role in ensuring this transformation by working closely with the state machinery.
Key achievements are:
– Assessment of governance and review mechanism at various health facilities
– Assessment of health-related supply chain process in Assam
– Preliminary evaluation of the Non-Communicable Diseases (NCD) landscape in the state
– Recommendation on Community Action on Health (CAH), a strategy under National Health Mission addressing high-risk pregnancies in the state
– Established '104' telemedicine hubs for Sanjeevani Mobile Medical Units (MMUs)
– Established Health and Wellness Centres (HWC)
– Organised Village Health and Sanitation Days (VHSNDs)
– Working closely with the state government in strategizing and implementing various schemes and initiatives to address the COVID-19 pandemic
4.4 PRERONA
The programme on 'Integrated Health Care Model' in Majuli, Assam was implemented to improve institutional deliveries to reduce maternal and infant deaths and mortality risk among patients with Hypertension and Diabetes through early detection, treatment and follow up.
Majuli is an island district with critical healthcare needs with 50% of the population being tribal.
Salient features of the project were:
– Community outreach through 4 mobile medical units,a boat clinic and teleconsultation in coordination with Jorhat Medical College.
– An intensive effort on community awareness and engagement efforts was carried out.
– Even though the regular programmes had to be realigned due to the pandemic, follow-up of ANC and NCD cases continued.
– Supported the local government's effort for COVID-19 screening; screened 1,895 individuals across 125 villages.
– Helped the local District Flood Relief Committee in planning health camps at the flood relief camps in Majuli and screened 3,592 beneficiaries covering 141 villages in 2020.
4.5 UMMEED
Piramal Swasthya has launched a cancer screening programme called Ummeed in association with CARE Hospitals in Hyderabad. The programme focused on stakeholder management, community engagement, cancer screening and hospital engagement. Working with the Department of Health and the Department of Rural Development, the programme aimed at sensitising the frontline workers and influencers along with community awareness sessions. Community-level screening was conducted at the mobile medical unit and those screened positives were referred to CARE hospital for further screening and treatment at a reduced rate.
In conclusion
Piramal Enterprises Limited has been actively pursuing its CSR initiatives in India to contribute to nation-building. In FY2021-22, the company spent Rs. 68.86 Crores on its CSR initiatives and touched the lives of 11.3 Crore people.