The Ultimate CSR Report of Godrej Consumer Products Limited
Godrej Consumer Products Limited (GCPL) is a consumer goods company under the Godrej Group. As a leading emerging markets company, GCPL enjoys the patronage of 1.2 billion customers globally.
In the fiscal year 2020-21, Godrej Consumer Products Ltd. (GCPL) spent Rs. 34.08 crore on its CSR initiatives. Over 2.77 lakh persons from the most vulnerable communities were addressed by Godrej CSR programmes. GCPL diverted 63% of their CSR funding to start medium to long-term livelihood recovery programmes for over 9000 nano entrepreneurs during the previous financial year.
Below is the graph that highlights the CSR spending of Godrej Consumer Products Ltd. for the last five years.

1. Philanthropy at Godrej Group
For decades, the Godrej Group has been in the forefront of philanthropic and humanitarian activities. Around 23% of the Group's promoter holdings are held in trusts that invest in the environment, healthcare, and education. A significant stretch of mangrove forests in Mumbai has been conserved, cultivated, and maintained for numerous years thanks to investments and oversight by the trusts, and it functions as a second set of lungs for the city.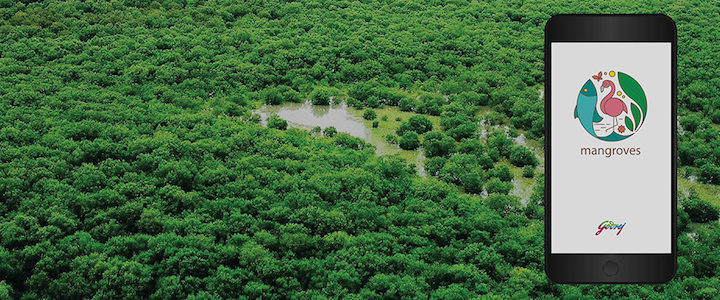 The Group has long been a supporter of education, particularly Udayachal Pre-Primary and Primary Schools, which focus on children's overall development. The International School Award has been given to Udayachal High School in appreciation of the school's inclusion of global education in its curriculum and creativity in classroom instruction.
Additionally, the Godrej Memorial Hospital, which attempts to deliver high-quality treatment at a low cost, has been a supporter of healthcare projects.
2. CSR Policy
The Godrej Group has been a great proponent of corporate social responsibility for over 123 years. No different from the group, GCPL is committed to the 'Good and Green' vision of creating an inclusive and greener world.
Godrej CSR policy has clarified that it classifies only those projects that are over and above their normal course of business as CSR. The focus areas of the GCPL's CSR programs include employability and livelihoods, health and well-being and greener India. One such project is in collaboration with Smile Train, a US-based NGO that assists children from low-income families with corrective cleft lip and palate surgery. The Group provides these children with surgery and hospitalisation at no cost.
2.1 CSR Committee
The company has
constituted a robust and transparent governance structure to oversee the implementation of its CSR policy. The Godrej Corporate Social Responsibility governance structure is headed by the Board-level CSR committee. Its members include:
– Mr. N. B. Godrej
– Ms. Nisaba Godrej
– Ms. Tanya Dubash
– Mr. Narendra Ambwani (Independent Director)
Responsibilities of the CSR Committee
The Godrej CSR committee is responsible for:
– Formulating and updating GCPL's CSR Policy, which will be approved by the Board of GCPL
– Suggesting areas of intervention to the Board of GCPL Godrej Consumer Products CSR Policy
– Approving projects that are in line with the CSR policy
– Putting monitoring mechanisms in place to track the progress of each project
– Recommending the CSR expenditure to the Board of GCPL for approval
– Meeting twice a year to review the progress made
2.2 Management Committee
The Management Committee is responsible for ensuring the smooth execution of all the CSR projects within the company. The committee is to report to the Board–level CSR Committee. The management committee is responsible for:
– Execution of the decisions taken by the Board-level CSR Committees
– Ensuring on-ground implementation of projects
– Sending periodic reports to the Board-level CSR Committee
– Meeting every quarter to review the progress
Chief Financial Officer will review CSR expenditure and certify that funds disbursed have been utilised for the purposes and in the manner agreed upon by the CSR Committee
2.3 CSR Team
The CSR Team is responsible for the on-ground implementation of the projects. Its responsibilities include:
– Evaluating projects as per the CSR Policy
– Identifying CSR implementation partners as per Ministry of Corporate Affairs (MCA) guidelines and with requisite registration with MCA
– Implementing projects based on set targets and action plans
– Regularly monitoring the activities
– Sending quarterly reports to the Management Committee and CSR Committee of the GCPL Board
– Evaluating possible collaborations with other organizations on CSR projects
3. Godrej Good & Green
Godrej Good & Green is the group's long term vision for creating a greener and inclusive India. The company follows a shared value approach that addresses critical economic and environmental needs of marginalised and underprivileged sections of society by leveraging its expertise. As part of this initiative, the group aspires to create a more employable workforce, build a greener world, and innovate for good and green products.
The goals of the group as part of the Good & Green vision for 2020 were:
1. Training 1 million rural and urban youth for skilled employment.
2. Achieving zero waste to landfill, carbon neutrality, and a positive water balance along with a reduction in the group's specific energy consumption and increase in the renewable energy portfolio.
3. Generating one-third of our portfolio revenues from good and/or green products and services that are environmentally superior or address a critical social issue for consumers at the base of the income pyramid.
4. Employability and Livelihoods
Godrej collaborates with non-profit organisations and social enterprises to design and run several employability training programmes for youth from low-income sections of society. The aim is to improve the earning potential of the trainees by building their skills and by empowering them. Apart from core domain skills, the programmes also focus on life skills training, entrepreneurship development, and postplacement support. As of March 2021, the company has trained over 4,51,342 young people in skills that will enhance their earning potential under two main projects:
Salon-i— the beauty and hair care training,
Beauty-preneur (BP) and Home-preneur (HP) platform for nano and micro entrepreneurs in beauty industry
In FY21, given the Covid-19 lockdown and ensuing slowdown, all training programmes were paused across partners and no new students were engaged. Instead, the program focused on 1,633 beauty entrepreneurs who were enrolled in FY20 and worked with them to ensure that they would be able to successfully navigate the challenges due to the pandemic. In addition to this, the company provided online training and handholding support to the entrepreneurs and ensured that of 1,875 entrepreneurs, 1,633 stayed in business.
The implementation partners of the company provided them with over 50 hours of online training and innumerable one on one calls to help them with COVID safety strategies, SOP for reopening salons post lockdown, alternative business ideas, attracting clients back to the salon, etc. 79% of beauty entrepreneurs joined the online sessions and 32% started alternate businesses due to inputs from the training. The company provided returnable grants (between INR 5,000 to 20,000) to over 440 entrepreneurs to help them revive their businesses. Overall net revenue grew three-fold between October 2020 to March 2021 period. 
5. COVID Relief and Community Development
The impact of COVID-19 has not only been felt in terms of a public health crisis of unprecedented proportions but also as a longer-term economic disaster impacting the lives and livelihoods of billions of people worldwide. This is why Godrej CSR channelled most of its resources to address the urgent need for relief at the start of the pandemic between March and September 2020. The company took on the responsibility to provide food and hygiene essentials to communities around its operations across the world.
In India, GCPL provided food supplies and safety kits to over 1,37,000 migrant labourers and urban poor through NGO partners. Further, the company supported the public healthcare system in Mumbai, Maharashtra, and Guwahati, Assam, by donating medical equipment (beds, ventilators, ICU equipment, testing kits, and mobile testing auto-rickshaws, among other support). In addition, it provided safety kits to over 46,120 people, including contract workers, GCPL transporters, field sales personnel, and Godrej Professional salonists. The company also made direct cash transfers to 250 market research agents to help meet the basic needs of their families.
Realising the widespread impact of the pandemic among its stakeholders, the company focused primarily on Covid19 relief and recovery projects in FY21. The company has implemented its initiatives with a wide range of on-ground partners from government and municipal bodies, to civil society organisations and citizens in order to reach the largest number of the most vulnerable communities in its ecosystem.
5.1 Supporting the most vulnerable
The company provided food and safety kits to frontline workers and most vulnerable groups such as contract workers, poor communities around our factories and warehouses, migrant workers, urban casual workers, sex workers, transgende
r groups, people with disability, people living with HIV/AIDS, and other vulnerable communities. In addition to this, it provided local authorities with sanitation essentials to support them in their battle against Covid19.
5.2 Strengthening Public Healthcare
GCPL is supporting the public healthcare system in key geographies as healthcare institutions are facing a shortage of personal protective equipment (PPEs), gloves, masks, and other basic equipment. In addition, it has supported the set-up of municipal quarantine centres, mobile testing vehicles, and ICU units. Considering the fact that many of its products are essential to fight the battle against Covid19, the company has freely donated them to governments, frontline departments such as police and municipalities, hospitals, civil society bodies and citizen efforts to manage the pandemic across all its locations worldwide. These have included soaps, hand wash, sanitisers, masks, household insecticide products, etc.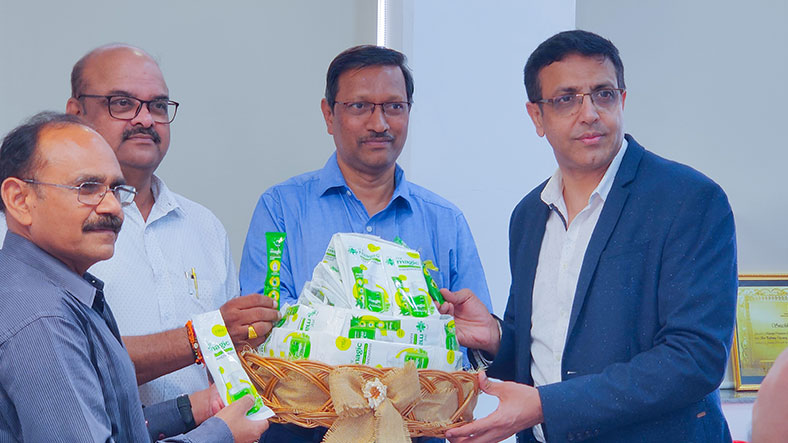 5.3 Enabling economic relief and supporting livelihoods recovery
National and state governments have announced relief packages for those who have been hit the hardest. The company is working with its non-profit partners to unlock these funds through government schemes. Post lockdown, GCPL has also started providing need-based livelihoods support such as zero-interest loans, insurance cover against Covid related medical expenses, training on business recovery post lockdown, and incubating nano and micro-entrepreneurs in key geographies.
5.4 Assist learning
Children are one of the most impacted groups, especially those belonging to economically weak families. Not only are they unable to attend school but they are also unable to continue learning due to a lack of digital devices and/ or access to the Internet in their homes and communities. In response to this, GCPL is supporting a range of initiatives such as funds to provide Internet-enabled digital devices, continued learning engagement in the community, and safety kit donations to schools to ensure a safe learning environment to those going back to school.
6. Elimination of Vector-Borne Endemic Diseases
Elimination of Vector-Borne Endemic Diseases (EMBED) is an intensive community awareness and behaviour change communication programme by GCPL with an aim to combat malaria in regions that report high annual parasite index (API). Under the EMBED programme, the company collaborates with NGOs and governments in an effort to reduce morbidity and mortality due to malaria.
In the fiscal year 2020-21, GCPL worked in 9 districts across Madhya Pradesh, Uttar Pradesh, and Chhattisgarh covering 824 villages and close to 10,00,000 people under the program. It has signed MoUs with the governments of UP and Chhattisgarh and is supporting them in their endeavour to eliminate malaria by 2030.
7. Waste Management
GCPL has initiated various community waste management projects across India. In the past, it has collaborated with Hyderabad and Kalyan-Dombivali municipal corporations for urban waste management. The company is working with a social enterprise in Guwahati to covert plastic waste into fuel. Further, it is partnering with an enterprise in Assam that is recycling forest and agri-residue into briquettes for biofuel. In FY21, GCPL has started another waste management programme in Pondicherry where it is working with the citizens, Municipal Corporation, and other stakeholders to divert waste from landfill. Altogether, through these projects, the company aims to process up to 150 MT of solid waste per day.
8. Watershed Management
GCPL's integrated watershed development project is aimed at helping to restore the ecological balance in the drought-prone district of Siddipet in Telangana. Its efforts are designed to recharge groundwater and make more water available for irrigation over a total area of more than 3,300 hectares by the fiscal year 2022. As of March 2020, the company has treated 880 hectares of land and carried out over 3,00,000 plantations through seed dibbling and over 38,000 plantations through direct saplings. It has worked with over 300 farmers to build their capacity on sustainable farming and livelihood diversification.
9. Teach for India
Since its inception in 2009, GCPL has been supporting Teach for India, a nationwide movement involving outstanding college graduates and young professionals, who commit two years to full-time teaching in under-resourced schools and become lifelong leaders working towards the pursuit of equity in education. In 2009, Teach for India began its journey in classrooms with 78 fellows (or teachers) in two cities across 34 schools and reached out to 3,000 children. In 2020, the movement has grown to cover 260 schools with approximately 900 fellows positively impacting more than 32,000 children. In addition, the fellowship has a strong network of over Godrej Consumer Products 3 Business Responsibility Report 3,400 alumni serving more than 33 million children. A recent study also revealed that the alumni community has founded more than 150+ organizations.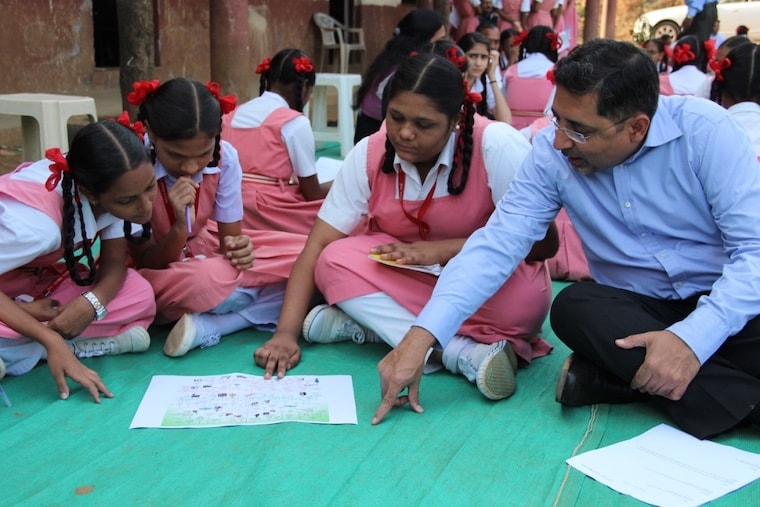 10. Workplace Giving Programme
Godrej Group's Workplace Giving programme enables the company's team members to donate a specific amount every month to its non-profit partners. The company has partnered with three organisations, namely Save the Children India, World Wildlife Fund, and Teach for India. These organisations have been selected after thorough research, considering the vast scope of their efforts towards improving education for underprivileged children, creating access to health facilities in rural areas, and protecting the environment. The programme is a part of the Group's tradition of philanthropy, and it enables our team members to make a direct difference to someone's life.
Conclusion
Godrej Consumer Products Limited (GCPL) with effective implementation of its CSR projects has earned it the top spot for CSR and sustainability in India in 2021. Through its impactful initiatives, the company is paving the path to creating a more inclusive, aware, developed and greener India.