CSR Report: Larsen & Toubro Skilling India's youth to earn a living with dignity
Headquartered in Mumbai, Larsen & Toubro Limited is one of the largest private companies in India. The Indian multinational company over the last 80 years has been known for its Technology, Engineering, Construction, and Manufacturing, and proudly boasts of leadership in all its major lines of business.
The company has been serving customers in more than 50 countries, across various industries like Power, Hydrocarbon, Process Industry, Defence, Information Technology, Products, System & Equipment, Finance and Real Estate.
CSR Policy
The Company's CSR Policy framework details the mechanisms for undertaking various programmes in accordance with section 135 of the Companies Act 2013 for the benefit of the community.
Aligned with the United Nations' Sustainable Development Goals, CSR projects at L&T prioritise the disadvantaged, vulnerable and marginalized population and aims to improve their standard of living. The company's primary focus is on 'Building India's Social Infrastructure' as part of its CSR programme which include, amongst others, Water & Sanitation, Education, Health, and Skill Development.
Drivers of CSR interventions
Corporate CSR team
L&T strives to promote initiatives that enhance the quality of life for communities in and around the areas of its operation. Dedicated CSR teams at the Corporate level act under the guidance of the CSR committee of the Board. They devise, execute, and monitor CSR programmes, either directly or in partnership with NGOs as their implementing agencies.
Health Centres
L&T's multi-specialty Health Centres having professional staff provide outpatient and tertiary health services by reaching out to the underprivileged communities and making healthcare accessible and affordable to them.
Prayas Trust
Prayas Trust is a social welfare non-profit organization formed by the spouses of L&T Construction's employees and female employees. It is encouraged and financially assisted by the management of L&T. Prayas is the force behind L&T's CSR efforts and integrates the L&T family all over India, joining hands to serve the underprivileged sections of society located around various L&T facilities.
L&T-eering
L&T-eering is a structured employee volunteering programme which encourages employees to participate in various development activities for underprivileged communities.
L&T Public Charitable Trust (LTPCT)
L&T Public Charitable Trust was founded in 2004. The trust undertakes projects to facilitate sustainable development of society through initiatives in the realms of vocational training, water management, holistic development of children and healthcare in the marginalised communities. Employees' contribution and management grant from L&T have made the institution a not-for-profit entity within the conglomerate.
CSR initiatives
Integrated Community Development Programme
The Integrated Community Development Programme of L&T was started in FY 2014-15 with the aim of improving availability of water. This project operates in the states of Tamil Nadu, Rajasthan and Maharashtra.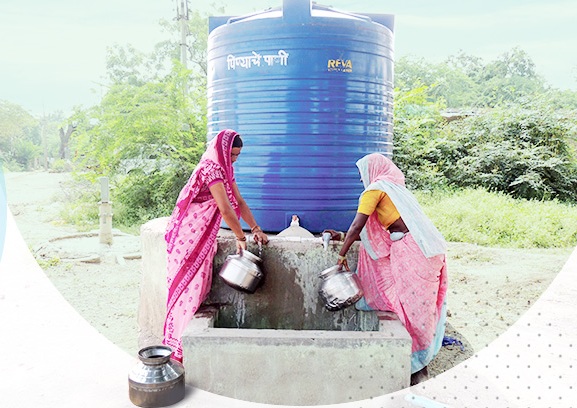 The ICDP follows a systematic community organisation strategy starting with need assessment of the location. These include mobilising people, forming village development and monitoring committees, creating awareness about saving water, building civil infrastructure to help water and soil conservation and ensuring its maintenance by the community, providing sanitation facilities with people's contribution in terms of labour, encouraging climate resilient and sustainable agricultural practices.
In all the ICDP locations, communities are trained to facilitate optimum, equitable, and efficient water use and implement of agricultural methods and technology to increase the yield. Farmers are trained in agricultural practices which require minimum use of water along with techniques to prepare low-cost organic manures to retain the land's fertility.
Education
L&T's education programmes aim to encourage social upliftment and inclusive development across the country. Various initiatives to provide infrastructure to schools that lack adequate resources and improve the quality of learning for the children have been taken by the company.
Saajhi Shiksha
Project Saajhi Shiksha aims at providing inclusive and quality education for marginalised children aged between 3-18 years. The project has been implemented in 19 schools and six Anganwadi Centres in Rajsamand district of Rajasthan.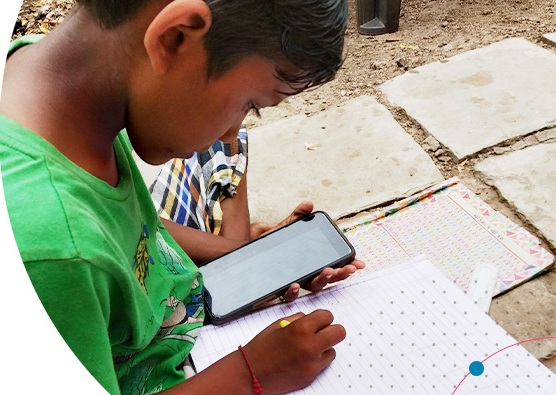 Opening a Community Learning Resource centre has been one of the key interventions of Saajhi Shikshas' after the COVID-19 pandemic. The project, in collaboration with the Rajasthan State Commission for Protection of Child Rights, launched a helpline number in the name of 'UMEED' to provide psychosocial care to the children and parents of the community. With the aim of reducing mental stress and providing proper psychological care, the project team linked children and parents on the UMEED helpline platform. In the initial six months of FY 2022, about 300+ parents and children have been able to connect and benefit from the UMEED helpline.
'Engineering Futures'- L&T's STEM Education Programme
Since 2019, L&T has introduced a STEM (Science Technology Engineering Math) Education Project called 'Engineering Futures' (EF). Operating in resource-poor Government schools around four campus areas in Vadodara (Gujarat), Hazira (Gujarat), Chennai (Tamil Nadu) and Faridabad (Haryana), this programme helps teach Science and Math through hands-on models and digital content for better comprehension, while encouraging curiosity and scientific rigour among the students of these schools. Each school is equipped with a computer centre to build the capacity of teachers to utilise technology while empowering students with practical digital literacy skills.
Healthcare
The Company set up its first Health Centre at Andheri in Mumbai in 1967. At present, L&T has ten Community Health Centres operational at Chennai, Kattupalli, Coimbatore (Tamil Nadu), Thane, Lonavala (Maharashtra), Surat, Vadodara (Gujarat) and three Centres in Mumbai. Additionally, L&T also runs artificial kidney dialysis clinics for the underprivileged at its Health Centres in Mumbai, Thane, Vadodara, Surat, and Chennai.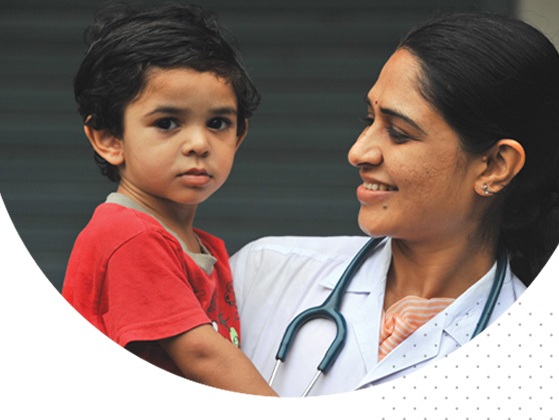 L&T Mumbai's Anti-Retroviral Therapy (ART) centre conducts HIV/AIDS awareness camps, provides medical support along with therapy, counselling, and testing. Comprehensive TB related treatment is also provided in Mumbai including individualised treatment OPD, check-up, diagnostics, medicines and nutrition support, home visits and counselling.
The Health Centre in Mumbai provides infertility treatment services free of cost for the underprivileged communities. The Company also has a well-equipped child guidance clinic in Mumbai in addition to parent counselling.
Major services offered in the Community Health Centres include Consultation and OPD Care, Low risk and specialised surgical services, Intensive Care Unit, Day care and inter-patient department, Diagnostic services, Dialysis services and health camps.
The Mobile Medical Unit provides primary medical care at the doorstep, Geriatric care, counselling, linking the underprivileged population to necessary health services.
Skill Development
L&T provides vocational training courses and other skill building activities to uneducated youths to help them develop wage-earning skills. L&T's Construction Skills Training Institutes (CSTIs) in different parts of India provide free training in skills like bar bending, formwork carpentry, masonry, scaffolding, welding, and electrical wiring, etc., to rural as well as urban youth. New technology-based skill-training courses are introduced in Solar PV Technician skills, OFC & CCTV installation and maintenance.
Setup in 1995 a total of nine CSTIs across the country train over 10,000 youth in construction and allied skills every year. Training programmes are conducted at the nine CSTIs operational at Kancheepuram and Pulicat in Tamil Nadu, Panvel in Maharashtra, Pilkhuwa in Uttar Pradesh, Jadcherla in Telangana, Cuttack in Odisha, Attibelle in Karnataka, Chacharwadi in Gujarat and Serampore in West Bengal.
Industry-oriented skill training, women and specially abled
For Industry-oriented training, L&T has collaborated with 27 Industrial Training Institutes (ITIs) across the country. For empowering the differently-abled 'Divyang', L&T's 'Project Neev' offers specially-designed training programmes. Apart from this, the company has also introduced vocational training programmes in tailoring, beautician skills, home-nursing and food processing for women from underprivileged communities.
Multi Skilling Training Centre
Multi Skilling Training Centre is a skill-building Centre at Vizag established by L&T under its CSR initiatives for bridging the gap between vocational education and industry needs. The centre helps in improving the employability of fresh ITI technicians, by providing structured skill training by L&T qualified trainers.
In the FY 2021-22, the centre has had 125 students and successfully provided basic training to 74 unique beneficiaries of which 34 are women (46%). While out of the 51 advance batch trainees, 23 (45%) got placed with various employers.
Conclusion
L&T's CSR initiatives are aligned with the global and national development objectives. These primarily focus on healthcare and education & skilling to help more Indians become capable to earn themselves a living. The company was required to spend an amount of R 129.54 crore as CSR expenditure during FY 2022 while it spent Rs 135.68 crore.
Apart from spending on CSR-oriented projects covering water and sanitation, natural resource conservation, climate change mitigation and adoption of renewable forms of energy, L&T also responded to the pandemic by assembling 38 PSA oxygen generation units and transporting the same to the worst affected parts of the country. Cumulatively, 1.1 million benefitted from the company's CSR initiatives in FY 2021-22.