Home
Leaders Speak
CSR Leaders: Simrat Bishnoi from Amway India talks about their CSR projects...
CSR Leaders: Simrat Bishnoi from Amway India talks about their CSR projects for battling malnutrition, women empowerment and healthcare in rural areas
Child and maternal malnutrition continues to be a major challenge in India in the present day. The rate of malnutrition even today in several parts of our country is alarming. To combat this, leading FMCG direct selling company Amway India has started a CSR initiative named 'Power of 5 – Fight against Malnutrition programme' in Haryana, West Bengal, Tamil Nadu and Maharashtra.
Not only combating malnutrition, the company is also providing quality healthcare services to rural communities through their Village Healthcare Program and working on empowering underserved women through their Women Livelihood Program 'Project Nari Shakti'. In an exclusive interaction with The CSR Journal, Ms Simrat Bishnoi, Vice President, Communications, Amway India opens up on their CSR projects aimed at battling malnutrition, empowering women and providing healthcare in rural areas. Following are excerpts from the conversation.
1. Please tell us about Amway India's Power of 5 – Fight against Malnutrition programme.
In line with our vision of helping people live better, healthier lives, and building on our decades-long expertise in the nutrition space, we at Amway India introduced our globally acclaimed program, Power of 5, a nutrition programme aimed at fighting malnutrition in young children. This is aligned with our belief of combining the best of our business expertise and passion to positively impact the communities we operate in.
As one of the leaders in the health and wellness domain and in line with the Government of India's National Nutrition Mission aimed at combating childhood malnutrition in India, we, are using our rich and deep experience of decades in nutrition to favourably impact the lives of young children through our Power of 5 program, which is a true example of an impact-oriented nutrition programme. The programme focuses on improving the nutritional status of children below six years through nutrition education to the mothers and caregivers, and intervention through Little Bits – a micronutrient supplement providing daily essential vitamins and minerals to help manage micronutrient deficiency such as anaemia.
2. How old is this project? How many children have been benefited under this program in 2022 and in which parts of India?
Amway India's Power of 5 programme was launched in India in 2018 in Delhi. Encouraged by the success of the project we further expanded it to Haryana. As of 2022, we have scaled this ongoing program to reach over 3.50 lakh beneficiaries including more than 80,000 children. The programme that started with comprehensive nutrition education intervention to the mothers and caregivers of children in the urban slums of Delhi in 2018, today has spread across regions including Nuh in Haryana, Kolkata in West Bengal, Chennai in Tamil Nadu and Mumbai in Maharashtra.
3. Why did you choose to carry out this programme in these places?
Our programme intervention is primarily dependent on two parameters. Firstly, the National Family Health Survey (NFHS) data released by The Ministry of Health and Family Welfare, Govt. of India, highlighting the nutritional status of children in the intervention district and secondly, our on-ground survey (family survey as well as children's nutrition status through anthropometric measurements) underlining the need of our interventions to address childhood malnutrition on nutrition indicators like wasting, underweight, stunting and iron deficiency issues such as anaemia.
The initiatives are undertaken at the chosen locations based on the results of these surveys. In addition to the rural areas of Haryana, our nutrition efforts through Power of 5 program are focused on the urban slums of metropolitan cities such as Delhi, Kolkata, Chennai and Mumbai.
4. Malnutrition during pregnancy enhances the risk of disease and disabilities in future among children. In that case, do you also include expecting mothers as beneficiaries?
Completely agree. Expecting mothers are already part of our programme. They form nearly 20% of our overall beneficiaries.
5. What is Amway India's Village Healthcare Programme?
The Village Healthcare programme, initiated by Amway India, aims to provide quality healthcare services to rural communities residing in the vicinity of Amway Manufacturing Facility. In collaboration with Meenakshi Mission Hospital & Development Centre, the programme offers free consultations with qualified physicians, pathological tests, and medication. These healthcare services are made accessible to rural communities through telemedicine centers equipped with cutting-edge telecommunication and information technology, thereby overcoming geographic barriers. The programme has brought about a marked improvement in access to medical services in remote rural areas, serving as a sustainable healthcare solution that obviates the need for villagers to wait for specific health camps or travel long distances to access medical facilities.
6. How many villages and villagers in which parts of India have been benefited through this programme in 2021-22?
Currently, with five telemedicine centres we are able to provide free medical services to more than 35,000 villagers every year. The program started in 2016 and has so far benefited over 1.40 lakh villagers across 30 villages in Dindigul district, Tamil Nadu.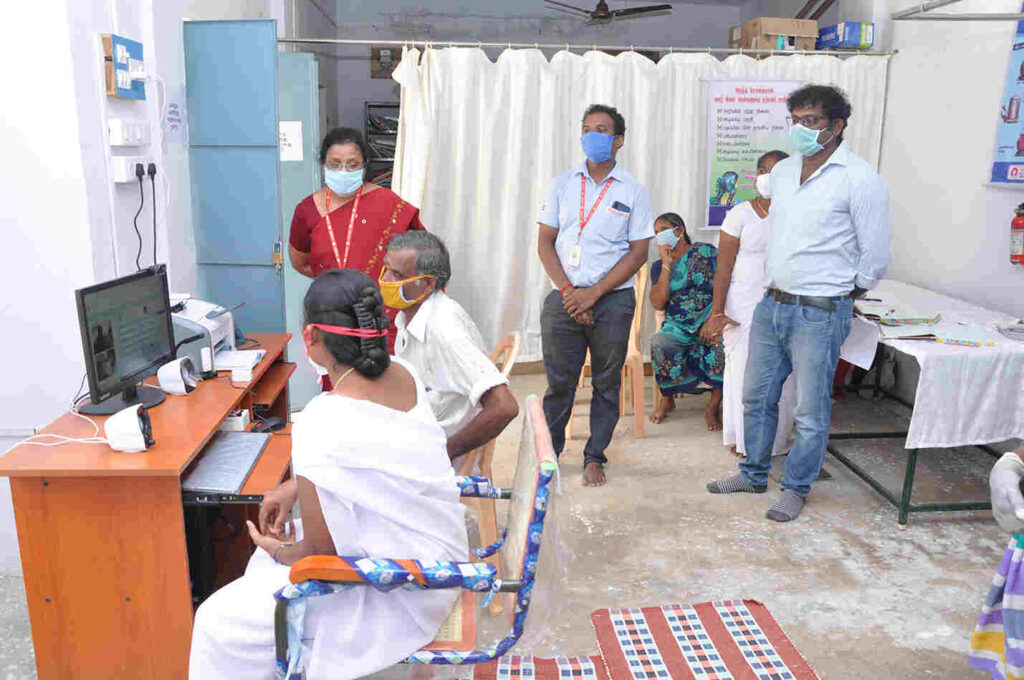 7. While implementing this programme, what kind of health problems have you observed among villagers especially in the last couple of years?
Majority of the villagers in Dindigul district are daily wagers from the farming community who are primarily involved in physical activities and hence, face health challenges due to physical exertion. As per the findings by our partner Meenakshi Mission Hospital & Research Centre, one of the most common ailments is the Upper respiratory tract infection (sore throat, cough, cold) which villagers were diagnosed with.
However, one of the key reasons behind this might be the lingering effect of COVID-19 as well as the quality of water which is not as good in these communities compared to nearest towns. In addition, villagers also have diabetes, blood pressure, fever, anaemia, hypertension, respiratory infection, skin etc. Our telemedicine centres are equipped to handle these and more.
8. Please tell us about Amway India's Women Livelihood Program 'Project Nari Shakti'. What specialized courses are being taught to women under this programme?
Amway's global vision of 'championing diversity and inclusiveness, empowering women, and increasing economic opportunities for everyone', inspired us to introduce the Project 'Nari Shakti', a unique women livelihood programme in India.
The program, essentially, equips underprivileged girls and women in the age group of 18 to 35 years with skills in specialized fields such as beauty & wellness and fashion design to help them start their own business or get employment. These women are also trained through specially curated workshops on nutrition and entrepreneurship. We have developed a dedicated 1200-hour training module to support these women with the required skill sets and provide sustainable livelihood options.
To further equip these women, Amway employees and Amway Direct Selling Partners also periodically conduct training sessions which help them with the necessary knowledge on marketing, finance, social media-related domains etc., thus empowering them to run their enterprise more professionally.
9. How many women have benefitted under this program in 2022 and in which parts of India? Where else does Amway India intend to take this programme to?
Our Nari Shakti programme has made a significant impact by so far benefiting over 25,000 individuals, with 1,700 women being direct beneficiaries. It is so overwhelming to see that so many of the beneficiaries have started their own ventures post completing the courses. While some have opened their own boutique or salons, some of them have landed jobs in relevant fields. Following the success of our pilot program in Delhi in 2019, we have expanded our outreach to include locations such as Hamirpur (Himachal Pradesh), Sohna (Haryana), Kolkata, and Chennai. As we continue to strengthen our existing projects, we also aim to explore new geographies with the target to empower more than 5,000 girls and women in the next couple of years.
To achieve this, in addition to the skilling programme, we intend to introduce new training methods such as a 'Mentorship programme'. Through this initiative, trained women will be empowered to share their skills with girls from their communities who may not be able to visit the centre, thereby enhancing their development. Additionally, we also are exploring livelihood support through Self-Help Group (SHG) models.
10. Why is financial independence extremely important for Indian women in the present day, especially those coming from rural and/or underprivileged backgrounds?
I firmly believe that achieving financial independence is critical for all women, especially those in underserved communities as it empowers them to control their lives and make their own decisions. At its most fundamental level, financial independence engenders a greater sense of security and respect, regardless of the socio-economic status. This, I believe, relays into stronger and less vulnerable families, societies and ultimately, countries.
Unfortunately, women from rural and underprivileged backgrounds are often vulnerable to financial exploitation. However, gaining financial independence can certainly help reduce this vulnerability by providing them with the resources and the control that they need to make their own decisions. I feel that the sense of empowerment, stability, and improved status can promote progressive societal development.
At Amway, we believe that empowering women and providing the right platforms is crucial to open equal opportunities for all. Towards this, we are proud of being able to support women from the marginalized section of society. Also, we are equally proud of the fact that 60% of our Amway Direct Selling Partners are women who are empowered to contribute towards the economic growth of the country.
Ahana Bhattacharya can be reached at ahana@thecsrjournal.in