Home
Leaders Speak
CSR Leaders: Rohan Lobo from Deloitte India talks about their 'Anaemia Mukt...
CSR Leaders: Rohan Lobo from Deloitte India talks about their 'Anaemia Mukt Mahilayien' programme
Anaemia is a condition when the haemoglobin level in our blood becomes lower than the required amount. Left untreated, anaemia can lead to health problems like extreme fatigue, weakness, dizziness, shortness of breath, irregularity in breathing, chest pain, cold hands and feet, skin colour turning pale, complications in pregnant women, heart problems and even death.
Anaemia is a very common problem especially among women in India, the most common reasons being deficiency of iron, vitamin b12 and folic acid, and essential nutrients required for the body. This problem is more persistent among women of that age group who are capable of reproducing.
In an effort to improve maternal and child health, spread awareness and provide healthcare services to eradicate anaemia, Deloitte India recently performed a CSR project titled 'Anaemia Mukt Mahilayien' in association with Gurugram District Administration.
The three-month long pilot project was recently completed which aimed at addressing mild to severe levels of anaemia in three villages -Tajnagar , Patli Hajipur, and Sultanpur. In an exclusive conversation with The CSR Journal, Rohan Lobo, Partner, Deloitte India talks about their Anaemia Mukt Mahilayien' programme. Following are excerpts from the conversation.
1. What is Deloitte India's 'Anaemia Mukt Mahilayien' programme?
The 'Anaemia Mukt Mahilayen' (Eradication of Anaemia among Women) is a three-month pilot initiative in the form of a public-private-academia collaboration that draws on the platform of 'Expand the Hospital Ward' to provide healthcare services at the home of citizens. The objective is to reduce the incidence of anaemia in the targeted population with a special focus on women aged between 15-49 years and children aged between six months and 5 years.
The fundamental strategy is 'Test-Trace-Treat', and the approach is to leverage local community-based workers and volunteers to increase awareness of better nutrition, safer sanitation and consuming medicines being distributed.
As a part of the initiative, camps and door to door visits were planned at three rural villages – Tajnagar, Patli Hajipur, and Sultanpur. Volunteers from community based Assisted Social Health Activists (ASHA), Auxiliary Nurse and Midwifes (ANM), pharmacists and physicians tested participants, increased awareness and placed participants with anaemia on a treatment plan. Participants with severe anaemia were referred to an institutional healthcare facility. Digital interventions to consistently reach out to participants were made and innovative mascots (Chutki), Whatsapp groups and contests were used to nudge behaviour for sustainable path to better health.
2. Why did you choose to take up a project to battle anaemia?
Anaemia is an important global public health priority as it is a critical driver of women and child health. The WHO estimates that nearly 40% of pregnant women and 42% of children less than 5 years of age worldwide are anaemic. In India, the loss of economic productivity due to anaemia is estimated at nearly 1.5% of GDP or nearly Rs 3.30 lakh to Rs 3.70 lakh crores a year. While milder forms of anaemia go unnoticed, they can progress if left untreated, and develop into an underlying cause of a chronic illness.
3. Why did you focus your project in Gurugram?
As many as 67.5% women in the age group of 15-49 and 67.7% children in the age group 6-59 months are anemic in Gurugram. The District of Gurugram and the Chief Medical Officer of the District were keen to explore innovative and integrated public-private initiatives to drive positive change.
4. What kind of support did you receive from Gurugram District Administration to carry out this project?
The Deputy Commissioner of Gurugram, Sub Divisional Magistrate of Farroukhnagar, Chief Medical Officer of Gurugram and Chief Medical Officer of Farroukhnagar CHC were involved in all aspects of the program design including personally visiting targeted villages, participating in communication and outreach programs and testing camps, establishing various clinical and administrative protocols and review of outcomes.
Support was also rendered in engaging with the ecosystem Partners such as local community workers, ASHA and ANMs, and educational institutions such as the SGT University and Ram Gopal College of Pharmacy that provided much needed support in the form of nursing and medical volunteers. Additionally, the District supported in working closely in tailoring the model as the 'Gurugram model for addressing Anaemia' and supporting women and childcare that is replicable and scalable.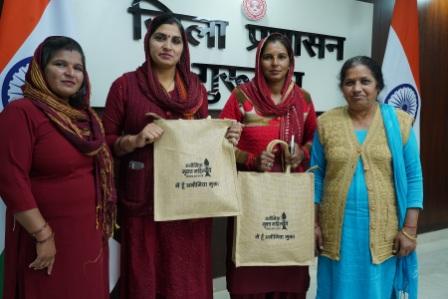 5. Did you also distribute any food or food supplements for women and children to battle Anaemia?
A gift hamper with locally acceptable food items that were iron and protein rich was provided to increase awareness and encourage participation. This included moong and masoor mixed daal (lentils), jaggery and roasted chana (grams). All of these items are part of local diet to reinforce local food-based nutrition. Medical supplements (for de-worming and iron/protein supplements) were issued by the district in accordance with government guidelines based on test results.
6. How many women and children have benefitted from your three-month-long pilot project?
As a part of this initiative, more than 4,000 participants were reached out. Our targeted program reached out to nearly a third of the population in the villages. Nearly 4000 participants agreed to be tested and treated if found anaemic.
At the end of three months, we noticed nearly 45% of those with mild, moderate or severe anaemia at the time of first testing were no longer anaemic. Further, average haemoglobin levels of all these participants rose from 10.2 to 11.5 indicating that change in behaviour towards accountability for better health outcomes. Similarly, 79% of severely anaemic participants were no longer severely anaemic – potentially saving lives of children and pregnant mothers. Overall incidence of anaemia in the population of these villages is estimated to have dropped by 14% in 3 months.
This was possible because of nearly 2500+ door-to-door visits for testing, treatment and awareness at home and more than 6,500+ telehealth sessions. Nearly 30,000 messages were sent to participants after their consent. This was supplemented by trusted conversations and local community engagement by ASHA and ANM workers.
7. When do you plan to start this program on a bigger scale in Gurugram?
We are in conversation with the District of Gurugram for scaling up the program. We also intend to work closely with the Government of Haryana to share the learning and work in enhancing and building on the existing programs.
8. Which other parts of India do you plan to take this program to?
The Central Government and many states in India have expressed the need to address anaemia as a means to improve women and child health. The focus is on nutrition and equitable access to healthcare. Our pilot based on and integrated implementation of 'Expand the Hospital Ward' is universally applicable in India, and we intend to take it to various public and private players in the ecosystem.
9. Why anaemia-free women in the household are necessary for a healthy family?
Anaemia is a condition that occurs when a person has a deficiency of red blood cells or haemoglobin, which is the protein in red blood cells that carries oxygen to the body's tissues. When a woman is anaemic, it can affect her physical and mental health, as well as her ability to perform daily tasks and support her family. In addition, anaemia during pregnancy can lead to complications for both the mother and the baby. Therefore, having anaemia-free women in the household is important for maintaining the health of the family.