Top CSR Projects in Gurugram
Gurugram, formerly known as Gurgaon is the country's second-largest Information Technology hub, and third-largest financial and banking hub. Located in the northern part of Haryana, Gurugram is a major city in the NCR. The city is popularly known as 'Cyber City' and 'Millennium City' as a number of IT companies are located there. The city is also home to India's largest medical tourism industry.
Gurugram District has witnessed phenomenal growth in all spheres of developments, particularly in industry and urbanization. Today, it has become a hub of multinational companies, industries giants, call centres, software companies, shopping malls and skyscrapers. Its proximity to such major companies has also made it a desirable destination for CSR. Let's take a look at the top CSR projects in Gurugram in the year 2022.

PepsiCo Foundation's Covid-19 safety kits donation
In April this year, PepsiCo Foundation, the philanthropic arm of PepsiCo announced that they, in collaboration with NGO, Smile Foundation have provided Covid-19 safety kits to the Gurugram administration in order to support them in battling fast-rising Covid-19 cases in the Delhi-NCR region. The safety kits included key preventive items like masks and digital thermometers along with Oxymeters, thermal scanners, and oxygen concentrators.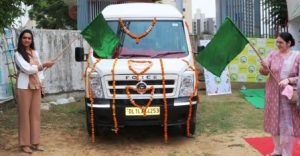 'Science on Wheels' for government school children of Gurugram
In July this year, M3M Foundation, in association with Agastya International Foundation announced that they have organised a session on applied science at iMpower Resource Center, Sector-67, Gurugram, wherein children of construction workers highlighted the importance of science through various models.
On this occasion, a van with mobile science lab facilities called 'Science on Wheels' was flagged off by Saroj Dahiya, District Education Officer, Gurugram and Dr. Payal Kanodia, Trustee of M3M Foundation.
'Through this project, practical science sessions will be conducted through mobile science labs for children (6th to 9th standard) and government teachers in ten government schools of Gurugram. The mobile science lab is equipped with lab kits and models, and will travel with a driver and two instructors to government-run schools to nurture and develop children's innate curiosity through models made from easily available reusable material,' they shared.
OPPO donates digital literacy tools for underprivileged students
In August this year, smartphone manufacturing company OPPO India partnered with Mensa India, the national chapter of high IQ society Mensa International, to contribute to their Project Dhruv initiative. The project is said to identify meritorious children from underprivileged families, to educate and nurture them, as per an announcement.
OPPO announced that they have contributed digital literacy tools for supporting children with limited or no access to technology to develop the skills they need for an increasingly digital world. As part of the association, 45 OPPO Pads, stylus, and internet dongles were reportedly distributed to the students at a function held at Vidya School, Sector 24, Gurgaon.
CSR of DLF Foundation for healthcare
On the occasion of World Heart Day (29th September 2022), DLF Foundation announced that they have organised a free health screening camp for construction labourers in collaboration with Adharshila Trust.
'The awareness and health screening camp held at the DLF Park Place, Gurugram, witnessed over 150 construction workers receive health check-ups, general fitness assessments, and medical consultations pertaining to cardiac ailments and disease prevention. Additionally, an awareness session was conducted for the attendees on the importance of cardiac health, the symptoms of cardiac arrest, as well as the critical preventive action to be employed in case of cardiac arrest. All the beneficiaries were provided with complete body evaluations, including blood tests, ECG, and RBS. As part of the health camp, the beneficiaries also received free tetanus inoculations and essential medicines,' they announced.
DLF Foundation and Fortis Memorial Research Institute's 'Wellness on Wheels'
On 21st November, DLF Foundation and Fortis Memorial Research Institute Gurugram announced that they have launched a state-of-the-art mobile screening bus to offer free health screening services to the underprivileged communities as part of a joint CSR programme, 'Wellness on Wheels'. It was flagged off by the Honourable Chief Minister of Haryana Manohar Lal Khattar.

Cancer screening camp
DLF Foundation also announced that they held a cancer screening camp for underserved communities at the Family Health Center in Gwal Pahari in Gurugram in December first week. This initiative is part of their mission to develop sustainable healthcare and social welfare programs focused on underprivileged demographics across the Delhi-NCR.
For this outreach endeavour, DLF Foundation partnered with Adharshila and Tanisa Foundation to provide expert testing and screening facilities at the grassroot level.
'During the camp, medical professionals from Tanisa Foundation conducted an array of tests, which included clinical oral examination by ENT specialists, as well as PAP smear test and clinical breast examination by veteran Gynecologists. In addition to focused cancer screenings, the camp also provided health checkups to 125 attendees like tests for blood sugar, blood pressure and mammography tests by certified diagnostic laboratories,' they shared.
HMD Global and Shikhar Dhawan Foundation promotes e-learning
HMD Global, the home of Nokia phones announced in October, this year that they have partnered with Shikhar Dhawan Foundation to distribute smart devices to under-privileged students of Delhi NCR region with an aim to promote e-learning.
The first drive of device distribution on 19th September 2022 was reportedly organized at NeeV – A Learning Centre, Village Nangli Umarpur, Golf Course Extension, Gurugram . 'This CSR initiative is a part of HMD Global's and Shikhar Dhawan Foundation's collective endeavor to promote e-learning for all the under-privileged students in India where they are not able to afford such devices due to price constraints,' they shared.

GlaxoSmithKline Asia launches mobile dental vans with Smile Foundation
GlaxoSmithKline Asia Private Limited, the makers of Sensodyne announced in November, this year that they have launched four mobile dental vans under the corporate social responsibility initiative 'Smile on Wheels Mobile Dental Vans', in partnership with Smile Foundation. Launched in Delhi NCR region, this initiative aims to serve the underprivileged communities. The four vans will operate 2 in Delhi, 1 each in Gurugram and Noida.
'Oral health is an indicator of overall wellbeing and there is an increased need for interventions to alleviate prevalence of oral disease burden of the country. Around 85-90% adults and 60-80% children have dental cavities in India. Recognizing these disparities, this initiative is a call for action to improve oral health in India by providing free dental care consultations to the underprivileged communities,' they shared.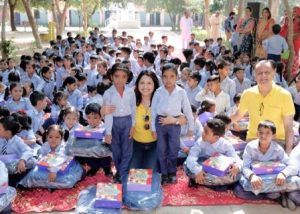 Dream Folks Services Limited adopts two schools to support girl children
Airport service aggregator platform Dream Folks Services Limited has adopted two schools in Gurugram, Haryana to empower the girl child. Government School-Tigra village and Bagiya-a bridge school for underprivileged children in Gurgaon are being supported by DreamFolks under 'Mission Saksham', the company announced in October, this year.
They are looking into 'necessary repairing, installation of water coolers, new blackboards, and provision of text books, note books, bags, and stationery for the students. Often, girls coming from low-income families are deprived of access to education due to their situation. The aim is to give these girls an opportunity to pursue their dreams and hone their skills through this initiative,' they shared.
District of Gurugram and Deloitte India's 'Anaemia Mukt Mahilayien' project
In an effort to improve maternal and child health and to spread awareness and provide equitable and widely accessible healthcare services to eventually eradicate anaemia, the Gurugram District Administration and Deloitte recently announced the completion of a three-month 'Anaemia Mukt Mahilayien' pilot project.
'The campaign was aimed at addressing mild to severe levels of anaemia in three villages -Tajnagar , Patli Hajipur, and Sultanpur. The number of anaemia cases had improved by 14% at the end of the three-month pilot project. The unique public-private partnership programme was executed over three camps focused on a strategy of test-trace-treat,' they announced.