CSR Report: AU Small Finance Bank spends Rs. 20.88 crore on CSR in FY 2022-23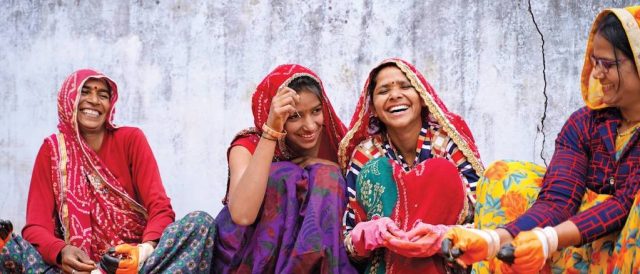 In the realm of comprehensive banking services, one institution stands out for its commitment to simplicity and convenience – AU Small Finance Bank. With its headquarters nestled in the vibrant city of Jaipur, Rajasthan, this institution has not only earned its place among the Fortune India 500 Companies but has also secured its spot as a Scheduled Commercial Bank. Drawing upon an impressive lineage of nearly three decades as a Non-Banking Financial Company, AU Small Finance Bank is dedicated to contributing fervently to India's growth narrative. Fuelled by its extensive brand outreach, digital prowess, formidable balance sheet, and pricing acumen, the bank is steadfast in generating sustainable positive outcomes for all its stakeholders.
Fueled by an unwavering commitment to innovation in the retail banking domain, AU Small Finance Bank is forging ahead as a trailblazing digital and technology-driven institution with a widespread national presence. As the bank adapts to the evolving landscape, it diligently balances physical infrastructure and digital capabilities, creating a seamless 'Phygital' network that spans across the country.
Sustainability of AU Small Finance Bank
AU Small Finance Bank is dedicated to advancing social upliftment, embracing a climate-conscious ethos, and seamlessly weaving sustainability into its operational fabric. Guided by a resolute alignment with the UN Sustainable Development Goals (SDGs), the bank's principles transcend the realm of conventional banking, setting a remarkable precedent for holistic progress.
Acknowledging the multifaceted nature of this commitment, the bank comprehends the intricate interplay between intangible and non-financial risks. As financial landscapes find themselves increasingly exposed to the palpable threats of climate risk, the bank's awareness of the potential metamorphosis of these challenges into systemic perils underscores its preparedness for adaptive resilience.
In harmonious synergy with its visionary mandate, AU Small Finance Bank propels its sustainability initiatives as engines of societal value creation. By steering a resolute course towards sustainable growth and resilience, the bank invigorates its role as a catalyst for community and societal well-being. This profound commitment is a testament to its identity as a responsible corporate entity, with an unswerving dedication to the unceasing pursuit of sustainable value generation. In an era marked by the crescendo of sustainable transformation, the bank redefines the contours of its operations through a meticulously woven Sustainability Framework. At its core lies an intricate tapestry of principles that encapsulate Climate Resilience, People Empowerment, Inclusive Prosperity, Responsible Banking, and unwavering devotion to Customer-Centricity. Together, these elements harmonize to orchestrate a symphony of change that reverberates far beyond banking halls.
CSR of AU Small Finance Bank
In the domain of modern banking, AU Small Finance Bank stands as a paragon of not only financial excellence but also social responsibility. Beyond the corridors of commerce, the bank's commitment extends deeply into the fabric of society, where it endeavours to uplift and empower India's unbanked and underserved communities. Driven by an unwavering dedication to financial inclusion, the bank's Corporate Social Responsibility (CSR) initiatives weave a transformative tapestry that touches lives and sparks positive change. The bank has spent Rs. 20.88 crore in FY 2022-23 on its CSR initiatives.
At the core of AU Small Finance Bank's CSR philosophy lies a vision that surpasses the conventional boundaries of banking. The bank understands that its role transcends mere financial transactions; it is a catalyst for societal progress. This conviction drives the institution to embark on a journey that spans diverse areas, striving to enhance the livelihoods of those who have long remained on the fringes of opportunity.
AU Small Finance Bank's CSR initiatives embrace a spectrum of endeavours that reflect its commitment to holistic development. The bank channels its energies into areas that hold the promise of significant transformation: Skills Development, Women Entrepreneurship, and Sports, particularly in rural and semi-urban regions. These initiatives are not isolated interventions; they are parts of a larger whole, meticulously designed to generate lasting and meaningful impact.
The bank's commitment to CSR isn't ephemeral; it's a testament to long-term dedication. The initiatives are designed for sustained change, and are implemented across multiple phases and locations. To ensure their effectiveness, a dedicated CSR committee, sanctioned by the bank's Board of Directors, monitors and guides these initiatives. Stringent evaluations, aligned with the standards set by the Ministry of Corporate Affairs, ascertain that the bank's interventions indeed lead to the positive transformations they aim for. By the end of the fiscal year 2023, the bank's impact is clearly visible: 6,182 youths secured employment opportunities, and 370 women entrepreneurs were nurtured into successful ventures. These numbers are not mere statistics; they represent lives transformed, dreams realized, and communities uplifted.
In a world driven by connectivity, AU Small Finance Bank ensures it stays closely connected with the communities it serves. A dedicated 24/7 hotline and an active social media presence provide avenues for community members to voice their concerns and aspirations directly. This commitment to communication underscores the bank's pledge to be a responsive partner in its pursuit of positive change.
1. AU Ignite Skills Development Programme
AU Small Finance Bank (AUSFB) has been a driving force in the skills domain since 2018. In a pivotal move towards empowerment, September 2021 marked the launch of AU Ignite – 'Unlocking You,' a flagship CSR initiative by the bank. This comprehensive programme centres on livelihood promotion and the cultivation of skillsets among the youth, catalyzing grassroots-level economic growth for the nation. AU Ignite unfurls an array of short-term industry-led courses spanning sectors like Banking, Financial Services and Insurance (BFSI), Healthcare, Tourism and Hospitality, as well as IT/ITeS. Notably, it extends its reach to marginalized communities, ensuring inclusivity remains at its core.
Throughout the fiscal year 2022-23, 18 skill training centres strategically located across 13 districts of Rajasthan played host to the education of 7,693 young individuals. Impressively, this training translated into tangible results, with 6,182 youth successfully gaining employment opportunities. AU SFB gauges the efficacy of this initiative by closely monitoring the completion of training as well as successful job placements. Since its inception in 2018, an impressive total of 13,290 youth have benefitted from this far-reaching endeavor.
AU Ignite's aspirations stretch beyond the present; they envision a future where the lives of over 28,000 disadvantaged youth will be transformed into industry-ready professionals by March 2025. Through this sweeping transformation, AU Small Finance Bank continues to redefine the parameters of social responsibility, actively contributing to the growth and empowerment of communities in need.
2. AU Udyogini – Women Entrepreneurship
The empowerment of women stands as a cornerstone in AU Small Finance Bank's agenda, and this commitment is crystallized through the AU Udyogini (Women Entrepreneurship) program. Designed as a catalyst for change, this initiative takes proactive strides in supporting community-based enterprises, self-help groups, and individual women-led businesses. The aim is to provide a nurturing environment through education, training, and mentorship.
During the fiscal year 2022-23, the AU Udyogini program achieved notable success by engaging over 2,187 women members via self-help groups. Within this cohort, an impressive 165 women generated regular income through community enterprises. Additionally, 470 individual women entrepreneurs ventured into small businesses, overcoming challenging circumstances including decentralized processing units and intense market competition.
In a dynamic response to on-ground challenges, AU Small Finance Bank has implemented improvisations to enhance the efficacy of project activities. Strengthening the internal monitoring system, registering an FPO (Farmer Producer Organization), and adopting white labelling for products are among the techniques deployed to navigate these obstacles.
The effects of the AU Udyogini program ripple far beyond financial gains. It has not only boosted family incomes but also empowered women to partake in small businesses and crafts, and fostered invaluable market linkages. Crafted with the essence of sustainability, the bank's CSR initiatives are meticulously designed to not only offer support but also nurture self-reliance among beneficiaries.
Among these endeavours, the Maa Annapurna program stands as a luminous example. This initiative not only bolsters the entrepreneurial spirit but also ensures the self-sustenance of the community. Through AU Udyogini, AU Small Finance Bank continues to reshape the narrative of women's empowerment, fostering an ecosystem where enterprising women thrive and make their mark on the socio-economic fabric.
3. Bano Champion – AU SFB Sports Initiative
Bano Champion stands as a pioneering stride in the arena of sports, redefining norms and carving a new narrative for the country. This distinctive initiative addresses a critical gap in the landscape – the accessibility of structured sports training for rural children. It champions the infusion of games and playfulness, recognizing the profound impact sports can have on both mental and physical well-being.
Unveiled in October 2021, Bano Champion embarked on an ambitious journey across 30 locations within the state. Today, it has blossomed into a robust platform, rendering guided sports training accessible to 6,963 children across 60 diverse locations in Rajasthan. The initiative goes beyond just sporting skills; it plays a pivotal role in moulding the champions of tomorrow and revitalising sports at the grassroots level.
Central to Bano Champion's ethos are the annual tournaments held at village, district, and state levels. These tournaments serve as catalysts for building a culture of sportsmanship and competition within the community. A standout event was the three-day state-level sports tournament held at SMS Stadium, offering 1,700+ participants from 60 villages a taste of international-standard facilities and platforms.
The outcomes of the Bano Champion program are a testament to its efficacy. Children nurtured under its wings have showcased remarkable feats at State, National, and Khelo India platforms. A staggering 117 positions were secured by these young athletes at recognized State Level competitions. The initiative saw 29 children qualify for the National Level Tournament, with 15 emerging victorious with medals. Additionally, 5 children earned their place in the prestigious Khelo India Youth Games.
The success of the Bano Champion wouldn't be possible without the steadfast support of the government and the involvement of experts affiliated with the Olympic and Commonwealth Games, among others. The program's multi-fold growth not only signifies its potency but also exemplifies its role in driving profound social transformation. By kindling the resilient rural spirit, Bano Champion brings to life the vision of a healthier, more active, and empowered community.
Conclusion
AU Small Finance Bank's CSR endeavours, rooted in a commitment to fostering sustainable development, embody its vision of being a force for good. Through its dual commitment to inclusive financing and impactful CSR interventions, the bank sets an example that goes beyond the traditional realm of banking. With an eye on a brighter, more inclusive future, AU Small Finance Bank continues to illuminate the path towards social progress and empowerment.