Home
Press Release
Plantation Drive Organised under CSR, a Collective Step Towards Sustainability and Green...
Plantation Drive Organised under CSR, a Collective Step Towards Sustainability and Green Living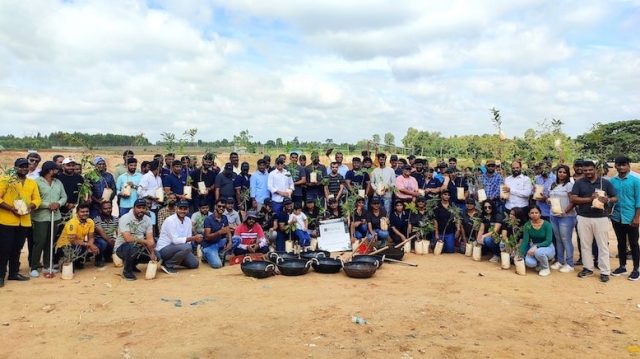 With an objective of taking care of the environment and fostering green living, MANA, a renowned real estate brand conducted a Plantation Drive at Hegondanahallikere Lake in Varthur, Bengaluru. This event aimed to foster a greener tomorrow by encouraging individuals and families to plant trees for a better future. MANA in collaboration with Hands on CSR, a Non-Profit Organization partnered to make this event a huge success with more than 1000 saplings being planted around the lake.
MANA's well-known dedication to green living and crafting luxury homes amidst nature leads them to strongly believe that this event holds a call for everyone. The event symbolized a way to give back to the environment and demonstrate appreciation for nature. With each participant planting a single sapling, the event came together to create a positive impact. The Plantation Drive orchestrated by MANA not only fulfilled its primary objective of tree planting but also served as a unique platform for individuals and families to forge a deep connection with nature. The event symbolized a collective effort towards creating a sustainable and healthier future. This communal effort embodied the spirit of cooperation required to address ecological challenges and create a positive impact.
Speaking on this initiative, Mr. D. Kishore Reddy, Founder, and CMD, MANA Projects Private Ltd says, 'We believe that by sowing the seeds of change today, we can reap a greener tomorrow. The MANA Plantation Drive is not just about planting trees; it's about cultivating a sense of responsibility towards our environment and inspiring others to join the cause.  As we stand  amidst the lush greenery that we've collectively planted, we're reminded of our responsibility to nurture the environment that sustains us. Our actions today, reflect our commitment to a sustainable and greener-living environment for the future. Together, we've not only planted trees but also nurtured the bond between communities and nature, fostering a legacy of green living for generations to come.'
Disclaimer: This media release is auto-generated. The CSR Journal is not responsible for the content.