Home
Press Release
CSR: Indian Army and CSR arm to empower People with Disabilities in...
CSR: Indian Army and CSR arm to empower People with Disabilities in Kupwara, Jammu and Kashmir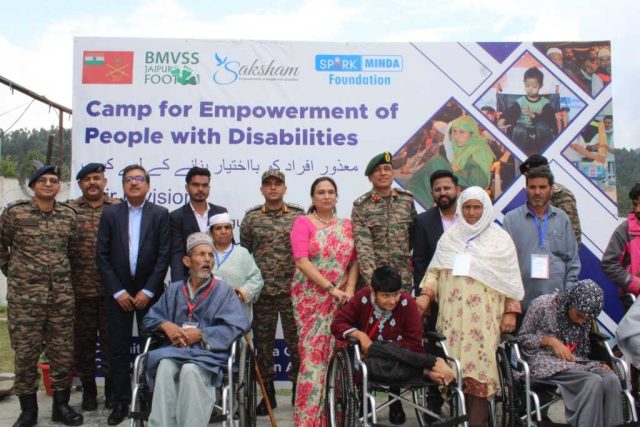 Kupwara, August 26, 2023: In a remarkable display of compassion and commitment, Spark Minda Foundation, the CSR arm of India's leading automotive component manufacturer, Spark Minda, organised 'Empowerment of People with Disabilities Camp' in Zangli Garrison Kupwara, Jammu and Kashmir from 21st to 26th August 2023. The intervention impacted 1000+ people affected with disabilities.
Underlining the power of collaboration, Mrs Sarika Minda, Chairperson, Spark Minda Foundation thanked the Indian Army for their continued partnership, expanding their reach to more people with disabilities (PwDs). She said, "Spark Minda Foundation extends heartfelt gratitude to the Indian Army for their support. We thank the people of Jammu and Kashmir for their belief, and our partners for their dedication. Our fifth year of collaboration has amplified the impact on the lives of PwDs' in the union territory. The growing positive response fuels our commitment to empowering more PwDs towards realising their full potential."
With the vision of fostering equal growth and development, the camp extended multifaceted support to over 1000+ PwDs. This includes distributing assistive devices like Artificial Limbs, Calipers, Crutches, and Hearing Aids, along with the pivotal facilitation of UDID registration, echoing empowerment and inclusivity.
Addressing the audience, the Major General Girish Kalia, Vishisht Sewa Medal, General Officer Commanding Vajr Division said, "The collaboration of the Indian Army with Spark Minda Foundation is able to improve and sustain many lives in the valley. I would like to thank the people who participated in the camp. I also would like to compliment Spark Minda for their noble initiative."
This is the second successive camp organized by the Foundation in Kupwara and the third overall in Jammu and Kashmir. Spark Minda and the Indian Army hosted the first camp for PwDs in 2018 in Barmulla, Uri. The foundation also hosted a 10-day Mega Camp for PwDs in February 2023 in Uttar Pradesh.
Since its inception in 2015, Spark Minda Foundation's "Saksham – Empowerment of People with Disabilities", one of our flagship programmes has been focused on transforming the lives of People with Disabilities (PwDs).
The initiative has impacted the lives of 16,000+ PwDs, provided UDID support to 1,700+ people, and facilitated employment for 1,000+ PwDs across Spark Minda Group. In Kupwara a team of 20 members from Spark Minda Foundation along with the volunteers of the Indian Army executed the camp.
The Foundation was honored with the prestigious National CSR Award in 2019 conferred by the Honorable President of India and Finance Minister of India.
Looking forward, the foundation envisions helping more persons with disabilities, aiming to enhance their quality of life and potential.
Disclaimer: This media release is auto-generated. The CSR Journal is not responsible for the content.