Home
Press Release
CSR: GreenLine contributes to ESG missions of JK Lakshmi Cement, Dalmia...
CSR: GreenLine contributes to ESG missions of JK Lakshmi Cement, Dalmia Cement & UltraTech Cement
GreenLine (Green Planet Logistics Pvt Ltd), green mobility pioneer, announced that it has become the first freight transportation company in India to issue CO2 emissions reduction certificates to its clients, JK Lakshmi Cement, UltraTech Cement & Dalmia Cement, in recognition of their commitment & efforts to reduce emissions by promoting use of sustainable transportation.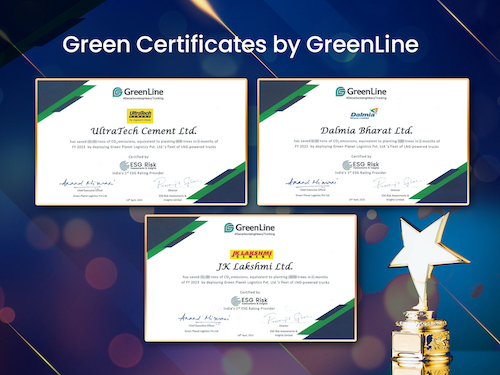 This groundbreaking initiative, being undertaken in collaboration with ESG Risk Assessments & Insights Ltd., a subsidiary of Acuite Ratings & Research Ltd. and India's first ESG rating provider, will enable GreenLine's clients to officially account for their emissions reductions in their statutory & ESG reporting.
Commenting on the initiative, Mr. Anand Mimani, CEO, GreenLine said, "We are committed to enabling the ESG agenda of Indian corporates, and our green certificate program is part of our commitment to promoting sustainable mobility and reducing our collective carbon footprint. We believe that by working together, we can create a cleaner, healthier, and more sustainable future for everyone. I would like to congratulate our green mobility clients on their achievements and thank them for their commitment to sustainability. We hope that their example will inspire others to take similar actions and contribute to a greener, more sustainable future."
GreenLine is on a mission to decarbonize heavy trucking in India and is paving the way for widespread adoption of LNG-powered freight transportation by showcasing its immense advantages for corporates. GreenLine has collaborated with multiple organisations to create India's first & only integrated ecosystem to make low emission LNG trucking a reality in India.
GreenLine's fleets, comprising state-of-the-art LNG-powered trucks manufactured by Blue Energy Motors, have been instrumental in helping its clients significantly reduce the carbon footprint of their respective logistics operations by upto 30%, compared to diesel-powered trucks.
GreenLine is socially responsible and committed to improving working conditions for its drivers. An air-conditioned cabin, air suspended seats and 30% lower noise pollution ensure driver comfort while a Level 1 ADAS (Advanced Driver Assistance System) and Driver State Monitoring ensure improved driver behavior and on-road safety.
Disclaimer: This media release is auto-generated. The CSR Journal is not responsible for the content.