Home
Press Release
Corporate Social Responsibility (CSR): Godrej & Boyce adds French and Spanish languages...
Corporate Social Responsibility (CSR): Godrej & Boyce adds French and Spanish languages to their Mangroves mobile app on World Wetlands Day
Godrej & Boyce, the flagship company of the Godrej Group, has always been at the forefront of driving actions to curb climate change. The organization aims to bring citizens and industry together to create pathways for the conservation of the rich biodiversity of India. The company has been preserving the Vikhroli mangroves, the largest privately owned mangrove forests in the country, since the 1940s. These mangroves are India's first ISO 14001-certified forest.
This World Wetlands Day, the company has made its Mangroves mobile app available in 13 languages across 128 nations of the world. French and Spanish being two of the most widely spoken languages worldwide were the latest language additions. The need to upgrade the app was echoed by Mr Jamshyd N Godrej, CMD, Godrej & Boyce and Dr Pheroza Godrej along with various international institutes, mangrove researchers and academia. The Mangroves App has detailed information on 67 mangrove and associate species – making it an extensive and handy field guide for nature enthusiasts, researchers, photographers, and students.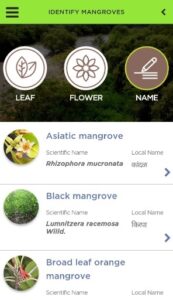 Speaking about the need for awareness about the significance of mangroves, Dr Pheroza Godrej, Chairperson, Godrej Archives, said, "Use of Mangroves mobile app by academia, NGOs, forest department staff and conservationists of 128 countries is a testimony of very important guidance required across the world, in research and conservation of the mangrove ecosystem. Based on the feedback received from various international researchers and institutions, we are happy to add French and Spanish languages in the already existing 10 Indian and English language options, on the occasion of World Wetland Day 2023. We at Godrej hope, our Mangroves mobile app will bridge the knowledge gap, and continue to help and inspire more people to understand and appreciate mangrove biodiversity and its ecosystem services."
Besides English, French, and Spanish the app is available on Android and iOS platforms in 10 Indian regional languages.
To advance industry collaborations for the protection of wetlands Godrej & Boyce also founded India Wetland Coalition (previously India Mangroves Coalition) with the Confederation of Indian Industry (CII). India Wetlands Coalition was formed when the Ministry of Environment Forests and Climate Change (MoEFCC) suggested an enhancement of focus from the mangrove ecosystem to the larger context of wetlands of India.
Disclaimer: This media release is auto-generated. The CSR Journal is not responsible for the content.