Home
Press Release
CSR Foundation Inaugurates Multi-Purpose Community Hall in Chinthapalli Village, Andhra Pradesh
CSR Foundation Inaugurates Multi-Purpose Community Hall in Chinthapalli Village, Andhra Pradesh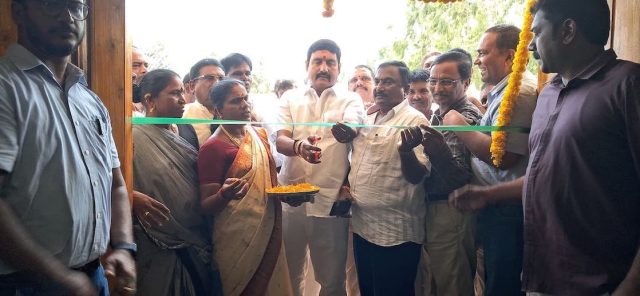 Aurobindo Pharma Foundation (APF), the philanthropic and CSR arm of Aurobindo Pharma Ltd, has officially inaugurated a state-of-the-art multi-purpose community hall in Chinthapalli village, Pusapatirega mandal, Vizianagaram district, Andhra Pradesh. The inauguration event witnessed the participation of an esteemed guest: Sri. Badukonda Appala Naidu – MLA, Nellimarla Assembly Constituency marking a significant milestone in the Foundation's commitment to uplift underprivileged rural communities.
The newly inaugurated Community Hall, with an outlay of INR 80 lakhs its expansive 4,448 square feet of space, holds the promise of transformation for Chinthapalli village and neighbouring areas. Approximately 9,000 villagers from Chinthapalli and nearby villages are poised to benefit from this facility. The Community Hall will serve as a versatile platform for numerous activities, fostering community development and empowerment.
This facility will serve as a focal point for community gatherings and activities, enabling the local, underprivileged communities to come together, discuss, and resolve their village development issues. It is designed to foster collaboration and facilitate a variety of community-centric initiatives.
Speaking at the inauguration, Sri. Badukonda Appala Naidu – MLA, expressed gratitude to Sri K Nityananda Reddy, Director of Aurobindo Pharma Foundation and Managing Director & Vice Chairman, Aurobindo Pharma Ltd and Sri P. Sarath Chandra Reddy, Director of Aurobindo Pharma Foundation & Director of Aurobindo Pharma Ltd for their support "This Community Hall represents Aurobindo Pharma Foundation's commitment to enhancing the quality of life for the underprivileged. We are thrilled to see it become a reality and look forward to witnessing the positive impact it will have on the lives of the people it serves."
The successful inauguration of the multi-purpose community hall is a testament to Aurobindo Pharma Foundation's unwavering commitment to social development and its dedication to enhancing the quality of life for marginalized communities.
Disclaimer: This media release is auto-generated. The CSR Journal is not responsible for the content.