Now you can clean up Corbett by adopting a village
Over 200,000 tourists came to Corbett Tiger Reserve in 2019 and left behind a mountain of waste for local villages to deal with. In January 2020, a tigress and her cubs were photographed chewing plastic drums in Corbett, but this is just one of the countless unnoticed incidents over the years.
Imagine a national park that's famous for accumulating plastic waste more than its Tigers or Elephants. This is where Corbett might be headed if nothing is done. It's no doubt that India's first Tiger Reserve and Asia's first National Park, Corbett is iconic for both national and international tourists. As tourist numbers boomed, so did the amount of solid waste.
Dehradun-based waste management NGO Waste Warriors has partnered with Wishonary to raise funds to clean up the forests and borders of Corbett Tiger Reserve in the Himalayan Terai Arc landscape. Since 2013, the team at Waste Warriors Corbett, initiated by local resident Minakshi Pandey and consisting of 9 local youth and 15 Self-help Group women, have managed to remove over 450 tonnes of solid waste in local villages like Dhikuli, Sunderkhal, and Kyari. Apart from over 450 clean-ups with 6500 volunteers, including with Forest and CTR authorities, the teams regularly engage villages and schools to change behaviours and build SWM (solid waste management) systems. But much more support is needed to continue their efforts.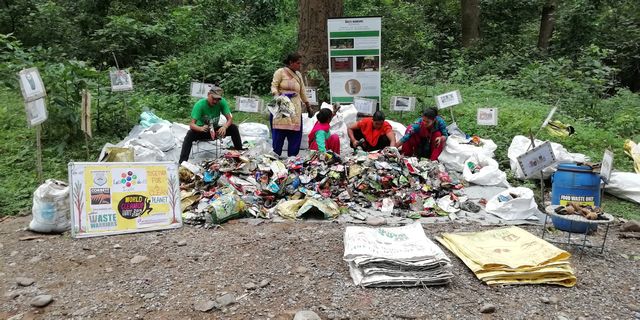 Their fundraising campaign, called '

Adopt A Village

', aims to support grassroots efforts to reduce the environmental impact on animals and forests caused by habitat degradation and plastic waste pollution, by building systems for solid waste management in 20 villages around Corbett. This fundraiser will support the ongoing efforts of trained local underprivileged youth and women-led SHGs, thereby keeping villages and forests cleaner, reducing the impact of wildlife, and providing meaningful livelihoods at the same time.
Puspendu Mandal (Project Manager, Waste Warriors Corbett), says, "Most (people) don't realize plastic pollution itself is also an unacknowledged pandemic. It is present in the air, water, and soil, building up in our environment. There's a strong need to work together to prevent and solve this. Our work in Corbett shows how this can be done in rural areas across India." Mandal was the Tourism Manager at MP's famous Satpura Tiger Reserve.
On 17th July, Waste Warriors launched a fundraiser with Wishonary, a social enterprise and online platform that connects grassroots organizations and social workers with corporates and supportive individuals, with the intention of solving local development issues. COO Vivek Saxena, Wishonary adds, "Our partnership with Waste Warriors is an extension to our effort in creating community-level engagement for bringing social change. We wanted to share the true picture of wildlife conservation in our country and support waste warriors with the community that can enable Waste Warriors with financial support and visibility they need to save wildlife at Corbett."
Waste Warriors hopes that people, especially wildlife enthusiasts, environmentalists, and even those who have experienced the beauty of nature reserves, will respond to this call to adopt a village and support a cleaner Corbett.
Disclaimer: This media release is auto-generated. The CSR Journal is not responsible for the content