Community animal welfare drive hosted in Kolkata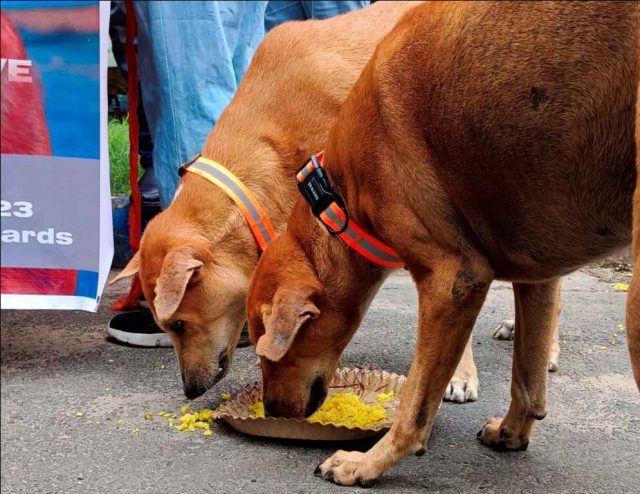 Kolkata, India: HUFT Foundation recently partnered with the Alliance Club to conduct a community animal welfare drive in Santoshpur, Kolkata, and its adjoining area. For six dedicated hours, the volunteers from both organizations participated in the drive, offering assistance to feed, collar, and provide medical aid to streeties in need.
Driven by compassion, the volunteers worked diligently to comfort the overlooked animals and improve their lives through small acts of kindness towards nourishment and safety. HUFT Tribe members personally tended to the animals by providing food and water. Nutrient-rich 'Feed A Dog In Need' kibble, curated by HUFT Foundation specifically for street dogs, was added to the home-cooked meals to educate and spread awareness about proper canine nutrition. In addition, HUFT Foundation donated 200 reflective collars as a Safety Partner. Subsequently, all the dogs were collared on the same day to provide them with extra protection at night and prevent road accidents by enabling drivers to spot them easily.
With empathy, they also kept watch for dogs needing urgent care, resulting in fifteen animals receiving prompt medical treatment. Together, Alliance Club and HUFT Foundation showed us how even simple deeds, done with utmost sincerity, can make a difference in a street animal's day or life.
"We are always looking for people and organizations who are aligned with our vision to enable peaceful co-existence between humans and urban animals. For that, we are happy to partner with Alliance Club to further our efforts in this direction. We, at the HUFT Foundation, firmly believe that peaceful co-existence can be achieved through understanding the animals we share space with, and by coming together as a community to care for their needs. A big thank you to all the volunteers who took the time out to serve our wonderful streeties." – Rashi Narang, Heads Up For Tails
"As the famous quote by Albert Schweitzer rightly said, "The Purpose of Human Life is to Serve and To Show Compassion and The Will to Help Others". In Alliance Club , that is what we hold as our motto, and that is what led us to organizing the feeding and collaring drive for our little friends on the street. We are grateful to Heads Up For Tails Foundation for their unconditional support in this event and their active participation in the same. Also, we convey our heartiest thanks to all the volunteers who participated in this event throughout the day and helped the little ones to have a safer tomorrow." – Samriddha Ganguly, Alliance Club of Shiv Shakti
The HUFT Foundation remains devoted to assisting animals in need across India. Drives like these increase the visibility of the challenges faced by street animals while providing meaningful aid. The HUFT Foundation aims to continue impactful collaborations to create positive change for animal welfare.
Alliance Club is dedicated to the overall improvement of civic, cultural, social, and moral welfare in communities. They unite compassionate allies and resources to create positive change through impactful initiatives advancing health, education, sustainability and social justice. This animal welfare drive exemplified their on-the-ground approach to bettering communities.
Small acts of kindness – whether it's reporting cruelty, donating to animal welfare organizations, or providing a shelter animal with a loving home – have the power to transform lives. When we open both our hearts and hands to help relieve the pain of these voiceless creatures, we can truly make the world a kinder and better place to live.
Disclaimer: This media release is auto-generated. The CSR Journal is not responsible for the content.