In 2014, India became the first country in the world to mandate companies to spend a fraction of their revenue on Corporate Social Responsibility (CSR). However, long before the Companies Act 2013, cultural beliefs in daan and good karma, have always been a deep-rooted part of India's corporate culture.
Business houses such as the Tata's and the Godrej's have been bastions of social stewardship, undertaking a number of social welfare initiatives through years. While corporates have always played their part and have extended timely support, responsibility of social transformation has largely been borne by the Government and few non-profit organizations.
The CSR mandate by the Government of India is aimed at forming a collaboration between the corporate world, NGOs and Governments to work together for creating a large scale positive impact and mainstreaming social responsibility in the DNA of Indian organizations. The enactment of CSR rules has witnessed a tremendous impact on the evolving outlook and definition of CSR in India.
It is worth revisiting the corporate journey of organizations' past to analyze how CSR has evolved over the decades.
Past
Pet Projects:
Earlier, CSR projects were driven by senior executives of companies based on their inclination towards causes that intrigued them. Selection of such projects, typically known as pet projects, were highly subjective in nature without scientific backing or empirical assessment. These projects were also unsustainable, considering they could easily disintegrate when executives left their organizations or changed their areas of interest.
Philanthropy:
Philanthropic contributions marked the next step in the evolution of CSR. With an aim to bring about social change in a more sustained manner, corporates donated large sums of money to charitable foundations. While this method helped channelize CSR funds towards proven long term programs, it failed to harness corporate efficiencies in effecting large scale impact.
Present
Currently, CSR spend is driven primarily by the CSR law. The philosophy of comply-or-explain mandates companies falling under certain criteria to spend a percentage of profits, on CSR activities, failing which they are required to provide an explanation for the unspent amount. On the other hand, the mandatory spend has driven corporates to treat CSR more strategically.
Partnerships:
In the current scheme of things, corporates are partnering with NGOs and Government entities for implementation of their CSR activities. They are moving towards a more collaborative model where businesses are focusing on scalability through partnerships. Corporates are also allocating more funds to CSR than the prescribed law, showcasing their conscious approach to the prevalent social issues.
However, these expenditures, in some cases, are made in the form of financial contributions without focusing on impact, underscoring the need for a more comprehensive approach for the future of CSR.
Source: KPMG CSR Survey Report
N100: List of companies identified by KPMG for study
Future
Shared Value Approach:
As businesses continue to grow in size and number, with revenues of some companies larger than the nations, their potential environmental and societal impact increases accordingly. In order to ensure that businesses have a net positive socio-economic impact, a fundamental change needs to be brought about in the way corporates look at their responsibility towards society.
When corporates treat CSR simply as an expenditure to be made for compliance, it becomes more of a liability than a step towards social transformation. There is a need to create a business case for CSR in order for it to be embedded into a corporate's business strategy.
In order to build such a business case and get all stakeholders to focus on long term impact, there is a need to go beyond compliance and look at a business model of shared value. This would ensure that businesses don't merely mobilize CSR budgets, but also grow as a result of the same.
A shared value approach treats CSR not only as a means to benefit the society, but also as a strategic tool to tackle long-term socio-environmental challenges faced by corporates. CSR is no longer viewed as an expenditure, but rather as an investment towards sustainable societies and businesses.
Corporates bring with them decades of expertise in executing large scale projects and driving efficiencies. These skills are critical in achieving nationwide positive impact. Augmented by on-ground expertise of the development sector, and the enabling environment created by the Government, corporates can leverage their expertise and resources to help create a sustainable future by following a shared value approach to CSR.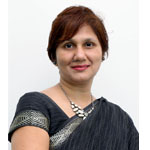 Namita Vikas is Group President & Global Head, Climate Strategy & Responsible Banking at YES BANK. She was recently voted amongst Asia's 26 Top Sustainability Superwomen. As the Chief Sustainability Officer of the Bank, she spearheads Sustainable Development and CSR, thus driving sustainability principles within its core operations and its value chain towards creating stakeholder value. Namita has an Advanced Management Degree in CSR and Leadership from the Swenska Institute, Sweden.
Views of the author are personal and do not necessarily represent the website's views.
Thank you for reading the column until the very end. We appreciate the time you have given us. In addition, your thoughts and inputs will genuinely make a difference to us. Please do drop in a line and help us do better.
Regards,
The CSR Journal Team