National conference hosted to address eye health in India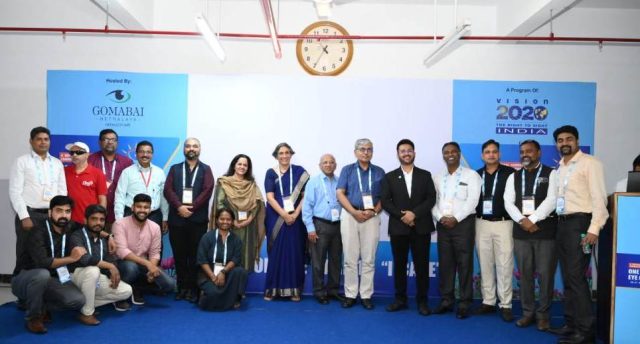 Bengaluru, India: VISION 2020: The Right to Sight is a global initiative to eliminate avoidable blindness, launched in 1999. CBM India, as one of the founding members of VISION 2020, has played a pivotal role since its inception by bringing expertise and stakeholders together to address the challenges associated with visual impairment, contributing significantly to the broader mission of VISION 2020. The 17th conference, too, saw CBM India's unwavering dedication to eliminating avoidable blindness and promoting inclusive eye care, ultimately improving the lives of countless individuals around the world.
The conference, spanning two days, was a platform for experts and organisations to come together and exchange ideas on improving eye care services in India. It featured thought-provoking panel discussions, poster presentations, and invaluable experience-sharing sessions that enriched the knowledge base of all participants. With a commitment to inclusive eye care, CBM India delivered impactful papers and insightful keynotes, supporting engaging discussions on essential topics.
CBM India's contributions covered a broad spectrum of topics, including financing vision centres, women's eye care, technology for equitable access, opportunities beyond Grant in Aid, and NGOs' role in eye care. One notable achievement is the collection of disaggregated data on disabilities, a vital step towards better understanding and addressing eye health challenges. CBM India also highlighted its proficiency in managing vision centres and reaching underserved rural communities by delivering eye care on wheels. This approach has helped bridge gaps in eye care accessibility for people with disabilities and their communities.
Dr. Sara Varughese, Managing Trustee of CBM India Trust, said, "Participation in the 17th VISION 2020: The Right to Sight-INDIA national conference has been an inspiring journey for CBM India. We are deeply committed to the cause of inclusive eye care and leaving no one behind. Our engagement in this conference has allowed us to share our expertise, learn from others, and reaffirm our dedication to transforming eye care services in India. Together, we can make a significant impact on the vision and health of our nation."
In March 2023, CBM India Trust, in partnership with VISION2020 – The Right to Sight, hosted a network consultation and discussed the current state of eye care services in Karnataka.
Disclaimer: This media release is auto-generated. The CSR Journal is not responsible for the content.