Ajay Piramal meets Assam Chief Minister, discusses CSR of Piramal Foundation
Piramal Group Chairperson Ajay Piramal met Chief Minister of Assam Himanta Biswa Sarma last week and discussed Corporate Social Responsibility (CSR) initiatives by Piramal Foundation in the state.
Sharing pictures from the meeting, the official Twitter handle of the Chief Minister Assam tweeted on Friday, "CM Dr @himantabiswa had a fruitful meeting with Shri @AjayPiramal, Chairman of Piramal Foundation, at Janata Bhawan. The CM expressed his keenness to further strengthening GoA's cooperation with @PiramalFdn in areas including @nhm_assam & Aspirational Dist programme."
The official Twitter handle of Piramal Foundation also tweeted, "Ajay Piramal, Chairman, @PiramalFdn and Dr @himantabiswa, Honourable Chief Minister of #Assam discussed #opportunities to build on the #work done by #PiramalFoundation in the #state."
Aspirational Districts Collaborative
Aspirational Districts Collaborative is a flagship initiative of Piramal Foundation and NITI Aayog, which aims to support the government's efforts to improve the lives of people residing in Aspirational Districts across India.
Aspirational District Programme (ADP) was launched by the Government of India in January 2018, with the aim of uplifting 112 districts in 28 states, affected by poor socio-economic indicators. The Aspirational Districts Collaborative (ADC) was born in May 2020, to build on the Foundation's work over the last three years in 25 districts, in partnership with NITI Aayog. ADC aims to expand its scope and strengthen its efforts to uplift the lives of people in 112 aspirational districts.
ADC is committed to addressing complex demographic, geographic, and socio-economic issues in these districts by harnessing the power of hyper-local collaboration between local players and government, leveraging the power of communities to catalyse behaviour change at scale and speed, and ensure sustainability.
CSR projects of Piramal Group in Assam
Piramal Group through their philanthropic arm Piramal Foundation has undertaken quite a few CSR initiatives in the state of Assam especially towards healthcare and education. The CSR Journal takes a look into the popular CSR initiatives of Piramal group in Assam.
MoU with the Assam Government for Education
On 15th June 2019, Piramal Foundation for Education Leadership signed an MoU with Assam Government to bring change in education across 5 aspirational districts in the state, for a period of four years. These are Baksa, Barpeta, Darrang, Dhubri and Goalpara. According to the MoU, Piramal Foundation for Education Leadership will support the state government and district administrations in leadership and professional development of individuals through multiple channels of intervention.
School Health and Wellness Programme in Dhubri
Piramal Foundation's Dhubri district unit reportedly launched the 'School Health and Wellness Programme' with the support of Gauripur Educational Block and in collaboration with Voice of Koch a local NGO in December, 2021. The project focuses on holistic development of children of 25 schools.
Door to door Mobile Telemedicine Consultation
During the Covid-19 pandemic, Piramal foundation piloted the m-TMC (Door to door Mobile Telemedicine Consultation) initiative in selected non-aspirational districts in Assam for high-risk pregnancy (HRP) cases.
SARATHI 104 helpline
SARATHI 104 helplines in Assam was aimed to roll out government initiatives such as the 'Assam Cares Migrant' initiative, supporting Assamese stranded in other states. Monon, mental health counselling program, and Dhanwantari, a door delivery of medicines to patients program during the lockdown were initiated. Between March 2020 to April 2021, a total of 210,885 calls were received and 1,229,786 were made from the health helplines in Assam.
SATH
Sustainable Action for Transforming Human Capital (SATH) initiative commenced in 2020 to improve various elements of the public health system in Assam. The SATH team plays a catalytic role in ensuring this transformation by working closely with the state machinery.
The key achievements include–
– Assessment of governance and review mechanism at various health facilities
– Assessment of health-related supply chain process in Assam
– Preliminary evaluation of the Non-Communicable Diseases (NCD) landscape in the state
– Recommendation on Community Action on Health (CAH), a strategy under National Health Mission addressing high-risk pregnancies in the state
– Established '104' telemedicine hubs for Sanjeevani Mobile Medical Units (MMUs)
– Established Health and Wellness Centres (HWC)
– Organised Village Health and Sanitation Days (VHSNDs)
– Working closely with the state government in strategizing and implementing various schemes and initiatives to address the COVID-19 pandemic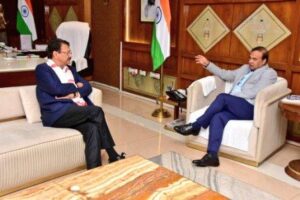 Integrated Health Care Model
Majuli is an island district with critical healthcare needs with 50% of the population being tribal. The programme on 'Integrated Health Care Model' in Majuli, Assam was implemented to improve institutional deliveries to reduce maternal and infant deaths and mortality risk among patients with Hypertension and Diabetes through early detection, treatment and follow up.
Salient features of the project:
– Community outreach through 4 mobile medical units, a boat clinic and teleconsultation in coordination with Jorhat Medical College.
– An intensive effort on community awareness and engagement efforts was carried out.
– Even though the regular programmes had to be realigned due to the pandemic, follow-up of ANC and NCD cases continued.
– Supported the local government's effort for COVID-19 screening; screened 1,895 individuals across 125 villages.
– Helped the local District Flood Relief Committee in planning health camps at the flood relief camps in Majuli and screened 3,592 beneficiaries covering 141 villages in 2020.
Mukto Akash
Piramal Foundation and Udalguri District Administration reportedly launched a project titled 'Mukto Akash' on the occasion of World Menstrual Hygiene Day 2022 in Udalguri. As part of the project, menstrual hygiene and menstrual health awareness was spread among adolescent school girls. Sanitary pads were also distributed among female students.
Eliminating vaccine hesitancy from tribal districts
In March,2022 Piramal Foundation in collaboration with the Ministry of Health and Family Welfare, Ministry of Tribal Affairs, USAID under the aegis of Anamaya, Tribal Health Collaborative launched a campaign titled 'Aashwasan' to dispel COVID-19 vaccine hesitancy, promote COVID Appropriate Behaviour, and find cases of tuberculosis among tribal population of India. In a phased manner, the campaign is expected cover all villages of blocks with over 25% tribal population in 177 tribal districts. Implemented by Piramal Foundation, the initiative focuses on districts in Assam, Arunachal Pradesh, Chhattisgarh, Jharkhand, Odisha, Madhya Pradesh and Maharashtra.