Zero Hunger Goal: Human Dignity Central to 2030 Agenda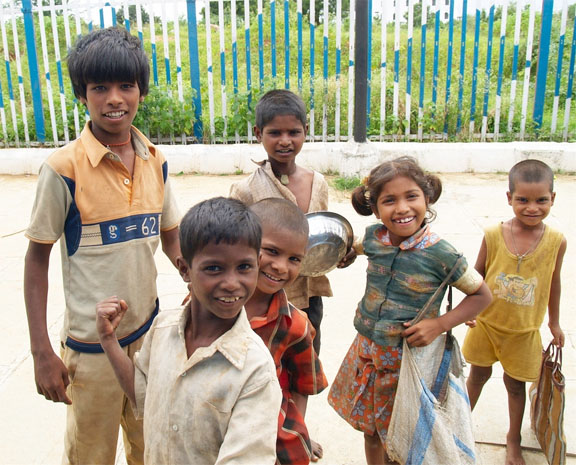 In 2015, global leaders pledged themselves to the 2030 Agenda for Sustainable Development. It promises to work collectively and leave no one behind. But promises do not feed hungry people. Action is needed with an evidence base to end the bane of hunger in the 21st century.
A new report on hunger found that one in three children in India has stunted growth, whereas 15% of the country's population is undernourished. The 2016 Global Hunger Index (GHI) that was released on Tuesday said 38.7% of Indian children below five years of age are stunted due to lack of food.
The report by the International Food Policy Research Institute (IFPRI), also ranked India 97 among 118 countries, is performing poorer than all its neighbours- China (29), Nepal (72), Myanmar (75), Sri Lanka (84) and Bangladesh (90), except for Pakistan (107) in measures of hunger.
The hunger index ranks countries based on undernourishment, child mortality, child wasting (low weight for height) and child stunting (low height for age).
All the goals are working to contribute towards social justice, eradicate poverty, and improve health and living conditions. It is now the duty of the government to follow up through political will and sustained actions. The root causes for poor numbers are numerous interlinked problems such as poverty, inequality, violence, conflict, diseases and climate change. This calls for a holistic collaboration on multiple levels.
Arun Jaitley while answering queries related to CSR in the Rajya Sabha, said, "In the first year of CSR mandate, considering the profits of companies, two percent would be calculated as Rs 8347.47 crores. Out of this, 75.92% was spent on CSR in the first year."
Below are the figures shared on PIB showing the usage of CSR funds on activities in 2014-15: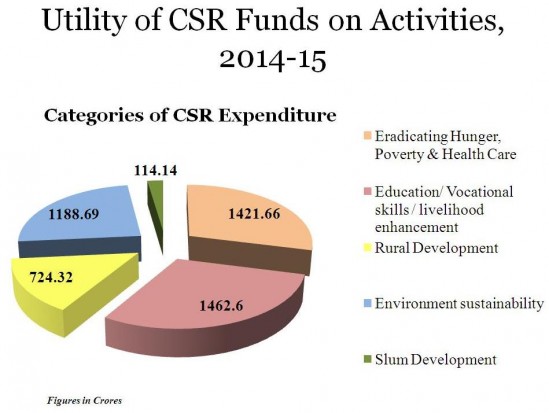 The report said that while hunger levels in developing countries have fallen 29% since 2000, efforts to curb hunger must be accelerated in order to meet an international target to eradicate it by 2030. 43 countries, including India, Nigeria and Indonesia, have "serious" hunger levels.
At the current rate of decline, more than 45 countries – including India, Pakistan, Haiti, Yemen, and Afghanistan – will have "moderate" to "alarming" hunger scores in the year 2030, the authors of the index said.
"Too many people are hungry today. There is a need for urgent, thoughtful and innovative action to ensure that no one ever goes hungry again," said David Nabarro, special adviser to the U.N. secretary-general on the SDGs.
The report also highlighted some bright spots, for 20 countries, including Rwanda, Cambodia, and Myanmar, who reduced their GHI scores by over 50% each since 2000.
An infrastructure needs to be built to achieve these goals and implement them. To in-turn be accountable to the citizens with reliable data collection processes, follow-ups and reviews. It is imperative to make progress sustainable and ensure responsibilities are shared by all individuals.
Thank you for reading the story until the very end. We appreciate the time you have given us. In addition, your thoughts and inputs will genuinely make a difference to us. Please do drop in a line and help us do better.
Regards,
The CSR Journal Team