Best out of waste: Abandoned bus turned into mini Material Collection Facility in Kerala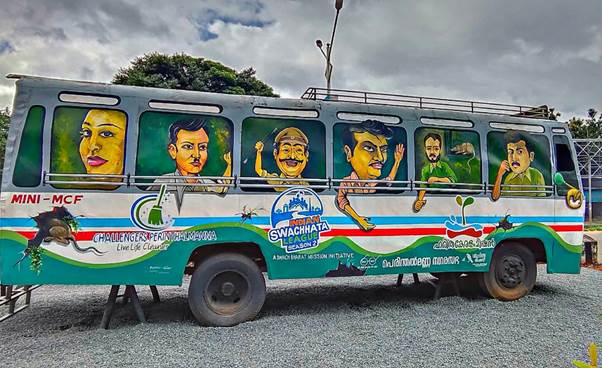 Setting an inspiring example of environmental conservation and embracing sustainability, an abandoned bus has been transformed into a mini Material Collection Facility in Perinthalmanna Municipality, Malappuram district of Kerala. Before this amazing transformation, the bus was lying abandoned for quite some time.
Thanks to the collaborative effort of the Perinthalmanna City Council's Health Department and students from Government Polytechnic College, Angadippuram, the bus is now ready for action in a whole new sustainable avatar!
Inspired by Malayalam film 'Ee Parakkum Thalika'
However, there is also a filmy touch to the tale! What makes this mini bus stand out is its captivating theme inspired by the popular Malayalam blockbuster film 'Ee Parakkum Thalika,' featuring the story of Thamarakshan Pillai, a bus, and its caretakers Unni and Sundaresan, characters cherished by movie enthusiasts. These iconic elements have been integrated into the new mini bus model introduced by Perinthalmanna Municipality.
Inside the bus compartments, one can discover exquisite paintings of other characters from the movie, including Basanti, played by popular Malayali actress Nithya Das.
To be used for waste collection
The bus has been kept on display in front of the Perinthalmanna City Council office and from now onward will play an active role in the city council's sanitation initiatives by serving as a waste collection vehicle.
Following the bus's incredible makeover, members of the Green Karma Army from the Perinthalmanna City Council will utilise the Mini MCF bus for waste collection in the city. Additionally, a mini -Material Recovery Facility has been incorporated into the Thamarakshan Pillai bus to facilitate proper waste segregation. Soon, the beautiful Thamarakshan Pillai bus will actively contribute to the city council's sanitation endeavours, continuing its journey of turning waste into art and promoting sustainability.