The absence of access to good healthcare and sanitation facilities in the remote villages of Garo Hills, has been a concern for years now. As a result, there have been instances of serious health issues in the area. Few of the healthcare centres in the area were also primarily not well equipped.
After equipping Siju and Baghmara (in South Garo Hills) health centres with modern healthcare equipment, last year, Wildlife Trust of India and The Body Shop India have further extended their support to upgrade the Asanang Health Centre (in West Garo Hills) by construction of public sanitation facilities as a way of recognizing the efforts of the Garo Community who have been at the forefront of conservation in the region.
The Inaugural Ceremony of the facility was organized at Asanang Public Health Centre in West Garo Hills, Meghalaya on 26th February 2019. Dignitaries included representatives from the Garo Hills Autonomous District Council (GHADC), Health Department, The Body Shop India, Wildlife Trust of India and local Garo community members.
Chief Guest at the programme, Ms Shelly C.H. Momin, M.C.S. Block Development Officer, Rongram, C&RD Block, West Garo Hills said, "I am happy to see this beautiful convergence of Government, NGO and Corporate coming together for a noble initiative to provide support to the community of Garo Hills".
Dr Marwin M. Sangma, District Medical and Health Officer, West Garo Hills, said "We are thankful to WTI and The Body Shop India to come forward with this support for the Public Health Centre and we hope together we can make a difference for nature and environment."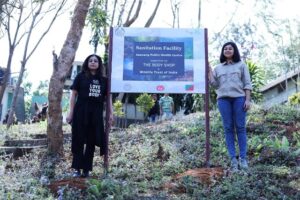 Commenting on the initiative at the event, Ms. Shriti Malhotra, CEO, The Body Shop India said, "We carry forward our founder Anita Roddick's legacy of giving back to society especially to the local environment and communities.  In this area, unlike any other part of the country, the forest is owned by the communities and the onus of preserving it and using the resources well lies with the communities. We are pleased to inaugurate these facilities here today believing that uplifting health and sanitation will prove effective in providing good health to the locals as well as it will provide a platform for the doctors who are willing to come to these remote places to dedicate their service to the people."
Mr Balsreng Sangma, Field Officer-Garo Project, WTI mentioned, "Conservation has always been in the blood of the Garo community and we are just doing our bit to build up on that.
The Body Shop, together with Wildlife Trust of India (WTI) is helping to re-wild the endangered habitat in Garo Hills, Meghalaya, empowering communities and protecting endangered elephant population, by building a natural corridor of landscape for free passage and conducive environment for their conservation.
The inaugural ceremony was attended by over 70 people from the region and concluded with the group inaugurating the sanitation facility and declaring it open for public use.