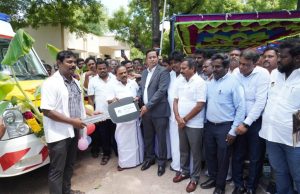 Cuddalore, India: Hyundai Motor India Foundation (HMIF), the philanthropic arm of Hyundai Motor India Ltd., today handed over two Advanced Life Support ambulances to...
In a first, the Government of Jharkhand has launched an air ambulance to facilitate transport facilities for healthcare. This is an effort to provide...
जिन विषयों पर लाल फीता शाही भारी होती है, जिन विषयों को फंड की कमी से सरकार द्वारा नज़रअंदाज कर दिया जाता है। उन्ही...
J&K among states considering adopting GVK EMRI, India's largest emergency management service, and part of infra major GVK's wp activity, after service is shown to reduce maternal mortality rates in states where it is functional.