Why the World Needs More Sustainable Practices
27th February is observed as World Sustainable Energy Day, when conversations take place around the globe on renewable energy sources and technologies that optimise energy usage. It is the responsibility of the present generation to leave a better world behind for future generations, and sustainable technology plays a big role there. The construction industry, which has long relied on traditional, resource-heavy practices, is now moving towards greener options that cut down on pollution and use resources wisely. Here, we discuss the ways in which modern building management optimises on energy, while also presenting the business case for switching to sustainable options.
Sustainable technology, or green technology, is an umbrella term referring to any kind of technology, product or method that optimises the use of natural resources while fostering economic and social development. These technologies aim to reduce the environmental impact of resource usage by using less material and/or energy at a time to accomplish the same purpose. One of the key features of sustainable technology is that it doesn't involve cutting out a resource or method altogether. Rather, it enables gradual and lasting change through a transition into a better set of choices.
Thus far, humans have been consuming resources with little thought for the consequences. Over the past two decades, in particular, economic growth has come at the expense of the environment. Fossil fuels have been used with little regard for either pollution or resource depletion, and consumption and waste have gone up hand-in-hand as disposable incomes have increased. Studies are repeatedly showing that we are close to the tipping point beyond which the damage to the planet from pollution and resource depletion will be irreversible. In response, sustainability has evolved from being merely a buzzword to becoming a new way of life. Designers and manufacturers across industries are integrating sustainable techniques, materials and production processes into their output. Consumers, too, are making more conscious choices about what they buy. Sustainable technology serves as a bridge between the old and the new ways of consumption, with an emphasis on long-term change.
Green technology is becoming increasingly popular in the construction space. Both residential and commercial buyers are keen to invest in 'green buildings' made out of sustainable materials that are biodegradable and can also regulate internal temperature naturally. Many businesses hesitate to invest in green technology, under the assumption that it would be too expensive. The truth is, however, that sustainable business practices lead to a significant reduction in long-term energy costs. While the initial installation costs might be moderately high, the savings in terms of heat, lighting, water and power is massive. A business that demonstrates a commitment to sustainability, moreover, will enjoy better market reputation and win the trust of their employees, which will ultimately translate into more productivity and profits. And finally, governments are offering special tax incentives to businesses that demonstrate sustainable practices, which serves as another incentive.
For example, legacy HVAC systems use a lot of energy, are hard to maintain and do not allow precise control over temperature and lighting. In response, several building management companies have come up with smart Building management solutions (BMS) that make use of AI and IoT to create optimal working conditions while minimising energy expenditure. For instance, smart sensors placed around the building can tweak room temperature and lighting based on usage levels, thus expending only as much power as necessary. Such systems also automatically send out notifications when repairs are needed, allowing for efficient maintenance. With a central dashboard to monitor the entire building, smart systems like this are easy to use and offer unprecedented visibility on actual energy usage. In-built analytics also offer predictive insights on energy usage, thus allowing building managers to plan for the future. Another way in which buildings are adopting green technology is in the use of data to drive decisions about building structure and ambient conditions. For instance, building information modelling (BIM) uses digital models to design physical spaces that make use of natural light and the outside air as much as possible. This way, businesses can spend less on energy right from the get-go without sacrificing on employee comfort.
Environmental consciousness is on the rise, and leaders of today are keen to make choices that are good for nature as well as for business. Modern building management thus incorporates smart technology that enables efficient energy usage while maintaining congenial work conditions. The move to green technology may seem daunting, but the rewards are undeniable. We can thus expect more and more businesses to embrace sustainable practices and do their part for society, the economy and the planet.
Views of the author are personal and do not necessarily represent the website's views.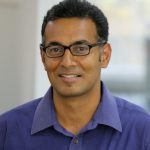 Gaurav Burman is the VP & APAC President of 75F India. His previous position was with Schneider Electric, as their Director – Marketing where he was also a part of the Management Team of Schneider Electric, South Asia. Gaurav has handled diverse portfolios in his career including product management, alliances, channel sales, and enterprise sales. He was recently recognised as one of the 50 Most Talented CMOs in India in 2013, and one of the 100 Most Talented CMOs in the World by the US-based CMO Council.