Advancing Sustainability in the Beauty Industry
While consumers have been demanding safe products for their skin for years, the push for sustainable beauty brands has increased manifold as the new generation enters the industry's target bracket. New-age consumers, especially millennials and GenZ, are making brands rethink their sustainability practices and take steps towards advancing these actions as the effects of global warming, deforestation, and oceanic pollution become more apparent.
Recent trends suggest that today's customers prefer brands that use buzzwords like 'natural extracts', 'organic', 'ethically-sourced', etc. These terms give users assurance that the products they are using are safe not for them, but also the planet.  Therefore, leading beauty brands are trying to step up their sustainability strategy to meet the evolving needs of consumers and the industry. Here's a look at some ways in which brands are increasing their focus on environment-friendliness.
Protecting the climate
Climate change is perhaps the most critical ramification of carelessness towards sustainability. Beauty brands must reassess their processes right from manufacturing to delivery of products to ensure that they are not detrimental to the environment. For instance, manufacturing units can become a huge part of a beauty brand's sustainability strategy. Brands like Oriflame are trying to reduce their impact on the environment by using 100% renewable electricity across their manufacturing units so that the brand takes the earth-friendly approach right from the first step of production.
Not just manufacturing units, companies can ensure that their offices, and all other aspects of business leverage renewable energy to minimize the impact on the planet as much as possible. Installing solar panels at factories and manufacturing facilities and doing regular energy audits are some of the ways of achieving this goal.
Further, carbon emissions that are released during the manufacturing, as well as transportation processes of most products, play a major role in climate impact. Thus, beauty brands can reduce their CO2 emissions by opting for environment-conscious logistics to reduce their impact. With such careful consideration, beauty brands can ensure that they are good for the earth.
Keeping the oceans clean
Oceans – the source of life-sustaining water and home to multitudes of marine species – get contaminated with run-off from the manufacturing processes of brands. Moreover, several beauty brands use harmful plastic microbeads in their scrubs that choke marine life once they enter the water system. Wash-off from face washes can also contain toxins that can upset the balance of the oceanic ecosystem.
To address these problems,  brands like Oriflame are ditching these harmful practices and using 100% natural-origin exfoliants like almond shells in their scrub products that do not pollute the earth. They are also choosing to use bio-degradable ingredients in their rinse-off products and masks to further the cause. Finding inspiration in nature and respecting the environment is key to the brand's philosophy and this truly gets reflected in its sustainable practices and products.
Another way of ensuring that a brand is doing good for the oceans is to reduce water usage at factories and use recycled plastic to keep it far away from the oceans.
Forest conservation
Forests are a vital part of global and local ecosystems: they provide habitats, preserve biodiversity, clean our air and water, absorb carbon, and provide people with materials, food, and livelihoods. The largest threat to our forests today is deforestation. According to the World Wildlife Fund (WWF), 18.7 million acres of forests are lost annually due to deforestation.
Beauty brands, especially in the direct-selling business, often use catalogues to reach out to potential and existing customers. Leading sustainable brands are working towards sustainable forestry practices with the main goal to source 100% of paper and board packaging and catalogues from either credibly certified sources or recycled materials. In practice, this means giving preference to Forest Stewardship Council (FSC™) certified paper when possible.
Charting a sustainable route to beauty: The way forward
Being respectful towards the earth's flora and fauna is as important as creating high-quality and effective products. To achieve these goals, brands are opting for natural extracts that have been certified safe. They are ensuring that the ingredients they use do not come from endangered sources and focus on celebrating the earth's natural bounty through their products.
Sustainability is the future of beauty in India and the world.  While these products will be available at higher price points, they will definitely be embraced by new-age consumers with higher awareness levels. Fortunately, numerous beauty brands are already doing their bit to contribute to the earth's well-being. Considering this fact, the future of the beauty industry and the earth looks quite promising.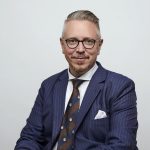 Mr Fredric Widell's presence in Oriflame as VP and Head of South Asia & Managing Director India ensures that the core values of the company are manifested truthfully. His aim is to build Oriflame India as the leading company in beauty and skincare selling direct. His previous assignments included being Managing Director for four different key Oriflame markets; Sri Lanka, Vietnam, India and Indonesia; as well as being the VP & Head in the former Asia Pacific region. 
Views of the author are personal and do not necessarily represent the website's views.
Thank you for reading. Please drop a line and help us do better.
Regards,
The CSR Journal Team