Sarthak Educational Trust campaigns for Atmanirbhar Divyangs in Kaun Banega Crorepati
Kaun Banega Crorepati 12 has begun with its special karamveer episodes that brings forth changemakers and fighters who make a difference in real life. The quiz show's latest episode featured Dr. Jitender Aggarwal & Dr. Suman Aggarwal from Sarthak Educational Trust which has trained and placed 20,000 divyangs so far across the country through the NGO.
Dr. Jitender Aggarwal was himself diagnosed with macular degeneration of retina, a non-treatable concern, at the age of 30, which took away his vision. Jitender, who was practising dentistry then, was suddenly drooping into darkness and did not know what to do. While he was exploring livelihood options for himself, he realised the challenges of people with disabilities (PwDs) in India.
The organization was started in year 2008 with opening of their first training centre for disabled in the Capital.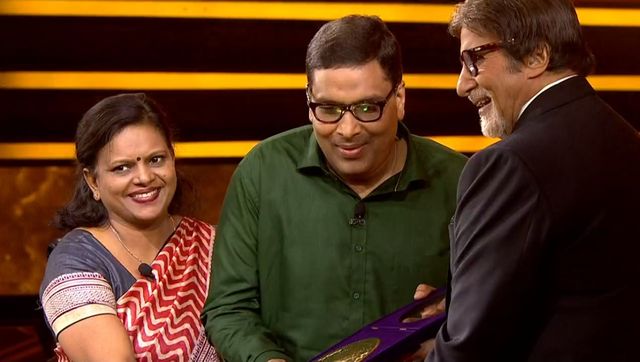 Dr. Aggarwal says, "It has been a great privilege to be at the platform and telling none other than Bollywood star Amitabh Bachchan about the vision of Sarthak Educational Trust – Sarthak ka Prayas, Har Divyang Ka Vikas (The efforts of Sarthak to ensure growth and development of all people with disability). The complete experience of shooting for the episode has been really heart-warming and a complete roller coaster ride when Mr. Bachchan asked about the journey of starting Sarthak."
The idea of

Sarthak Educational Trust

right from its inception was to provide financial independence to

people with disability

. Today, Sarthak has a full-fledged office in Delhi, 20 other training centres all over India, has trained and placed 20,000 divyangs so far. A three-month course helps individuals with various disabilities pick up life skills and be market-ready.
Even during the COVID-19 pandemic, Sarthak went a step ahead to scale its activities in the virtual space, and got more members on board. "Within a week after the lockdown was announced, Sarthak started online training programmes for its members. However, the earlier days were a bit challenging. Despite the challenges, our team was able to lay down an idea to take our programmes to the virtual space. Sarthak has thus been reaching out to PwDs via telecom and video conferencing and helping them with COVID-19 counselling, virtual vocational skill development training, and employment support," shares Dr. Aggarwal.
He further adds, "Since then, about 2,500 people with disabilities have been trained successfully through the online sessions, out of which 1,000 people have landed a job. Thus, the pandemic provided an opportunity for Sarthak to scale its reach."
On being asked about, how the amount will be utilized, Dr. Aggarwal also talked about his dream project of

Global Resource Centre

where all services to persons with disability will be provided under a single roof.
He shares, "We relived the journey of last 12 years and its beautiful moments, our dream of an inclusive society, equal opportunity, success and access for people with disability." Big B thanked the couple for their efforts and said that the stories they shared on KBC 12 will create awareness. The couple won Rs. 25 lakh which will go towards their NGO, Sarthak Educational Trust.
Disclaimer: This media release is auto-generated. The CSR Journal is not responsible for the content