Since skill development has secured its national agenda status, India has witnessed mushrooming of vocational training centres, big and small, across the country. While mere skilling is not sufficient to ensure sustainable livelihood, ironically, most training centres have adopted rather a short-term approach.
As we gear up to celebrate 'World Youth Skill Day' once again, there is a strong need to revisit the goals with which the initiative began. The burning question is, 'Are organisations doing enough to ensure sustainable livelihoods for our rural youth?'
There is a huge scope to fill the gap in existing skill development programs – strong mobilisation, integration of soft skills and promoting gender equality, being some of the priorities. However, at the same time there is also a need for organisations to widen their perspective and explore the latent opportunities that would add substantial value to the rural skill development initiative.
Breaking Gender Stereotypes
The pledge that "no one will be left behind" in the 2030 Agenda for Sustainable Development and its accompanying SDGs, commits member states to plan to fight gender equality. While organisations are taking sincere steps to make skill training more inclusive by encouraging female participation, we can still sense a subtle biasness related to the vocational trades, most of it limited to tailoring, beautician and office assistant. Breaking gender stereotype in skilling is the need of the hour and organisations must take this up as a challenge. Intensive mobilisation and counselling is the key to motivate youngsters to opt for seemingly unconventional courses. When Skill and Entrepreneurship Development Institute (SEDI) by Ambuja Cement Foundation promoted courses such as welding and electrical for females and nursing for males; there were doubts and fear in the minds of people. However, with robust training modules, on-the-job training and post-placement support, the initiative is well received by rural community and has created job opportunities for young men and women.
Tapping the Unexplored
Presently, while skill development is focused more on industrial and service trades, we cannot ignore the two starkest facts: that our rural economy is largely agrarian and our rural households are heavy on traditional fuel consumption. Both the agrarian economy and the energy sector are on verge of a burst, wherein new technologies are more than essential to be introduced to manage and mitigate the food and the energy crises looming in front of the nation.
Though there are new scientific methods being devised in agriculture and innovations being made in energy optimisation, and new subsidies and schemes being introduced; these wiles are not reaching its most needful consumers. What exists here is a simple lab to land gap, which can be bridged by developing a cadre of youth who can be trained in understanding these technical and schematic developments and then taking them door to door, implementing it with the lowest common denominator.
Promoting Constructive Dialogue
The goal of skilling youth cannot be achieved in totality simply by completing the training programs. In fact, the real impact could be achieved only after the training program and through consistent follow-up, both with trainees as well as the employers. Often, with rural youngsters, training is not as much a challenge as retaining them in their jobs, more so when they are required to migrate to new places. Organisations need to step in to help both trainee and employer cope with the initial hassles at workplace. Through effective engagement and dialogue, organisations can proactively resolve concerns that would contribute to the long-term success of skilling projects.
Skilling rural youth is a responsibility and should be seen as a long term investment for national growth. For corporate houses, this is a good opportunity to join hands and pool in resources for making skilling a sustainable development initiative.
According to World Economic Forum, young people are the key to achieving Sustainable Development Goals, but only if they are provided with skills and opportunities needed to reach their potential. As per census 2011, since India has the demographic advantage with 34% of population between 15-34 years, skill training and development will go a long way. By adopting innovative models, promoting collaboration and encouraging participatory dialogues with stakeholders, organisations can substantially contribute to the national and international development agenda.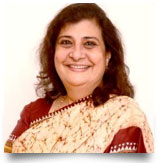 Pearl Tiwari is the Director of Ambuja Cement Foundation, the CSR wing of Ambuja Cements Limited. In a professional career spanning over 30 years, Pearl has been associated with the not-for-profit, educational and corporate sectors. Pearl joined Ambuja in 2000 and ever since has been at the helm of nurturing the Ambuja Cement Foundation that has expanded from a fledging team to nearly 400 development professionals, with a pan-India presence active in 21 locations across 11 states.
Views of the author are personal and do not necessarily represent the website's views.
Thank you for reading the story until the very end. We appreciate the time you have given us. In addition, your thoughts and inputs will genuinely make a difference to us. Please do drop in a line and help us do better.

Regards,
The CSR Journal Team
Subscribe