Promoting Health and Dignity of Elderly: CSR Solutions for Toileting Challenges in a Rural Setting
Sustainable Development Goals (SDGs) 6 calls for ensuring clean water sanitation for all and ensuring a toilet for all, it is one of the basic targets set under this goal. Defecating in the open has been an age-old practice in India, and when people have no option but to defecate in the open, it is not only inconvenient but poses high risk to public health as those defecating in open run the risk of catching or spreading infectious disease like diarrhoea to cholera and others. Swachh Bharat Mission (SBM) is the National flagship program that has contributed to enormous progress in building household toilets.
The honourable Prime Minister of India declared in 2019 that the country has achieved Open Defecation Free (ODF) status. While this achievement contributes to the pride and dignity of the nation, it is unfortunate that this progress has neglected the special needs of some of the most vulnerable sections of the population including the elderly and disabled. Particularly in Rural India, although every household is now provided with a toilet, it is not accessible or usable by the elderly. The new generation toilets financed under the SBM program of GOI in Rural areas are fitted with ground-level squatting pans and they do not seem to have taken into consideration the special needs of the elderly persons. No aiding facilities have been provided by the Government or families to ensure toilet accessibility for the elderly. Due to the discomfort caused by squatting, elderly persons fail to maintain personal hygiene and toilet cleanliness while defecating in their household toilet, and they are blamed as 'bad toilet users' by other family members. To avoid this embarrassment, many of the elderly persons are compelled to continue defecating in open surroundings in a standing position balancing precariously or hanging on to a rope which is tied to the roof of the toilet.
Lack of sensitivity, knowledge, local availability, and affordability of the aiding products is a major gap that is perpetuating the 'toileting difficulty' for elderly persons. Perhaps it is the fact that no village in the country can claim to have genuinely achieved 100% toilet access for elderly persons and that there is a compelling need for further progress to be made through innovative solutions or reaching the available solutions to those in need. Reaching the last mile requires much-focused effort and customized solutions to remove the barriers specific to each vulnerable category of the population.
Therefore, it was decided to Develop practical solutions to ensure accessible, safe and comfortable toilets for elderly persons and contribute to their independent living with dignity and self-respect. To address the above problem, Solon India Pvt Ltd, Hyderabad, decided to fund the provision of toileting chairs under its CSR initiative. To do so, it was decided to team up with Modern Architects for Rural India (MARI) a highly credible NGO working with a good track record, to provide toileting aids to most needy seniors.
Persons who are above 60 years of age with arthritis and joint pains and chronically ill with physical disabilities to walk were selected as beneficiaries. Those with explicit difficulty in independently managing defecation and lack of affordability to buy toileting aids were considered as the main criteria for the selection of beneficiaries supported under this project. Based on this criterion, the field staff of MARI meticulously selected the beneficiaries living in their project areas as they have been implementing various projects and are well-versed with the needs of these villages in Yadadri, Bhongiri District of Telangana
On 10th August 2022, Dr. Saraswati Turlapati from SOLON visited Veeravelli and Chandupatla villages and interacted with identified beneficiaries. During this visit, several elders approached and expressed their need and a keen interest in using the toileting chair. It was suggested by Dr Saraswati Turlapati that the selection needs not to be restricted to only those seen with outwardly showing disability, but those elderly who are in the challenging phase of life in terms of 'living alone' can also be supported under the project. Regular use of toileting aids provided must be considered most important for the selection of a beneficiary to be supported under the project. During the visit, it was also observed that many elderly persons do not have walkers while some were using their own damaged walkers, which could be risky.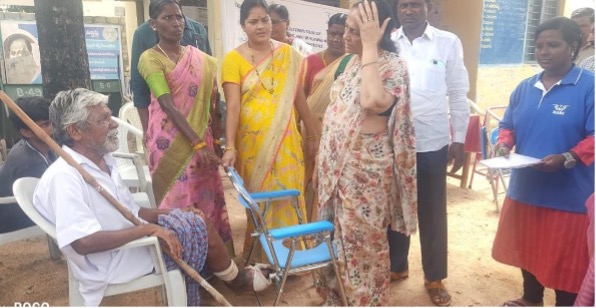 Observation of Toilet Aids by the District Collector and other Officials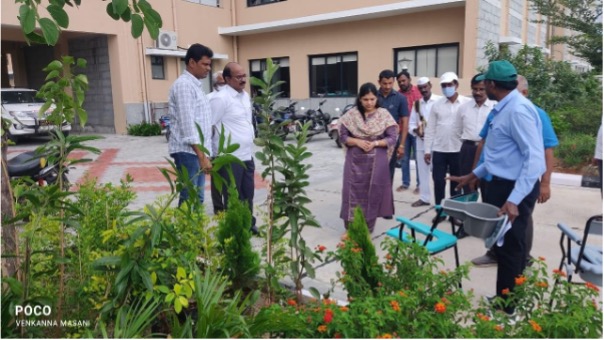 It was observed during our visits that many could not reach the toilet chairs to use them, and some were observed to be dragging themselves up to the point where the toilet chair was located. During the interaction with elderly persons, many expressed the need for walkers. Thus, it was also considered as an important complementary aid to ensure good usage of the toilet chair. Taking all this into consideration, it was decided to extend the support of walkers also to the selected beneficiaries. During the field visit, the elderly persons and their caretakers have given positive feedback that both types of Toilet Chairs provided on a trial basis were tried out to see if they fit into the toilets and if the user should be comfortable and safe when they sit in the chair and use it. After all these minute issues were observed and discussed, both chairs and walkers were distributed.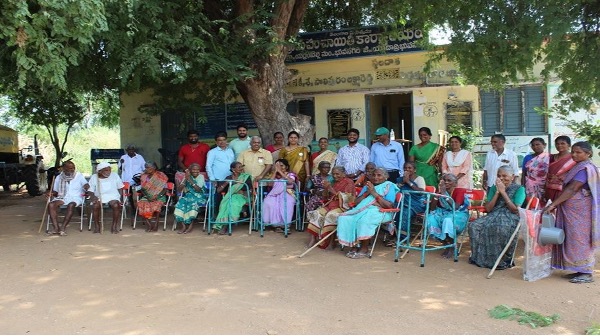 Distribution of toileting chairs and walkers to the selected beneficiaries:
#       Name of the village

Toileting Chairs Beneficiaries

Walker's Beneficiaries

Date of Distribution

Men

Women

Total

Men

Women

Total

1

Gousenagar

22

27

49

17

11

28

1-Oct-22

2

Chandupatla

19

23

42

10

11

21

1-Oct-22

3

Veeravelly

18

31

49

5

13

18

1-Oct-22

3-Nov-22

4

Kesaram

5

13

18

2

9

11

2-Nov-22

5

Ramachandrapuram

9

6

15

2

1

3

2-Nov-22

6

Cheemalakonduru

9

19

28

6

8

14

2-Nov-22

7

Nammathpally

6

14

20

6

11

17

2-Nov-22

8

Thokkapur

14

28

42

6

10

16

3-Nov-22

9

Sirivenikunta

13

6

19

7

1

8

4-Nov-22

10

Nagireddipally

12

9

21

10

4

14

4-Nov-22

11

Nandanam

10

8

18

5

8

13

6-Nov-22

12

Penchikala Pahad

21

12

33

3

12

15

6-Nov-22

13

Basavapur

12

10

22

5

10

15

7-Nov-22

14

Muthireddy Gudem

16

13

29

10

7

17

7-Nov-22

15

Kunuru

22

16

38

10

3

13

8-Nov-22

16

Errambally

6

16

22

1

6

7

10-Nov-22

17

Banda somaram

18

21

39

9

11

20

10-Nov-22

18

Chinna Laxmapur

7

5

12

7

5

12

27-Feb-23

19

Gopalapuram

6

2

8

6

2

8

27-Feb-23

Total

245

279

524

127

143

270
The project has achieved 100% fulfilment of the intended objective of ensuring safe access to the toilet by the elderly population, who are most vulnerable due to their age, fragile health, and poverty conditions. All the beneficiaries who have received support in the form of toileting chairs and walkers are relieved of daily stress and insecurity, and each one of them are extremely happy. Caregivers also felt great relief in terms of physical stress involved in physically lifting the elderly persons assisted by them.
Providing walkers gave great relief and promoted self-managing independence to those elderly who were having extreme difficulty of walking.
Walkers not only helped them to use toileting chairs, but also enabled beneficiaries with the opportunity of socialising. Some of them expressed with big smiles that they are now able to walk around the village to greet, meet and chat with other people.
The gesture of support demonstrated by those who are external to the community direct engagement of the SOLON team at the time of distribution of aids sensitized and triggered some positive thinking and motivation among the community to be more responsive to the needs of the elderly persons.
After completion of the project, we mentioned to the local leaders that we would be happy if they monitored and made sure the aids were put to proper use by the seniors rather than sold or abandoned.
Case Stories – SOLON Project
1. Mr. Nalamasa Balaiah
A sixty-year-old elderly living with his wife Laxmamma inGousnagar Village of Bhongir District of Telangana State. They have four married daughters who do not live with them. Balaiah was an agricultural labourer.    The fateful day started for him as any other day. While, he was working on the farm, a sharp thorn pricked his right leg. As such incidents were common, he did not take the incident seriously. Gradually over a period of week / ten days, the pain as well as swelling increased. He tried some home remedies, but in vain. Finally, he was forced to visit a hospital, where he was informed that his wound is infected (septic), as a result of which he had to undergo treatment for the leg and ultimately, skin grafting. This resulted in skin tightening at the place where skin was removed as well as where the skin was grafted and suppleness had gone, viz., movement of various body parts including, bending became very difficult and painful. He was bedridden and under medical treatment for six months, during which period there was some progress, but still far from normalcy. Morning ablutions became very difficult. Using Indian toilet and squatting on a pan was unthinkable, as the skin lost its elasticity. His wifeLaxmamma, reportedly being a caring wife, took great care of him, right from holding a waste bowl ( intended to serve as a bedpan) to collect body ( faecal ) waste and cleaning the same giving him sponge bath and accompany him during his periodical hospital visits. In short, life was becoming unpleasant and burdensome for the couple. As PROVIDENCE would have it, It is at this time that MARI, which was implementing the SOLON Project, identified Balaiah to be one of the beneficiaries and provided him with a Walker and Toilet Chair. The above equipment is considered by Balaiah and his wife, as a blessing from the heavens. They never saw this kind of toilet chair, which made him feel 'comfortable' to complete his routine of going to washroom. He is delighted to use the equipment as this has facilitated his using the washroom on his own. This has also resulted in great relief to his much deserving wife. Balaiah finds it comfortable and confident using the equipment, as the same has facilitated his mobility.
Thus, what started as a pathetic life, evolved into a happy ending story, by the intervention of MARI through SOLON Project.
2. Bojja Sugunam
Aged about 70 years lives along with her husband Anjaiah, in Baswapuram Village of Bhongir district of Telangana State.The couple's only source of income is a meagre old age pension which puts them below the Poverty Line and they get subsidized ration from Government. Sugunamma is suffering from stiffness of the bones and knee pains( arthritis ) for the past five years. Her husband, Anjaiah who is much older than her takes care of most of her daily needs – and assists her in daily chores, including ablutions. Sugunamma visits the washroom ( with the help of her husband ) to defecate/urinate, in a standing position, with the support of a stick. The result being her movements are greatly restricted and she is more or less bedridden. With guidance from Sugunamma, her husband prepares food and feeds her. It was reported that their married sons are not concerned nor take responsibility to take care of their aged parents. Sugunamma developed intense feeling of guilt and frustration that she is causing discomfort to her husband by endlessly seeking services and help from him.
The volunteers of MARI identified and included Sugunamma in the eligibility list and supplied toilet chair as well as a walker to her. A walker was given to Anjaiah as he has to walk around taking care of his wife. They share the toileting chair. With the help of this aid, Sugunamma is comfortable to walk up to the wash room independently and attend to her defecating and urinating needs.
The couple are delighted to receive the above aids as an important gift in their life from SOLON India through Modern Architects for Rural India and are thankful for the same.
3.    Mr. Varre Balnarsaiah
Aged about 80 years and his wife Annamma are both residents of Baswapuram Village of Bhongir district of Telangana State. They are childless. The one acre agricultural land, which was the only source of earning for Balanarsaiah, was acquired by the Government for the purpose of construction of canal and the meagre compensation received from the Government, was hardly sufficient to repay personal debts. After acquisition of his land, Balnarsaiah was forced to work as a farm labourer on the land owned by another person. The family is presently living in Penury.
Adding to the already deteriorated financial condition, are the health issues that Balnarsaiah is faced with.He is suffering from "night blindness" for a long time and for the past three years, his eye sight during the daytime has also started deteriorating. He cannot bend his knees and defecate which has become a matter of day to day concern. As a result, his movements are greatly restricted and he is almost immobile A wooden stool with due modifications intended to serve as a toileting aid was placed over the Indian Toilet, but was found to be risky, as the same was not technically correct and did not meet the specifications to safeguard the person using the same. There was always a danger that the user might slip and fall down. MARI took note of Balnarsaiah's predicament and included him in the list of eligible beneifciaries. The toilet chair was given to him, which he is presently using. His wife Annamma renders necessary support and helps him to sit on the chair, which is placed by the side of his bed. After defecating, the whole equipment is cleaned, for subsequent use. By using the toilet chair, both the difficulties were addressed – he need not walk to the toilet, rather the toilet has come to the vicinity of his bed, he can defecate with ease ( confidently and securely ), without any fear of falling into the toilet. Annamma is happy that with the help of the chair at least her husband got over with the difficulties that he was going through.
4.    Mrs. Nalla Lakshmi
Aged about 85 years, lives in Veeravelli village of Bhongir District of Telangana State along with her husband, Balaiah. She is hearing impaired, and she is suffering from stiffness of legs for the past few years. The
couple has three sons, yet the couple stay in their own house all alone. Except giving food, their sons do not take any other responsibility with respect to their parents. The parents do not have a toilet and they used to go for open defecation. Since Lakshmi cannot walk or bend her legs, she had chosen a rock opposite her house in the open ground for the purpose of open defecation in a standing position. MARI identified the family as one of the eligible beneficiary and supported Lakshmi with a toilet chair. Now Lakshmi is made to sit on the chair next to her bed and her husband Balaiah cleans everything. The toilet chair made Lakshmi feel more safe and comfortable, besides relieving Balaiah from the difficult task of escorting her for open defecation. The couple are happy and grateful to SOLON and Modern Architects for Rural India for giving them such great relief.
Thus the CSR activity was closed with satisfaction not only the beneficiaries but to SOLON India and MARI!
Article contributed by: Dr Saraswati Turlapati, Co-ordinator CSR, SOLON India, and Murali Ramisetty, Executive Director MARI