Prime Minister Narendra Modi has lauded retired cricketer Gautam Gambhir for his contribution to the sport as well for his efforts to bring "positive difference in the lives of the lesser privileged".
Gambhir sponsoring the education of 50 children of CRPF personnel killed in action; bearing the education expenses of Zohra, daughter of a Kashmir cop who was killed in a shootout with militants last year; donated Rs 4 lakh to the crippled Ice Hockey Association of India for sending the team to a tournament to Kuwait in 2015; helped cancer-stricken 1998 Asian Games gold medallist boxer Dingko Singh and org­anised a-meal-a-day community kitchen in Delhi.
PM Modi made a special mention of the contribution made by Gambhir during India's triumphant campaign at the ICC World Twenty20 2007 and the ICC World Cup (50-over) in 2011.
"Let me begin by congratulating you for your stupendous contribution to Indian sports! India will always be grateful to you for you memorable performances, many of which resulted in historic victories for our nation," Modi wrote in the letter which was posted by Gambhir on his Twitter handle.
The 37-year-old Gambhir was one of the most outspoken sportsmen who do not shy away from voicing their opinions on several issues facing the nation.
"The firmness and frankness with which you have spoken about issues, especially relating to India's unity and integrity have endeared you to people across the spectrum," PM Modi said.
"Alongside your game, you have been at the forefront of several community service initiatives and this is extremely heartening to see. It is great when public figures show the way and devote time as well as resources towards bringing a positive difference in the lives of the lesser privileged," he said.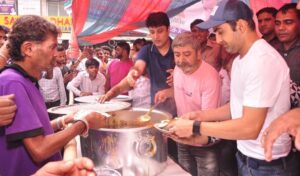 After his retirement, there was speculation that Gambhir may join politics but he categorically rejected it.