Physical, Mental & Emotional Well-being of Employees: Corporate Wellness is the new mantra
The ways of engaging with your employees today is very different from what it used to be before the pandemic. Work is distributed amongst workforces spread across geographies in a hybrid mode – from homes and offices, where working within the traditional office timings is no longer prevalent. Working hours have got extended in most cases. People are mostly confined to just one small space within their homes and hooked onto their screens the entire time without any physical and social interaction with their colleagues. Therefore, ensuring that your workforce is healthy – physically, mentally and emotionally is much more important now. Workplace wellness and the way it needs to be implemented for a hybrid workforce is quite critical. The enterprising Paul Drechsler once said, "Good health is good business." As a result, it underlines how critical it is for corporates to devise strategies and programmes to enhance employee wellness.
The corporate wellness industry looks healthy
Today, corporate wellness has a niche market of its own and it is propelling the wellness industry throughout the world. Many organizations are consulting their employees about their preferences and needs. Meditation and Yoga sessions, State-of-the-art gyms, and board games are some of the attractions that a contemporary office is providing; it is the new pillar of employee engagement. Mental wellness is also of paramount importance for corporate workspaces in this day and age, since the pandemic has taken a toll on mental health for a lot of people.
The mental reservations and fears are manifested in the way we're living – it's hard to pass a corner without pouring out a handful of hand sanitizer. Digital disruption has arrived on the scene in a much more accelerated way than we ever imagined, and it has completely changed the corporate wellness picture. The workspace and flow of work are constantly being reimagined for a healthier tomorrow. A composition of physical and mental health parameters needs to be set by offices as the workplaces start to welcome back their staff into a reopened world where hybrid working systems will rule the roost. A wellness revolution is in the offing. This time the corporate programs are slated to be much more on the lines of holistic health development, and this will again restructure the wellness industry in the wake of its dynamism.
Employee engagement escalates productivity
From 2019, the corporate wellness industry in India has seen a burgeoning rise, reaching a value of INR 21.53 billion, up from INR 14.59 billion. The anticipated CAGR is expected to be 5.75% during the 2020–25 period. It is very evident that organizations are pioneering new ways to engage employees through their wellbeing initiatives.
Stress management strategies: Workshops and activities that can eliminate stress amongst the staff can work wonders for the organization. Many curated programs in offices are aimed at relaxing the minds of the employees whilst the corporate culture throws them into the depths of a pressure cooker environment everyday.
Promotion of a healthy diet: Unquestionably, it is very easy to provide fritters, chips, sodas, and burgers as lunchtime snacks. It keeps the employees happy and content, but not healthy! Many offices are providing salad bowls, fresh fruits, and juices for their employees. The proliferation of co-working spaces with professionally run cafeterias and very well curated menus have helped as well. The wholesome options can help with the spike in energy levels, aiding in efficient work.
Encouraging breaks: To negate the effects of pressure, offices should encourage breaks in between. Many organizations have pool tables, carrom boards, and other indoor games for the workforce to take a break and relax.
Workplace bonding: In modern offices, employees are more than just professional colleagues. They manifest their casual relationships in a more open way than ever before. Corporate offices are taking advantage of the holiday period by marking calendars for office trips to encourage workplace bonding and therefore create stronger core teams.
Healthify surroundings: Eliminating the emissions
With digital diversification and disruption, everything now comes under the "connected" category in the workplace. This wireless connection with WiFi is a source of harmful electromagnetic emissions. Today, some organizations are realizing the fact that these emissions can hinder the mental and physical capabilities of their employees in the long run. Some leading Electromagnetic Emission neutralizing technologies and brands have gained traction through their ingenious products which negate the harmful effects of the invisible enemy — electromagnetic emissions or also referred to as Electromagnetic Radiation (EMR). Many corporate enterprises will be looking to integrate the use of EMR protection products within their office spaces to create a safe working environment.
Conclusion
Workspaces have become the second home for employees. Therefore, tailoring programs that keep them at the forefront is the need of the hour. As the corporate wellness schemes are rubbing off on the employees, the wellness industry as a whole is getting a boost. Amongst all of this, workspaces are also being made safer with the help of EMR protection devices that negate the effects of surrounding emissions ushered by the WiFi age.
Views of the author are personal and do not necessarily represent the website's views.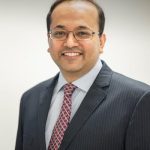 Pranav Poddar is a Director of Syenergy Environics Limited and is based at Gurgaon, India. He handles the business development and manufacturing of the company's products, and is currently heading the global expansion plans of the company. Pranav is active as an Angel Investor and a member of India's largest Incubation and Early Stage Investing organization – Venture Catalysts. He is also active in various business chambers such as PHD Chamber of Commerce and Industry (PHDCCI). He is currently serving as the Co-Chairman of the Environment Committee at PHDCCI. He was also the founding Co-Chairman of the Young Business Leader's Forum (YBLF) established at PHDCCI in 2008.