Philanthropy Report: Rohini Nilekani's Philanthropic Efforts Aim at Creating a Just and Fair Society
Rohini Nilekani, writer, author and philanthropist, founder-chairperson of Arghyam Foundation, a non-profit that focuses on water and sanitation issues, founded in 2001. From 2004 to 2014, she was Founder-Chairperson and chief funder of Pratham Books, a non-profit children's publisher that reached millions of children during her tenure. She is the Co-founder and Director of EkStep, a non-profit education platform.  She serves on the Eminent Persons Advisory Group of the Competition Commission of India.
Hailing from a middle-class family from Mumbai, Nilekani's life changed drastically when her husband, Nandan Nilekani's venture Infosys became a huge success. Nandan Nilekani, who is the co-founder of Infosys is also among the prominent philanthropists in the country.
Rohini Nilekani has said, "I felt very uncomfortable when I became wealthy. One of my ways of dealing with it was to give it forward right away."
Committed to giving back to society, the Nilekanis have signed the Giving Pledge, which commits half their wealth to philanthropic causes.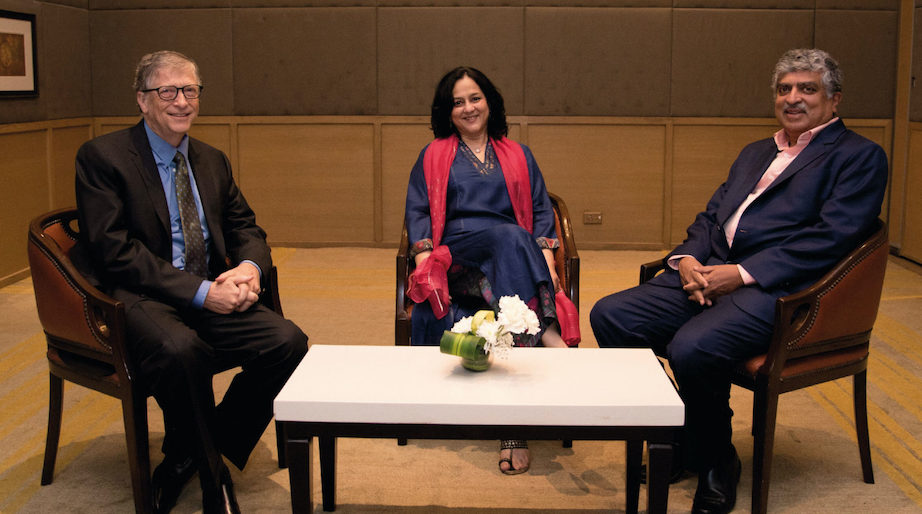 1. Arghyam Foundation
"As with oil, water exploitation raises an inter-generational debt that will be hard to repay."
– Rohini Nilekani
The word "Arghyam" means "offering" in Sanskrit. With a vision of 'safe, sustainable water all,' the foundation has received funding and partnerships with like-minded individuals and organizations to design and implement transformative solutions. Over the last 13 years, the foundation has built its presence in 22 states to address the issue of water security for vulnerable communities.
The foundation was started with an endowment from Mrs. Rohini Nilekani. With over 150 projects on multiple thematic areas on water, including groundwater, water quality, springs, sanitation, Arghyam has a presence in 110+ districts its network of partner organizations. Digital technology that can enhance participatory approaches is at the centre of its current work. With a mission to enable the ecosystem to ensure water security for 100 million people of the country by 2023, Arghyam has been collaborating with government, civil society and market actors to strive for water security at scale.
Recently, the foundation has announced that Rohini Nilekani has decided to retire from the foundation on September 30, 2021, as Chairperson and Member of the Board.
Talking about her retirement, Rohini Nilekani said: "Every organization needs a churning of its leadership to stay energetic and to bring innovation and new wisdom to its work. I have immense gratitude to the Board, the team, and to every one of our partners in civil society and in the government, for all we have worked on together. I hope I will always remain a spokesperson for better equity and sustainability in water. I am also delighted that the Board has appointed Sunita Nadhamuni as the next Chairperson of Arghyam."
2. Ekstep
EkStep is a Societal Platform initiative that provides a digital infrastructure for early learning. Set up with her husband, Nandan Nilekani in 2014, the education non-profit is an open learning platform. It is designed to improve literacy and numeracy by increasing access to learning opportunities for tens of millions of children in five years. Through EkStep, Rohini Nilekani has been able to change the game by bringing learning opportunities to 200 million children.
3. Pratham Books
In 2004, Rohini Nilekani set up Pratham Books, a non-profit publisher of affordable and good quality children's books. It's mission is to put 'a book in every child's hand'. Mindful of the hugely diverse country with more than 22 languages and innumerable dialects, Pratham books are written in multiple Indian languages. The organization uses innovative ways to put low-cost books in the hands of more than 300 million children, most of whom can't afford books, or even read. By the time she retired as Chairperson in 2014, Pratham Books had touched the lives of millions of children with its captivating, locally-set stories.
4. Akshara Foundation
Rohini was a founding trustee of the Akshara Foundation when it was setup in March 2000. The Akshara Foundation's mission is to ensure "Every Child in School and Learning Well'. In order to achieve this, the foundation works closely with the government, community members, and other NGOs. Various initiatives launched by the foundation have touched over a million students in Karnataka.
The flagship programs of the Akshara Foundation are aimed at:
1. Making mathematics fun and meaningful.
2. Supporting spoken English competencies among young students.
All Akshara's programs are child-centric and are designed to ensure that enrolment in schools increases, drop-outs from schools decrease and that children's learning outcomes and overall development improve.
Conclusion
Rohini Nilekani takes her philanthropy very seriously. Her efforts are aligned to create a just society where there is equity among people. She has said, "Once you are wealthy, you are in a nice comfort zone and want to stay there. So I always look in the mirror and ask, is my philanthropy making the world a more just and fair place?" And she works to ensure that the answer to this question remains positive.