New Catch in Town: An Innovative Installation that can save Mumbai's Creeks
Mumbai's waste problem is no secret. According to a report published in Bombay Community Public Trust's web portal, Mumbai generates approximately 7,025 tonnes of waste per day. In 2019, a news report cited the Central Pollution Control Board (CPCB), to state that Mumbai generates about 11,000 tonnes of solid waste every day which is one-third of the total waste generated in Maharashtra. This explains why the city's landfills have been stretched to the limit and solid waste is now finding its way into creeks and rivers to endanger the livelihoods of indigenous communities.
An Innovative Solution to Mumbai's Waste Problem
A report called the 'New Catch In Town' has been released by Bombay61 studio, in collaboration with Ministry of Mumbai's Magic and TAPESTRY, that highlights an innovative solution to the impact of mismanaged urban waste on the lives and livelihoods of coastal Mumbai's fishing communities.
Bombay61 Studio (B61), an innovative and experimental urban solutions think tank, along with the Ministry of Mumbai's Magic (MMM), a collective that represents the creative and social power of Mumbaiker youth, and research entity TAPESTRY project, have co-created this solution with the Koli community, one which has traditionally served as the first line of defence when it comes to protecting the coastal ecosystem of the city.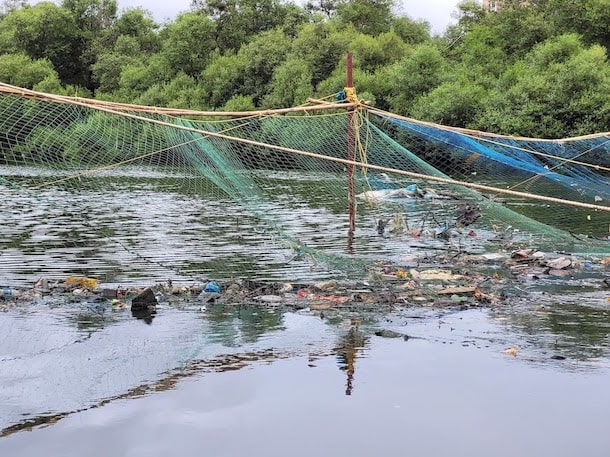 The inventive, waste filtering solution crafted out of traditional fishing methods is called 'New Catch in Town,' and was introduced as an installation in June this year at the Versova – Malad Creek and could be just the long-term and cost-effective solution Mumbai has been looking for. This indigenous, community-led invention traps solid waste dumped in creeks that are an essential source for the rich marine ecology in the coastal areas and has been designed using the traditional knowledge of the fishing community.
In just three days, the simple innovation managed to clear 500 kg of solid waste from just one of the creek outlets (Kavtya Khadi) and can relieve a polluted outlet of around 5000 kg of waste in a month! In the entire Malad creek, it is estimated that around 24,150 kg could be trapped and cleared in a month if these net filters are installed at multiple outlets of the creek.
Resource Richness of the Reservoirs
What the report and this intervention are also striving to do is to highlight how resource-rich creeks, rivers and rivulets on which indigenous communities depend have come to be perceived as 'nallahs' and drains where the city's waste gets dumped. 'New Catch In Town' also attempts to bring attention to the deteriorating quality of life and livelihoods of the fishing communities, shrinking mangrove cover, the damage to the overall marine ecosystem and therefore, the need to engage vulnerable communities in the city's climate action plan and policies.
Vishnu Hegde, Team Leader, Fisherman Versova Koliwada has seen an increase in the amount of solid waste floating in the creeks over two decades now. "Traditionally we used to install nets (Kavi/Dol net) in the creek to catch fish and thought, what if we use the same technique to catch the waste instead. We discussed the technical design in detail and the installation was successful in trapping huge amounts of waste. If the government can take notice of our initiative and support it, it will surely help us reduce waste in the water systems and benefit our livelihood sustenance."
Highlighting the Sustainability Aspect
Harpreet Bhullar, Ministry of Mumbai's Magic says, "The artisan fishnet installation harnesses the creative power and situated knowledge of the city's traditional fishing community, the Kolis, to create a localized solution for restoration of Mumbai's creeks. Through this pilot innovation, we are highlighting how the inclusive and equitable participation of vulnerable communities is critical in shaping the city's urban sustainability and liveability policies. We also want to invite the youth of Mumbai to come together and support this innovation and push for a wider scale adoption and replication of this model by the civic authorities for larger impact."
Jai and Ketaki Bhadgaonkar, Bombay 61 Studio say, "The normalcy of environmental degradation of the city's water bodies is evident in our reference to them as nallahs (drains). Once vibrant water channels and healthy environment alongside which generations of Kolis have flourished, they have now been reduced to a thick sludge as a result of the city's neglect and pollution. The waste collected through this installation, 500 kgs in 3 days, was then picked up by the recycling agency for further processing. This pilot project, being modular in nature, can be easily replicated and scaled up depending on the nature of the water channel. This simple solution has a great potential for transformation."
Dr. Devanathan Parthasarthy, Professor of Department of Humanities and Social Sciences at IIT – Bombay and representative of Tapestry Project says, "The net filters in the Versova Creek is one of our major interventions as part of the pathways to transformation action research project of the TAPESTRY project. Involving collaboration with Mumbai-based partner MMM, Bombay 61, and the youth from among Koli fishers in Versova, it represents an excellent example of transdisciplinary co-production of knowledge by hybrid alliances. We believe that this can be an excellent initiative for the MCAP to be scaled up and out, and promise substantial benefits in terms of reducing plastic pollution in Mumbai's water bodies, and reinstating livelihood options for Mumbai's coastal fisher communities."