International Mother Language Day 2022 – For A Multilingual Education System in India
By RCM Reddy, MD and CEO, Schoolnet
"If a child can't learn the way we teach, maybe we should teach the way they learn"
– Ignacio Estrada
The National Education Policy (NEP) 2020, says that "Wherever possible, students till Class 5 in schools should be taught in mother tongue/regional language/local language." UNESCO has been encouraging mother tongue instruction in early childhood and primary education since 1953, highlighting its overlooked advantages in securing greater enrolment and success in school, and enabling parents to be more communicative with teachers and involved in their children's learning. In a country like India that is rich with linguistic and cultural diversity, there should be enough available material for students to learn in their most comfortable language.
Teaching in one's mother tongue makes learning inclusive. Mother tongue-based education especially benefits disadvantaged groups, including children from rural areas. Although many schools in Tier II and III cities are English-medium, students often find it difficult to learn and grasp the content. Encouraging bilingual and multilingual learning would offer the child a safe and judgement-free space to achieve their grade-specific competencies. By using a learner's home language, the schools can help a student navigate the home to school transition and thrive on their learning paths.
Learning in the mother tongue will also make the learning process more engaging. Only when the student is proficient in the medium of instruction can she focus her full attention on the material being taught and engage her intellectual capabilities to ask questions, ideate, and reflect. Teaching in a language that is foreign to the student would not be a learner-centric approach.
It has been argued that students should learn in English right from their early days, but research has also shown that learning foundational material and skills in one's mother tongue speeds up the process of learning in another language. For example, if a student learns the basics of evaporation and condensation in their mother tongue, they will automatically be able to translate it into English when they learn the vocabulary – the concept need not be taught again.
This is not to diminish the importance of English language instruction. Today, the role of language in the socio-economic divide cannot be overlooked. English is as a tool of power, class, and privilege to gain employability, social mobility, and economic stability. It affects one's prospects for future work, and parents are rightly hopeful that their children should know the language. There is thus a need for a balance between using one's mother tongue and English in the classroom, as in the rest of society.
A multilingual equilibrium would accommodate these nuances. It would also consider the fact that migrant children, of whom there are millions, might not know the language 'of the state' that they study in. This cannot be a reason for their exclusion from education.
Protecting linguistic diversity in education also requires investment to produce appropriate material. Technology-led education can make this process efficient. We need digitalised content in vernaculars, resources for teacher training, and options for personalised learning to extend to vernaculars.
EdTech has boomed in India like never before, but it still an exclusive industry that ignores the middle and bottom of the pyramid. As we become more capable of using AI/ML in education to develop digital content, access global resources, have translations supported by artificial intelligence, and curate unique learning paths for English-speaking students, why not extend the same to students who speak other languages?
The Constitution of India protects India's heritage including linguistic diversity. On International Mother Language Day, we should celebrate that we live in a country that speaks 121 languages and has 270 mother tongues. Learning must not stop due to a mismatch between language of instruction and language of comfort. Learning in vernaculars and mother tongues in early childhood is proven to make learning more engaging, leading to higher retention and better performance. This will keep students in schools, who are otherwise prone to dropping out. India, with 250 million children and 1.5 million schools, needs to increase access to quality education for all, bridging an otherwise burgeoning divide in society.
Views of the author are personal and do not necessarily represent the website's views.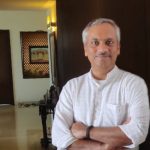 The author Mr. RCM Reddy is the Managing Director & CEO of Schoolnet India Limited and in charge of the delivery of Education, Employability, and Employment initiatives under multi-stakeholder partnership formats. He has led the organization in demonstrating scalable models for improving learning outcomes in K-12 school education through digital and digitally assisted education solutions, teachers' training and other services, impacting more than 40,000 schools and 15 million students and teachers.