Whilst India has experienced significant economic growth over the last 20 years, much of this wealth generation has been inequitable.
On one hand, we have a 'Shining India' with 101 billionaires, and a rich and middle class of 160 million.  On the other, there is an India still struggling to earn a decent living, majority of which hails from 600 million rural population – either below or just above the poverty line.  This India equates to 68.84% of the population and 1/10th of global humanity.
The fact of the matter is that, unless the condition of this vast majority of the population improves, there is little way for the country to realise its potential as a global economic powerhouse.  It is therefore, the ability of India's villages to offer fulfilling lives and livelihoods to the people who live there that is integral to India's future as a global super-power.
When it comes to finding solutions for economic development, the entire focus shifts on livelihoods. Historically, Indian rural economy has been primarily driven by agriculture and therefore, the main emphasis of livelihood programs is largely around agriculture and allied activities. However, in the last few years, due to smaller and fragmented landholdings and youth migration, the focus has also shifted to skill development initiatives. In fact, some of the skill-based programs are being implemented with a collaborative approach which is quite a positive sign.
However, in the midst of significant initiatives by organisations to mitigate rural economic challenges, the question that still lingers is – are these steps sufficient to achieve sustainable development in communities?
Perhaps, Not!
As per the sustainable livelihood framework, there is a need to adopt a more comprehensive and integrated approach to mitigate poverty as compared to the narrow set of indicators.
The issue of rural livelihoods has long been neglected in this country, and efforts to do so take place in a very one-dimensional way.  Truth be told, livelihoods is a multi-faceted issue, and is so much more than just the impart of skills and education. When livelihood challenges are tackled in isolation, merely focusing on enhancing income sources will lead to shallow outcomes.
Sustainable livelihood is driven not by one but many other interrelated factors.
People need skills, but if their health is gone these don't matter.
They need a basic education, but if they can't access affordable loans, quality inputs and crop insurance, they get into a vicious cycle of debt.
They need technical know-how, but if there is no water for the family or farming, it is of little help.
They need bargaining power, but if they don't work together their voice cannot be heard.
To thrive and indeed prosper, rural villagers need all of these things and more to support them on their journey – if just one of them topples, life's struggle kicks in and the building blocks begin to fall.
It is our belief, our experience in fact, that livelihoods is the key to solving the riddle of rural poverty.  After all, with a good secure livelihood, and solid income, most people can solve many of their own problems…
But we must tackle this issue 'holistically' in order to triumph.
At Ambuja Cement Foundation, we have been consistently aiming to achieve this holistic development in communities. Right from inception in 1993, when ACF began working in salinity ingress location of Kodinar, Gujarat; the aim was not only to enable people fight salinity but embark on a journey to rural prosperity. That's how we adopted a 360 degree approach to achieve the vision. While the project began with addressing the natural capital, we were simultaneously focused on building people's institutions, improving incomes, strengthening infrastructure and building people's capability. As we look back today, we realise that our approach was very close to the livelihood framework that includes 5 set of essential capital – Human, Natural, Financial, Physical and Social.
The livelihood model provides better access to more assets for a household. This makes community less vulnerable to the adversities – be it seasonal, social or financial.
An integrated approach to livelihoods will be effectively implemented with better collaborations and partnerships – where people work together and pool their resources to holistically address people's problems.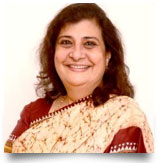 Pearl Tiwari is the Director of Ambuja Cement Foundation, the CSR wing of Ambuja Cements Limited. In a professional career spanning over 30 years, Pearl has been associated with the not-for-profit, educational and corporate sectors. Pearl joined Ambuja in 2000 and ever since has been at the helm of nurturing the Ambuja Cement Foundation that has expanded from a fledging team to nearly 400 development professionals, with a pan-India presence active in 21 locations across 11 states.
Views of the author are personal and do not necessarily represent the website's views.
Thank you for reading the story until the very end. We appreciate the time you have given us. In addition, your thoughts and inputs will genuinely make a difference to us. Please do drop in a line and help us do better.

Regards,
The CSR Journal Team
Subscribe