It is always heartening to hear PM Modi speak – he lays down plans that turn far-fetched dreams into reality. Be it the aggressive targets like 175 GW renewable energy by 2022, or complete e-mobility by 2030, the PM is a visionary and has placed India at the helm of achieving Sustainable Development. I was fortunate to hear him speak at the inaugural session of the TERI World Sustainable Development Summit, where he has shared a vision of India – that upholds the sanctity of Mother Earth, provides 'Housing for All', 'Power for All', with its citizens healthy and happy, its industry thriving and economy prospering.
He had particularly mentioned that the International Solar Alliance (ISA) was only second to the Paris Accord in its global significance, given its growing member base that had surpassed 100. The ISA has reinforced the need for rapid & global transition to cleaner energy and is serving as a guiding star for solar energy. With the French President slated to preside over the upcoming ISA summit in India along with PM Modi, the global coalition would throw light on how best to achieve the clean energy goals of the world.
Solar energy remains one of the biggest contributors to the progress on Sustainable Development Goals (SDGs), with an unprecedented growth in global installed capacity in the past couple of years. It is my strong belief that energy security has the potential to transform the pace of development across sectors and geographies. Solar presents a hidden demand by way of integration with existing infrastructure like solar-powered pumps for agriculture, solar-powered cold rooms for food storage, and e-mobility and solar-powered vehicles.
While the progress on the overall 175 GW goal has been steady, India witnessed ~80% annual growth in rooftop solar development in 2017. This exponential spike has been mainly on account of penetration in the commercial and industrial segment with little to no residential participation. Residential penetration becomes critical not only in realising the country's rooftop solar targets, but also in increasing local awareness and acceptance of solar on a common ground.
The Government has proposed solar adoption programs such as 'Rent a rooftop' model that is currently being piloted in urban areas, with a draft policy already underway. DISCOMs have been designated to increase adoption in the residential market, through Sustainable Rooftop Implementation for Solar Transfiguration of India (SRISTI) scheme. However, to further boost demand, reforms such as net metering, and income tax credits/rebates for capex, similar to Solar Investment Tax Credit in the US, would incentivise investments.
Solar is at an inflection point and the key to its inevitable expansion depends on the ecosystem players and financial sector that is emerging as the backbone of this growing green economy. Easing regulatory measures through increase financing limits under Priority Sector Lending (which currently stands at INR 15 crs per borrower) would increase bank loans not just to solar, but also biomass-based power generators, small-scale wind mills and micro-hydel plants.
India's renewable sector presents a tremendous untapped investment potential of USD 448 bn, with most of it slated to contribute to adoption of solar energy. With capital markets leading most investment decisions, aggregation and securitisation automatically forms a catalytic part of scaling investments in this sector, which would channelise finance from capital markets. 'Bank-ready' off-grid enterprises and distributed rooftop solar projects which have organisational capabilities in project management, book keeping and financial planning, can be considered for pooling and can be hived off as a security to investors. This has the potential to attract investors especially DFIs, and free up capital to be ploughed back into more solar projects.
India's time under the sun has come and the low-carbon transition of its energy sector would be driven by solar. Being one of the founders of ISA, India is leading the global efforts in shaping the solar sector. It is essential that its financial sector also focuses on leading the way for adoption of solar. Together with industry and the financial sector, India can leverage solar towards achieving sustainable development.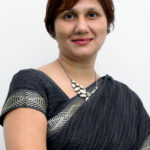 Namita Vikas is Group President & Country Head, Responsible Banking at YES BANK. As the Chief Sustainability Officer of the Bank, she spearheads Sustainable Development and CSR, thus driving sustainability principles within its core operations and its value chain towards creating stakeholder value. Namita has an Advanced Management Degree in CSR and Leadership from the Swenska Institute, Sweden.
Views of the author are personal and do not necessarily represent the website's views.
Thank you for reading the story until the very end. We appreciate the time you have given us. In addition, your thoughts and inputs will genuinely make a difference to us. Please do drop in a line and help us do better.

Regards,
The CSR Journal Team