How is India faring in mental health care?
As we celebrate World Mental Health Day on 10th October with the theme "Mental health for all," let's take a look at how India is faring as far as mental health care is concerned.
Noticed but neglected
Over the past few years, with the impact of social media, mental health awareness has reached the common man.

Celebrities like Anushka Sharma and Ileana D'Cruz talking about it

has made a huge impact as far as the layman is concerned.
Something which was portrayed as non-existent in our country is being recognised. But the level of awareness and the actual statistics are shocking.
Stats on mental health care in India
1. The total number of psychiatrists in India is about 9000. There is approximately one psychiatrist for every 1 lakh people whereas it should be 3 per lakh. If we consider the number of psychologists, psychiatric social nurses and psychiatric social workers, the number is even more dismal.
2. Only 0.5% of the total health budget is reserved for mental health. That is less than 10% of what should be allocated.
3. The treatment gap is about 70% – so out of 100 people with a mental illness, 70 are not taking treatment for it owing to lack of awareness, lack of access or social stigma.
4. World Health Organisation has said that by 2020, 20% of Indians will be suffering from some mental health condition. That comes to at least 25 crores.
Steps in the right direction
1. The
National Mental Health Policy

was adopted in 2015. It talks about integration of mental health with physical health at the primary level. The policy recommends setting up more mental health institutes and increasing the number of mental health professionals by creating more postgraduate seats in psychiatry.
2. The

Mental Health Care Act 2017

has made treatment patient-centric by giving people the right to dignified treatment, decriminalization of suicide (reducing the stigma one faces if having suicidal thoughts increases chances of seeking help) and mental health insurance. Having said this, the insurance providers are taking things rather slow. There are some impractical provisions in the new Act which encourages defensive practice rather than proactive practice.
What needs to be done?
1. Mental health care and treatment should be integrated everywhere with physical health right from primary healthcare centres (PHC) to major tertiary care hospitals.
2. There has to be more budgetary allocation by the Government if there has to be any major change with fund allotment for district mental health facilities along with that for tertiary institutes.
3. Schools and colleges must have mental health as part of their curriculum.
4. Addiction needs to be seen as a mental health disorder and treated properly at rehabilitation centres.
Scope for CSR and private companies
Corporates must start employee mental health wellness programmes (running them round the year rather than one-off) because the corporate sector is the worst hit. Studies show up to 50% employees have some minor or major psychological issue. Also, the better your employees' mind functioning, the happier and more productive they are, the better will be the overall company performance.
As part of CSR, companies can start get telemedicine consultation infrastructure for mental health in place. They can run awareness campaigns so that talking about mental illness is as normal as talking about other health issues. Corporate social responsibility wings can set up psychiatric and deaddiction facilities in public-private partnership with the government so that everybody has access to care for major psychiatric problems.
The sky is the limit here. All that is required is for someone to take it up seriously and invest their mind in it wholeheartedly. It would be the best investment of their CSR funds possible.
I hope that by the year 2030, we will be able to achieve the dream of mental health accessibility for all.
(This column is part of a series on #mentalhealth in the run-up to World Mental Health Day 2020)
Views of the author are personal and do not necessarily represent the website's views.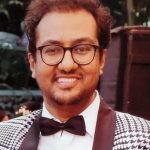 The author Dr Sagar Mundada is a professional consultant psychiatrist and deaddiction specialist. He completed his MBBS and MD Psychiatry from JJ Group of Hospitals. He is the honorary psychiatrist for Maharashtra State Commission for Women. He has been the President of MARD (Maharashtra Association of Resident Doctors) in 2016 and Indian Medical Association's Maharashtra youth wing Chairman in 2017.
Thank you for reading the column. Please drop a line and help us do better.