How BoAt Succeeded As A Brand?
How BoAt Succeeded As A Brand?
The music industry is seeing no bounds lately. This is because of the demand in the market for headphones, earbuds and other audibles. But the audibles are not just for the purpose of listening to music anymore. It has become more of a lifestyle need and is not less than fashion accessories for the youth of today. That's what BoAt did. It tapped into the younger crowd. It creates products that appeal to the youth, their lifestyle and their needs.
BoAt – The Backstory
The brand that started in 2016 already had major competition in the market before its commencement. Companies like Mivi and Skull Candy were ruling the mid range audibles and electronics market. However, BoAt took a strategy that soon led to its success.
The Strategy
For any business to succeed, the customer value proposition should be solid and probably the most focussed aspect. With a similar approach, BoAt created its first, rather unique, product which was an indestructible Apple charger cable. This was the time when the Apple cables damage with no apparent reason was a matter of discussion on facebook feeds and on Twitter handles. Although some Youtubers and bloggers have come up with explanations as to why they face this problem, almost globally, what better than creating an item that defies this phenomenon. That's what BoAt did.
BoAt created the first ever product with anti-destruction properties. This was just the first step in making many items that would be shockproof and fall proof. It soon had a range of fall proof headphones and earphones under its bucket that could even be worn while jogging, or working out. This was a crucial tap into the young audience segment as the emphasis on fitness is more than ever. Also creating branded commercials or posters with people wearing the BoAt earphones while working out or running, helped emphasize on the utility aspect of the products.
Promotion
Talking about commercials, BoAt certainly has a few great collaborations. Its major source of promotion is through influencer marketing and even celeb word of mouth. Here is an influencer flaunting their BoAt product on the Instagram feed.
BoAt calls their user base BoAt Heads. And this list includes some very famous names like Virat Kohli, Karthik Aaryan and Neha Khakkar. Who wouldn't want to fall in this category?
The sole means of marketing and promotion for BoAt products is through social media and digital marketing. The company has stayed away from TV commercials or print. Rather you could find BoAt Ads on Facebook and Google – the place where all the young crowd is at!
 Pricing!
 BoAt calls itself the Zara of earphones company. Not as expensive as the premium brands, but neither  cheap like Chinese brands. The company has the perfect spot in the market. Users can find it easy to invest in a BoAt product due to its price point, and more so even users can get heavy discounts on BoAt products. It has an appeal to the mass. And with a focus on style, it has the appeal right where it wants to: the youth.
Quality
 Although affordable when it comes to price, BoAt products have a promised quality. It knows that Indians love bass, and thus it delivered the same. One of the first BoAt earphones was called BassHeads. The pair had bass enabled that could enhance the beats. Other than that, BoAt products have texture, colour, print, and innovation that would easily make a fashion lover invest in one of its products, especially when they are on a budget.
Target marketing
BoAt getting the target audience right is surely one of the main factors in the success of the brand.
 The demand for such items was ever increasing among the people. Let that be due to more
emphasis being given to fitness than ever before (shout out to social media for that), or simply audibles becoming more of a must-have than just an option for many. The trend did create a firm grip among peoples' lifestyles. BoAt understood the same and created the exact products that appealed to the youth.
BoAt – the Lifestyle brand
BoAt collaborated with Masaba Gupta during the Lakme fashion week back in 2019 as subtly renouncing itself to be not just an audibles or electronics, but a lifestyle brand. This helps it stand out among the competitors like JBL or SkullCandy. It also could help the company keep on continuously innovating products with a motive of making people's life easy. Other than earphones, the brand also has created a range of sound bars, speakers, and sound systems in the years eventually. Being called a lifestyle brand, opens doors for many such products for BoAt in the near future.
Coming back to the Lakme Fashion Week, the models were seen wearing BoAt products as the only accessories on the runway which BoAt created a limited edition range of headphones for.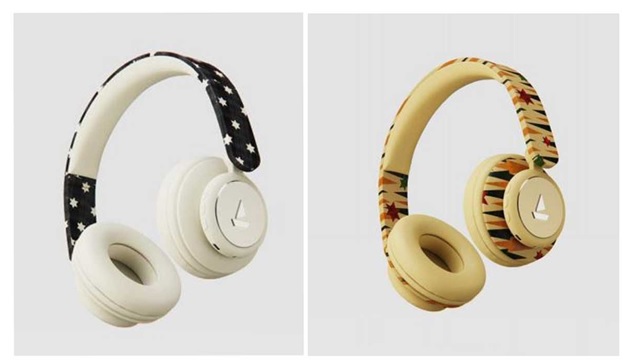 The company has always been big on collaborations. Just like Apple with Beats and Samsung's partnership with JBL, it plans to develop meaningful partnerships in the days to come.
Side note: The  limited collection can still be shopped from the BoAt official website being subject to availability.
Men behind the organization
BoAt is founded by Aman Gupta and Sameer Mehta who come with heavy experience in the electronics industry and entrepreneurial backgrounds. Aman Gupta has been the sales director for JBL by Harman and has helped companies like Beats Audio, Senneheiser to launch in India during his career. Similarly, Sameer Mehta is the owner of a few companies that sell computer gaming peripherals, and also the director of a family business.
Final Thought
We can see that all the efforts BoAt has taken towards is directed to its immediate audience. The target audience is well defined and catered to. This clearly is one of the major reasons why BoAt is so successful in the market right now.
About The Author
Aamer Hussein is a content writer and marketer. He specialises in technology, ecommerce and digital segments.