A holistic approach to water supply can ensure access for marginalized communities
Access to water is a basic human right and a fundamental necessity for life. It is essential for health, sanitation, hygiene, and the basic functioning of communities. However, water shortage is a prevalent issue in rural India. Two-thirds of India's 718 districts are affected by extreme water depletion and are increasingly dependent on groundwater. According to a report by NSSO, only a quarter of rural households have access to piped water, the rest must depend on other (often far-off) sources to meet their water requirements. Threats from climate change such as flooding, droughts and changing rainfall patterns have further eroded water security for numerous people and led to grave social and economic implications.
Obligation on women to fetch water
The economic burden of water-borne diseases in India is approximately USD 600 million a year. 90% of diarrhoea deaths, mainly in children are due to unsafe drinking water and a lack of basic sanitation facilities. Women and adolescent girls lose out on income earning and educational opportunities due to the time and effort they spend on fetching water for their households. International Development Enterprises (IDE) estimates that INR 1000million is lost in national income due to the obligation placed on women to fetch water instead of participating in economic activities.
Water is a multi-faceted issue
Water, therefore, is a multi-faceted issue which is tied to the economic and health outcomes of communities. When solving for water access, it is essential to acknowledge the impact of water on the overall health and development of people. A holistic approach addressing the various aspects of water can entail understanding issues related to infrastructure, water use and supply, and environmental concerns pertaining to water at the community level. CSR initiatives must consider the role of existing government schemes in facilitating supply and addressing allied issues. Corporations must formulate solutions which are in sync with the broader schemes and utilise infrastructure that is already in place.
Infrastructure that supports supply of water
One of the most important ways businesses can contribute to water conservation is by creating infrastructure that supports the supply of water. This may include building storage tanks, restoring water bodies, and installing taps in communities that face water scarcity. These initiatives can ensure ready access to clean water, especially during times of drought or other water-related crises. Installing taps in central locations in villages shortens the time women spend in fetching water. The saved time might be utilised in income generation or education. For CSR initiatives looking at integrated rural development, access to water will influence any project outcomes for enabling women and girls.
Water and sanitation
Sanitation is an issue that is inextricably tied to water. On the one hand, sanitation outcomes are influenced by access to water; on the other, safe sanitation practices ensure contamination-free water sources. Encouraging safe sanitation and responsible waste management practices, therefore, is important for reducing exposure to water-borne diseases. Participation of communities in water and sanitation projects is absolutely essential. Awareness campaigns to promote responsible waste disposal and recycling practices can go a long way in reducing water pollution and preserving the quality of water sources. Further, investments in water treatment and filtration facilities can ensure that water is treated properly and remains safe for human consumption.
Involvement of communities
Securing vulnerable communities against future threats of climate change is another critical initiative that corporations can undertake. This can involve restoring and rejuvenating ponds and other water bodies in peri-urban areas, which not only solves the issue of depleting groundwater levels but also provides natural channels for flood and stormwater to drain, preventing waterlogging due to heavy rainfall. Here again, it is necessary to engage with communities and make them the custodians of the newly rejuvenated water body. The involvement of communities is necessary for maintaining the water quality and integrity of the structure over a long period. Corporations can also invest in water-efficient technologies such as drip irrigation and rainwater harvesting, which can help communities adapt to the changing climate and reduce water wastage.
Conclusion
Given the numerous ways in which water influences the lives of people, efforts to prioritise its access must be built on a strong, collaborative foundation. Working with the government or urban local bodies, on-boarding non-government organisations and engaging with communities leads to effective, integrated solutions which eliminate duplication of effort. Ensuring universal access to safe, reliable, and affordable water is a moral imperative and critical to achieving sustainable development and reducing poverty and inequality.
Views of the author are personal and do not necessarily represent the website's views.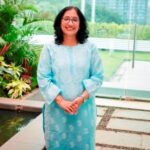 Ashwini Deodeshmukh has been spearheading Corporate Social Responsibility projects for Godrej & Boyce Mfg. Co. Ltd. including the flagship pan India Employability program – DISHA and Community development projects across 9 locations. She responsible for enabling consistent progress on sustainability targets by monitoring, collation and reporting of data as per established Sustainability reporting standards.