Good Hygiene Behaviour At A Young Age Important Step To Build Healthier India
Lot of us are often unaware of the fact that nearly 80 per cent of illness-causing germs are spread by one's hand. According to the Centers for Disease Control and Prevention, when you wash your hands, you can prevent one in three diarrhoea-related illnesses and one in five respiratory infections such as a cold or flu.  The pandemic has further emphasised the vital importance of good hygiene practices to combat the spread of the virus.  Basic hygiene measures may seem obvious, but they are important.
Build children as hygiene ambassadors
Recognising that handwashing is one of the most effective and cost-effective pre-emptive actions against infections is the first step towards a healthier India. However, the challenge is predominantly because of the lack of facilities to carry out the task rather than the act of washing one's hands. Another crucial barrier that hinders hygiene upkeep is a concern of access to clean water.
Creating awareness amongst young children in schools about washing their hands before and after meals, after using washroom, sneezing or coughing, after handling garbage, and touching an animal is key to preventing the spread of harmful pathogens.  According to the Centers for Disease Control and Prevention, teaching children appropriate hand hygiene habits can result in a decrease in infections, absenteeism, and associated healthcare costs. To inculcate the right hygiene behaviour amongst young children, it is important to educate them on the importance of regular hand hygiene as a part of the daily routine. Availability of handwashing stations with soap and water in schools is a prerequisite to help children and staff practice good hygiene.   Animated handwashing videos and comic books in the local language, handwashing story colouring sheets, presentations, quiz competitions etc., are effective in influencing the correct technique of handwashing practices amongst school children.  Education just doesn't end at the demonstration programmes. It has to run into post-intervention surveys of the change in handwashing behaviour of the children at home and school to ensure effectiveness.
Hygiene awareness programmes can educate and build children as hygiene ambassadors in their communities.
Teaching good hygiene in rural villages
When facilitating behaviour change, sustainability is a particular concern.  While facilitating hygiene awareness/learning in local communities, it is best to advocate changes that are sustainable and make their life easier with the available resources.
CSR campaigns can play an important role in encouraging holistic hygiene ecosystem in local communities.  Corporations can collaborate with key stakeholders to encourage sustainable hygienic practices through awareness programs.  Srinivasan Services Trust, the social arm of TVS Motor Company focuses on helping villages develop in a holistic and sustainable manner, creating self-reliant communities across six core areas: Economic Development, Health & Sanitation, Health, Infrastructure, Women Empowerment, Education and Environment.  This corporate trust has been working at the grassroots to build awareness amongst communities on hygiene.  They conducted an engaging hand wash programme across the main Anganwadi and primary schools located in the villages of in Kelavarapalli, Salivaram and Thandarai village. Children were engrained with the core foundations of hand hygiene, reinforced via demonstrations through teachers. Handwashing supplies were provided to Anganwadi and local communities to encourage good hygiene culture. The success of a handwashing programme is significantly dependent on the availability and type of supplies. Additionally, the trust has also renovated toilets and constructed hand washing areas in the villages of Tamil Nadu.
Collaborative efforts to change behaviour is the way forward
The benefits of handwashing go a long way in cutting down school days lost each year due to infectious illness.  Allowing children to perform return demonstrations, experiments and engaging them in hands-on activities captures a child's attention in a fun and interactive way.   Government, corporates and local NGOs should work in tandem to facilitate a sustainable change in behaviour amongst communities.  Hygiene practised regularly creates healthier communities is the mindset that has to be inculcated in individuals particularly at an early age.  With the influence of local leadership and lasting investment in improving hygiene in local communities, will help build a more confident and productive childhood in rural India.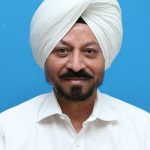 Swaran Singh, IAS (R) is the Chairman of the Srinivasan Services Trust (SST), the social arm of the TVS Motor Company since August 2018. Before joining SST, Mr Singh was into public service, where he worked for over three decades, holding significant portfolios in the Government of India. He retired from the Government of Tamil Nadu as Principal Secretary & Commissioner for Industries & Commerce.
Views of the author are personal and do not necessarily represent the website's views.