Home
Press Release
Going green: 700 women come together to take part in 'Solar Sabha'...
Going green: 700 women come together to take part in 'Solar Sabha' in Bihar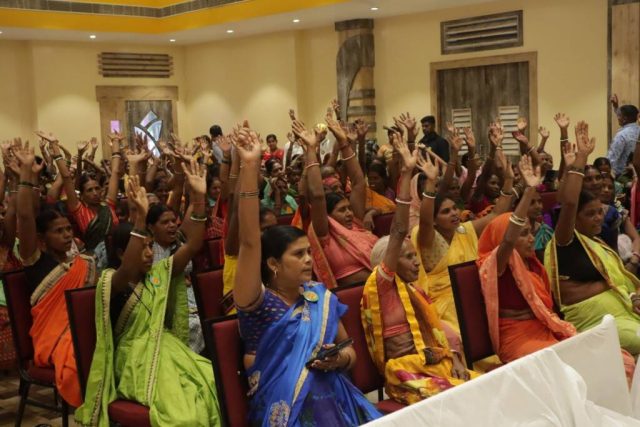 At least 700 women leaders came together to share their stories about solar adoption and celebrate their contributions to the field recently in Bihar. These significant 'Solar Sabhas' took place in Nalanda and Gaya, with the participation of key government officials, policymakers, and organizations in the solar and renewable energy sector.
Organized by 'Bolega Bihar,' a program working closely with women entrepreneurs in the state to promote clean energy solutions at India's grassroots, these Sabhas highlighted the importance of adopting solar energy at the local level. The events featured panel discussions, and stalls showcasing solar products, and acknowledged the pivotal role of women in driving the transition to sustainable energy in Bihar. Both gatherings, at Rajgir & Gaya, were uniquely women-centric in the context of renewable energy usage in the State.
Various women leaders shared their journey through the transformative solar energy campaign and those who successfully completed the program were felicitated at the event. The events proved to be an ideal platform for cross-engagement with women who took part in live discussions with civic administrators and decision-makers to share innovative ideas and discuss the use of renewable energy for household and entrepreneurial purposes.
"We are overwhelmed by the responses we received from both the Solar Sabhas. The sessions proved beneficial for women entrepreneurs as they gained insights into key leadership skills and various training modules to effectively utilize solar and DRE solutions at both household and business levels. The event also facilitated their understanding of new solar products, with arranged demos," said Deepti Ojha, senior campaigner, Bolega Bihar.
The discussions also highlighted the remarkable potential of the solar and DRE (Decentralized renewable energy) systems to uplift the lives of women and families and called for a program effort to ensure better services and new policies to bring positive change in the renewable energy sector. The 'Bolega Bihar' Solar Art Installation, which was also featured during Bihar Diwas 2023, was on display at the meet along with various stalls featuring an array of inventive products.
Mr. Mani Bhushan Jha, Senior Program Associate WRI (World Resources Institute) India Climate Program, at the Nalanda program, said, "Given the population density and the land scarcity, innovative solutions like rooftop solar, solar trees in the farms, and community-owned cold storage powered by DRE will be significant for Bihar's Climate goals and for generating green jobs. However, it is important that the future climate projections are included while designing any DRE project to make the solutions climate resilient."
Divya Gaur, program associate, powering livelihoods, Council on Energy, Environment and Water (CEEW), in Gaya, said, "Promoting DRE as a central focus in women's socio-economic development empowers them through access to reliable, clean energy for local economic opportunities, fostering micro-entrepreneurship. These technologies not only increase income but also enhance productivity, reduce drudgery, save time and energy. Prioritizing women and leveraging their competence to drive community-level change, such as in Bihar, will ensure a just and inclusive clean energy transition, where no one is left behind."
The outcome of both the 'Solar Sabhas' has helped to craft a charter of recommendations that Bolega Bihar has submitted to the government stakeholders in the state of Bihar.
Disclaimer: This media release is auto-generated. The CSR Journal is not responsible for the content.