Global Handwashing Day 2020: Effectiveness of Washing Hands Correctly
Handwashing is an important personal hygiene practice that is often underrated. The benefits of handwashing are manifold. It helps prevent diarrhoea and respiratory infections and may even help prevent skin and eye infections. In fact, handwashing is also recommended to prevent the spread of COVID-19, that has claimed more than 100,000 lives in India.
Global Handwashing Day 2020
Global Handwashing Day, a global advocacy day dedicated to increasing awareness and understanding about the importance of handwashing with soap as an effective and affordable way to prevent diseases and save lives. It is an international handwashing promotion campaign to motivate and mobilize people around the world to improve their handwashing habits.
Global Handwashing Day occurs on 15 October of each year. It was established by the Global Handwashing Partnership (GHP) in 2008 as a way to promote a global and local vision of handwashing with soap.
How to wash hands effectively?
According to the World Health Organization (WHO), you should wash your hands at least for 40 to 60 seconds using clean water and soap. For thorough cleaning of hands, follow the following steps:
1. Wet your hands with clean, running water (warm or cold), turn off the tap, and apply soap.
2. Lather your hands by rubbing them together with the soap. Lather the backs of your hands, between your fingers, and under your nails.
3. Scrub your hands for at least 20 seconds as shown in the image below.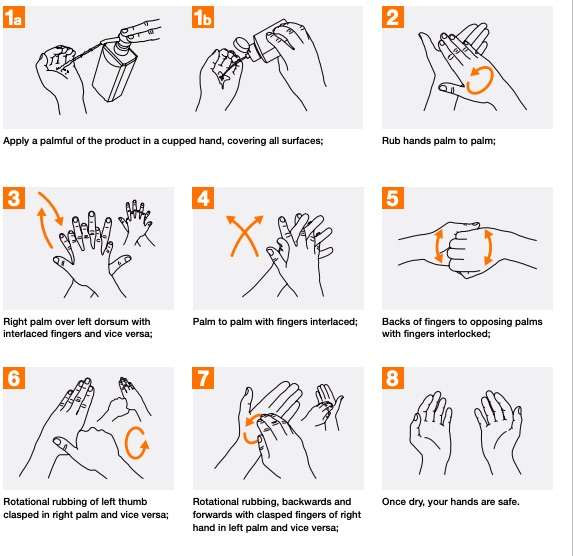 4. Rinse your hands well under clean, running water.
5. Dry your hands using a clean towel or air dry them.
Steps of washing hands correctly are demonstrated in the video shown below:
When to wash hands?
WHO recommends cleaning hands at the following times:
– BEFORE, DURING and AFTER preparing food.
– BEFORE eating food.
– BEFORE and AFTER caring for a sick person.
– AFTER using the toilet.
– AFTER changing the diapers or cleaning up a child who has used the toilet.
– AFTER blowing your nose, coughing or sneezing.
– AFTER touching animal, animal feed, or animal waste.
– AFTER touching garbage.
How handwashing is more effective than using Sanitizer?
Washing hands with soap and water is the best way to get rid of germs in most situations. Sanitizers are effective in a way that it can quickly reduce the number of germs on hands in many situations. However, they do not get rid of all types of germs. Also, the hand sanitizers may not be as effective when hands are visibly dirty or greasy. The sanitizers are also not effective in removing harmful chemicals from hands like pesticides and heavy metals.
CSR initiatives promoting Handwashing in India
LIXIL's SATO Tap initiative
On the occasion of "Global Handwashing Day", LIXIL and its brand GROHE have set themselves the goal of raising awareness of the importance of hand hygiene. Insightful content about hand washing is shared on the Social Media channels and serves as daily nudges to remind of washing our hands and prevent illnesses – because clean hands were never more important.
According to UNICEF, 40% of the world's population still do not have access to basic handwashing facilities at home. To address this immense challenge, SATO, LIXIL Group Corporation's social business has introduced its new handwashing solution called the 'SATO Tap'.
SATO Tap consists of a plastic base with a nozzle that can be fitted with widely available plastic bottles. It is compact and can be used both within the home and as a handwashing station at public facilities. The unique design ensures minimal contact between the user and the tap, thereby reducing the spread of disease, while the trickle action minimizes water use, meaning fewer refills while maintaining a solid flow of water. LIXIL has committed USD 1 million for the cause which could impact 5 million people with improved handwashing. This resonates with Prime Minister Narendra Modi's vision of an 'Atmanirbhar Bharat' ('Self-reliant India').
RBL Bank's 'Being Swachh Stations'
As part of its Corporate Social Responsibility (CSR) initiative, RBL Bank, with the support of AquaKraft & TEE Foundation installed 1st of its kind unique COVID response Initiative called as BEING SWACHH STATION – a combination of a Water Filtration & Dispensing Unit and soap handwashing station near RTO office at Andheri (W), Mumbai. The management & operations of this station would be handled by a women self- help group.
The technology adopted in BEING SWACHH is totally green with the filtration technology which is gravity fed, no wastage of water as backwash, with no sludge. Similarly, the Hand Washing which is foot pedal operated consumes far less water than a normal handwash and treats the greywater post hand wash through green technology and recycles the water making it water positive.