GiveIndia Convenes CSR and Sustainability Leaders; Launches Institutional Giving Practice For Tailoring Social Impact Programs
Corporate India's efforts towards relief and rehabilitation during the Covid-19 pandemic shone a spotlight on their CSR contributions, how they came together to collaborate, and the speed and agility in their decision-making. India's largest online donation platform, GiveIndia pivoted quickly to provide meaningful and swift action and brought creative and collective solutions to drive larger impact.
GiveIndia's India COVID Response Fund (ICRF) set up during the pandemic to help the country cope with the crisis, went on to become one of the largest giving collectives in India. From ensuring last-mile access to oxygen cylinders to setting up critical care units and from isolation centres to providing medical support to hospitals, and carrying out several humanitarian activities through their partners, GiveIndia worked across the country.
Funds were raised from Ultra High Net worth Individuals (HNIs), foundations, and private citizens over the last 18 months. The platform also saw contributions from 140+ corporate partners. A sum of over INR 1000 crore was raised, which was deployed across 250+ organisations and non-profits on-ground. Effectively, GiveIndia's Covid relief efforts have impacted over 10 million lives.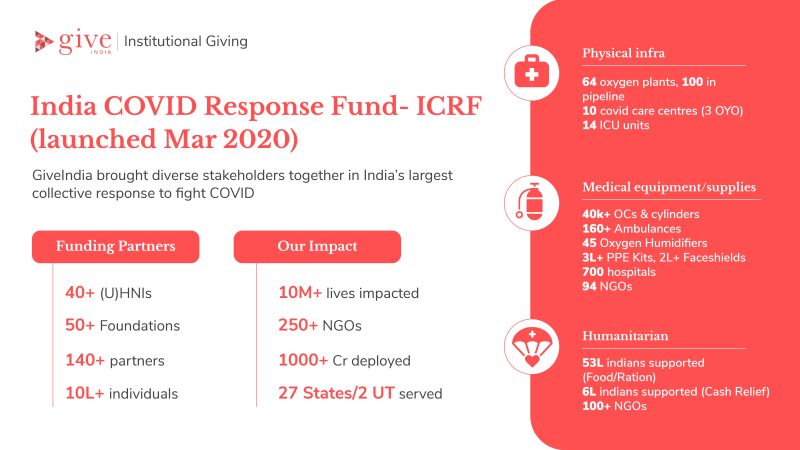 To commend the contribution of India Inc. during these unprecedented times, GiveIndia organised an industry conference on October 6, titled 'Better Together – Covid-19 & Reimagining Institutional Giving.' The conference featured thought leaders representing corporate India, the social development sector and civil society. The event concluded with the formal launch of GiveIndia's 'Institutional Giving practice'.
GiveIndia believes that the energy, creativity, agility and leverage in philanthropic spending of different institutions during the pandemic has relevance for the future too, and has gained added relevance as the focus shifts to the SDG needs in India. Therefore, GiveIndia intends to build on its capabilities to be an end-to-end partner for Institutional Giving – from strategy to design to mobilisation to program management and impact assurance.
Mr. Saurabh Adeeb (Chief of Staff, GiveIndia) was the moderator for the entire event. Mr. Atul Satija, Founder 2.0 & CEO, GiveIndia, set the tone for the event with a heart-warming video capturing GiveIndia's journey over the last 20 years, with a particular focus on their Covid relief efforts. Sustainability veteran and former CEO & MD of Tata Consultancy Services, Mr. S. Ramadorai delivered the keynote address.
Congratulating GiveIndia for their invaluable contribution, Mr. S. Ramadorai said, "The collaboration and the convenience factors that GiveIndia has been able to introduce in the philanthropy ecosystem in India by bringing together causes, knowledge, awareness and donors – all on a common platform is commendable. During the pandemic, there has been a surge of organised, community-driven relief work at every level of philanthropy and people across the socio-economic spectrum have all come forward in this act of giving."
He went on to discuss the concept of philanthropy in giving, from its roots in ancient culture to the legacy of industrialist Jamshedji Tata and public-private partnerships. He concluded the keynote address by saying, "Only through clarity of purpose, commitment and resilience can we make the world more equitable and – as correctly stated by GiveIndia – better together."
This was followed by a 'Power Panel' discussing the "Power of Collective Philanthropy". Moderated by Mr. Shantanu Ghosh, Chief Advisor for Institutional Giving at GiveIndia, the discussion brought alive the perspectives of the panelists Mr. Animesh Kumar, President – HR & Transformation at Zee Entertainment, Mr. Devang Bhandari, Partner – Deal Advisory, Strategy and Restructuring at KPMG, and Ms. Shahin Dastur, Head of Corporate Citizenship and CSR, Citi India.
Ms. Shahin Dastur, Head of Corporate Citizenship and CSR, Citi India said, "At the heart of everything we have done, the concept of coming together has helped Citibank in our trajectory up until now. If there is one thing that the pandemic has taught us, it is actually how we can pivot to the future. I don't think there could be a better title than GiveIndia's Institutional Giving for the practice, and this is definitely the way forward."
Speaking about the CSR mandate in the current era, Mr. Devang Bhandari, Partner – Deal Advisory, Strategy and Restructuring at KPMG said, "It's more important than ever for corporates to engage with the government and the administrative machinery. If we as corporates have to ensure that the impact is created where it's needed the most, we have to work together in terms of coordination. Some of the changes enabled by the CSR law can actually help innovate operating models for social enterprises so they can actually integrate relief and rehab together as a package and come to corporates at the right time."
Mr. Animesh Kumar, President – HR & Transformation at Zee Entertainment reflected on aspects of capacity building for NGOs. He remarked that it continues to be treated as an administrative expense, which poses a challenge, particularly because the availability of capital and resources is not a challenge. There are generous amounts of capital available for the different interventions that people might want to drive. Therefore, it is the absorptive capacity of the sector which needs strengthening, and one way to do that would be to include 'capacity enhancing' investments in NGOs under the purview of CSR. While the law has moved several paces in this direction, there remains some ground to be covered.
Experts shared their insightful views in a video series titled 'Wisdom Shots' during the event. Ms. Kshitija Krishnaswamy, Managing Director, Corporate Citizenship, Accenture in India held forth on the topic 'Reinventing CSR in the Digital Economy'. She said, "The digital economy is creating opportunities for millions, yet an unintended consequence of advanced technologies is further marginalising people. The key to continued socio-economic growth in the digital economy is really large-scale skilling of those at the greatest risk of displacement, but ensuring that they can use the very same technologies to further their career. That's why at Accenture, our global Skills To Succeed initiative has been focused on supporting and empowering people to take on the shifting workforce landscape and build a more economically inclusive world."
Ms. Puja Marwaha, CEO, CRY and Mr. Murugan Vasudevan, CEO of Veddis Foundation spoke about 'Investing in NGOs as Change Agents'. Mr Vasudevan said, "As counterintuitive as it may sound, the easiest part for you to build a strong corporate brand as a socially responsible business, is to make your giving program not about your company but about your grantee organisation, their mission and the outcomes they are looking to drive."
Ms. Puja Marwaha, CEO, CRY revealed, "I myself came from a corporate background and it gave me a shock to see how much corporate expertise and money is required all over. So I think this partnership has a huge potential. We had Procter & Gamble partner with us for 5 years where we were able to reach almost, I recall, 20,000 children in 5 or 6 states, and reach them in place which were really far out, as I said, not in a main village but in a Dalit part of the village, in tribal areas, with children who don't have families. Their funding was both long term, as well as, I think what we created over those five years was a huge amount of mutual respect, and to me, that is an example of a corporate partnership that has really worked."
Ms. Seema Bansal, Partner and Director, BCG, tackled 'Rural First – CSR Where India Lives' and demonstrated how CSR investment in rural areas is still quite low. She said, "It is important to recognise that India is not going to move forward till rural India moves forward. In fact, urban India won't move forward fast enough either because the migration from rural-to-urban out of desperation is not going to stop."
Mr. Sourav Roy, CSR leader at TATA Steel shared his thoughts on 'Evaluating CSR, for Impact'. He said, "The CSR space has a huge role to play in ensuring that the very exciting growth story of our country is also equitable. Assessing impact and creating evidence around this is going to be of paramount importance in this journey of equity. CSR organisations and development organisations are the ones who will need to build the capacity, instruments and models to make sure that impact is created, evidenced and voiced on the right platforms."
During their Tête-à-Tête, Mr. Atul Satija and Board Member Mr. Govind Iyer formally launched the GiveIndia Institutional Giving Practice. This dedicated practice will enable direct contributions from institutions wherein they will manage the entire social impact program lifecycle to improve effective on-ground outcomes.
"We have the capabilities to partner with corporates, work with a large number of nonprofits, but also in the middle, ensure that we are able to collect funds, partner very well on where the impact can happen, and actually make things happen. Today, we are launching our Institutional Giving platform and practice, and invite anyone involved with corporate giving or any other form of institutional giving to allow us an opportunity to work with you to make real impact happen," said Mr. Atul Satija.
Mr. Govind Iyer, Board Member, GiveIndia & Managing Partner, Egon Zehnder said, "Congratulations on the launch of this special initiative for India. I think it is going to make a huge difference for the country and the entire social development sector."
The Strategic Framework includes:
a)
Cause alignment

: Identify and recommend projects that align with business priorities and core values as much as they serve a social need, effectively engaging all stakeholders.
b)
Creating Leverage

: Build collectives, leveraging the strengths of diverse stakeholders leading to more impactful programs that bring out sustained change.
c)
Impact Assurance

: Effective legal and governance structure with monitoring processes in place to seamlessly collaborate with funders, program managers and NGO partners to drive higher social impact.
Key offerings
a)
Advisory

: Help corporates design and plan the organisation's social initiatives better by curating the most suitable causes and collaborative partners.
b)
Platform

: The GiveIndia platform allows seamless mobilization of efforts ensuring regulatory transparency and easy monitoring of projects.
c)
Network

: GiveIndia helps match co-funders and implementation partners better by leveraging their vast network.
d)
Impact Assurance

: GiveIndia's robust processes of due-diligence and expertise in project metrics development and monitoring mean assured impact for the organisation's initiatives.