According to the World Bank, India is emerging as a front runner in the global fight against climate change by consciously opting for solar power over coal to fuel its growth. The World Bank's recent news report in particular, lauded the country for cancelling the installation of 14 GW of coal-fired power plants, given the affordability of generating electricity through solar power.
This move by India, the world's third largest consumer of electricity, is much needed for more reasons than one. According to the Confederation of Indian Industry (CII), India is the fourth largest contributor of carbon emissions after China, the United States, and the European Union. The country releases around 2.5 million kilotons of carbon dioxide emissions annually, which is around 6-7 percent of the overall global figure of 35 million kilotons.
The shift to a low carbon economy
In 2015, the government set new climate change targets at the Paris Climate Accord and pledged to reduce its greenhouse gas emissions intensity by 33-35 percent by 2030, as compared to 2005 levels.Two years later, the country has made significant accomplishments in achieving its pledge to the Paris Agreement.
India has been in the midst of a renewable energy revolution. The National Solar Mission target was upscaled to 100 gigawatts (GW) of installed solar energy capacity by 2022, which is five times more than its original target of 20GW. Solar power prices dropped to a record low of Rs 2.44 per unit in May 2017. India is also heading the International Solar Alliance of 121 nations to boost the use of solar energy in developing countries. The country is also making strides in other clean energy sources: it recently became the fourth largest producer of wind energy in the world.
Sustainable development
The clean energy revolution is a welcome shift with respect to sustainability. Sustainability is about balancing the fine line between economic development and protecting natural resources. Across the world, environmental sustainability has been gaining momentum over the years, and rightly so.
Over the decades, three natural resources — water, energy and forests — have been exploited. Recent events across the world such as an increasing number of heat waves, melting glaciers and polar ice caps, and rising sea levels all raise red flags about global warming. Thus, the writing on the wall is clear: climate change is now a reality that can't afford to be overlooked.
India's industry is also reaching a stage where the availability and quality of natural resources are becoming a bottleneck for most businesses. Thus, being ecologically sensitive is no longer just about corporate social responsibility, but business continuity as well. It has also been seen that European companies such as Phillips Electronics, BMW and Tesco, which have low carbon policies, have not only benefited financially from energy and resource efficiencies, but also performed better than companies who didn't focus on climate change. In India, the Godrej Group has reaped the benefits too. Its investments of INR 2.5 billion in green projects since 2011 have led to savings of over INR 3.5 billion in resources and costs. Simply put, going green pays back in various ways and is increasingly becoming a differentiating factor for companies as well.
A shared effort
The sectors in India which predominantly contribute towards carbon emissions are transport, agriculture, power generation and distribution, construction, and industry. The key to effective carbon management in each of these sectors is cooperation between various stakeholders, as well as a roadmap with definite targets and a timeframe.
Take the industrial sector, for instance, where the main stakeholders are the corporates or businesses, the government, small and medium enterprises (SMEs) and micro and small enterprises (MSEs). As part of their sustainability efforts, many corporates have begun setting voluntary emission reduction targets. A report by Carbon Disclosure Project (CDP) states that around 80 percent of India's big companies have emission reduction and renewable energy targets in place, and have put up an internal price on carbon as a part of their risk mitigation strategies.
While these voluntary targets are a welcome move, what would prove more efficient is proactive collaboration between the government and business associations such as CII and FICCI on stringent carbon management policies and carbon pricing activity. For example, the government could play a key role by setting targets, framing guidelines or providing incentives for companies to invest in environment-friendly technologies.
The other need of the hour is carbon management across the value chain in order to reduce greenhouse gas (GHG) emissions. If corporates collaboratively engage with their suppliers (who are usually the SMEs and MSEs), it will help mitigate the GHG emissions of around 80-85 percent of India's industry.
Corporate India and sustainability
While more Indian companies need to proactively chalk out their carbon management policies, there are those that have stood out for their CSR efforts. Take the ITC Group, for example, which has been a carbon positive company for 11 successive years. It has over 200,000 hectares of plantations that help in capturing carbon: 5.1 million tonnes of carbon dioxide were sequestered in 2016 alone.
In 2016, Mahindra and Mahindra Limited became the first Indian company to announce its internal carbon price of $10 per tonne of carbon emissions. This was in line with its business commitment to reduce its GHG emissions by 25 percent over the next three years. Other initiatives include an investment in 4.2 MW of wind power and the use of magnetic induction, LED lighting technology and waste heat recovery systems at its plants.
Infosys has one of the largest energy efficiency retrofit programmes in the world to its credit. The IT firm invested $60 million in retrofitting existing systems in 12 campuses with energy-efficient ones. Infosys also relies on renewable energy for its energy needs: it has installed 12 MW of solar photovoltaic systems across its campuses. The company's energy efficiency measures led to a reduction of around 59 percent across its scope 1 and 2 emissions.
Another IT major, Wipro, has introduced new virtualisation technologies across its servers, which resulted in annual energy savings of nine million units. Renewable energy also makes up 23 percent of its total office space energy consumption.
The Godrej Group too has been focusing on renewable energy. A mix of solar, wind and biomass technologies, biogas generation and open access power procurement activities has not only increased its renewable energy portfolio to 50 percent but also reduced the company's carbon dioxide emissions by around 38 percent. Last year, Godrej also introduced supply chain sustainability guidelines for its suppliers to manage carbon emissions across the value chain. The company is focusing on extended producers' responsibility and has collaborated with civic bodies to supplement their efforts in waste management.
Being responsible
Protecting the environment is clearly the need of the hour and effective cooperation between various stakeholders is just one aspect of it. Investing in clean or green technology and adopting eco-friendly solutions not only help in effective carbon management but also translate into sizeable financial benefits to the bottom line – such companies have delivered double the returns of their rivals. For example, using the railways for transportation instead of trucks would not only lead to tremendous savings in logistics but also reduce the company's carbon footprint.
Being a responsible company means meeting the customers' needs while sustaining natural resources in a balanced manner. And as awareness increases, businesses are finding that focusing on climate change is not only leading to tangible benefits but also proving to be a differentiator in an increasingly cluttered marketplace.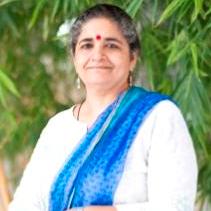 Dr. Vikas Goswami heads the Sustainability function at Godrej Industries Limited and Associated companies.
In her current role, Vikas drives the Group's 'Good & Green' vision of creating a more employable workforce, building a Greener India and innovating for good and green products. Under her leadership, the team is laying down processes to evaluate the impact of the Group's Good & Green initiatives.
Views of the author are personal and do not necessarily represent the website's views.
Thank you for reading the story until the very end. We appreciate the time you have given us. In addition, your thoughts and inputs will genuinely make a difference to us. Please do drop in a line and help us do better.

Regards,
The CSR Journal Team
Subscribe