This Organisation is leading Education Initiatives in the Tribal Belt of South Gujarat
India is a  melting pot for ethnic diversities. There is no one 'Indian culture.' However, no matter the differences in these cultures, they are all integrated into the fabric of India. One of the tools that enable this kind of integration is education.
In order to ensure the accessibility of education in remote areas, Atul Foundation has been running a series of projects for all age groups of children and youth, with special attention to the tribal community residing in the interior villages of South Gujarat. These projects educate and empower the youth, making a difference in their lives and thereby contributing to the region's overall development.
Atul Adhyapika Project
Atul Foundation realised the need to spread education in tribal and interior villages in a way that blends well with people, their culture and their lifestyle. Thus, the Atul Adhyapika project came into existence. Under this project, the organisation identifies and trains academically qualified individuals to be 'Adhyapikas' (teachers). They belong to the same village or from nearby villages, hence have a stake in the development of the village and educating the children of those villages by being a part of the same ecosystem.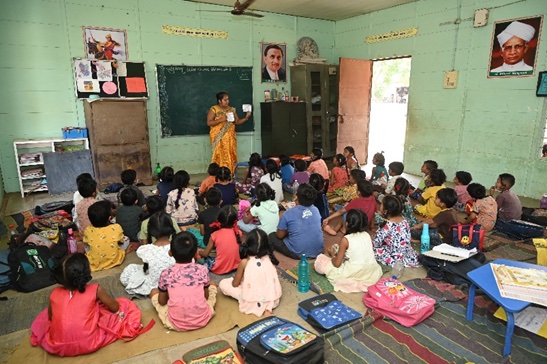 The project has been a resounding success as the quality and system of education of 72 government, and informal schools have been enhanced by introducing a more practical syllabus that ensures joyful learning.
Dipika Patel, an Atul Adhyapika teaching in Dulsad Primary School for the last five years, shares, "Children belonging to the tribal community sometimes find it difficult to grasp certain concepts due to differences in the dialect or language. We introduce concepts through flashcards and worksheets that make learning an easy and wholesome experience." Activity-based learning practised by Atul Adhyapikas has resulted in a significant increase in admissions in government schools.
High school education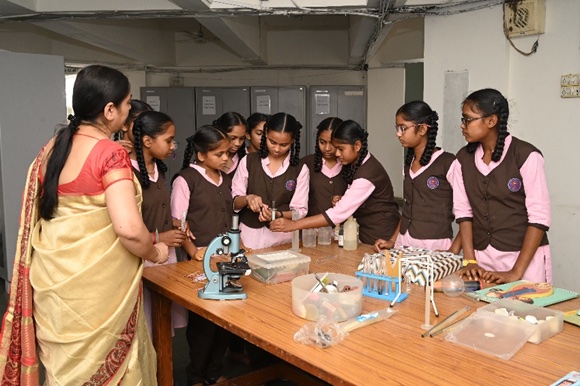 Atul Vidhyamandir is another initiative by the foundation, which is, essentially, the Eklavya model residential school that focuses on the education of children belonging to the tribal community. At this school, students are tutored for higher education and are mentored for a better future (without fees) from standard 6th to 12th. Since the students stay on the school campus, they are nurtured with a 360-degree development approach with particular attention to their physical and mental development.
Vishal Rathod from Navsari had always dreamt about studying at IITs (Indian Institute of Technology). However, coming from humble origins, his family could not afford to provide the necessary guidance and education to him and his elder sisters. His family admitted the ambitious boy to this school who prepared for his JEE(Main) exams while staying on campus. He successfully cracked the exam and credited the school faculty for his admission to IIT Gandhinagar. "My teachers are my strongest pillars of support who stood by me throughout my schooling journey and even after. They have motivated me to recognise my potential and overcome challenges to achieve my goals," says Vishal with a grateful smile.
The students are also provided with vocational training, value education and activity-based learning on campus to help them grow as better human beings and responsible individuals. Farzana Sheikh, who has been teaching at Atul Vidhyamandir school for 16 years, says, "I have seen villages and communities grow because their children were encouraged to study and uplift their families. Consequently, these communities have flourished, both economically and emotionally."
Youth empowerment
Many students from the tribal community drop out of school due to a lack of formal higher education to help them earn a living. The Foundation's Atul Institute of Vocational Excellence (AIVE) bridges the gap between deserving youth and employment through its vocational courses. Initiated under Vanbandhu Kalyan Yojana, the institute provides short-term residential courses to enhance the practical knowledge and skills of tribal youth. These courses provide hands-on experience that enables youngsters to be employed in respectful positions regardless of their incomplete education. It empowers the youth through skill education. The institute conducts courses such as welding technician, industrial sewing machine operator, computer hardware maintenance, bedside assistant, etc., with a 75% placement record. The institute has reached out to students from the entire tribal belt of Sabarmati to Vapi.
Bistu Pagi hailing from Kaprada village of Gujarat, had no experience or knowledge of computers before joining the computer hardware course. "Within two months of training, I feel confident about computer hardware, which has boosted my confidence. I was scared before joining the course as I did not know English, but our teacher taught us to pick up technical words and understand their reference and context. Now, I am confident about being recruited by a company, building a house for my family and hopefully starting my own business someday," shares Bistu. So far, 8,616 students from more than 1400 villages have graduated from AIVE. These students are also provided soft skill training and prepared for interviews and workplace culture. After completing the course, some deserving students are provided with tool kits to help them set up their businesses and facilitate them to become micro-entrepreneurs.