Home
Leaders Speak
Mr Himanshu Kapadia from Grasim, MPower talks about Importance of Addressing Mental...
Mr Himanshu Kapadia from Grasim, MPower talks about Importance of Addressing Mental Health Issues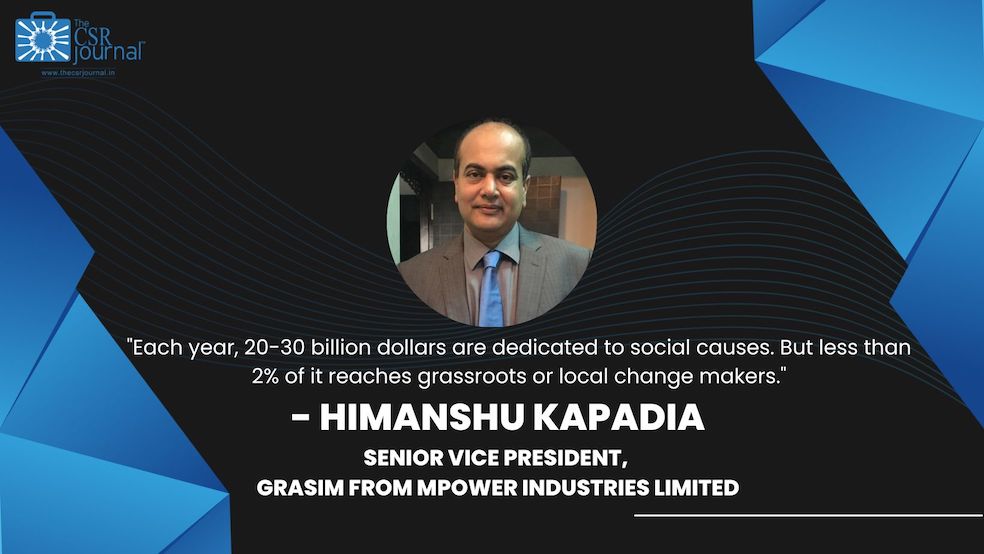 With the objective of spreading awareness about mental health and destigmatise conversations around mental health, over 300 employees of Mpower, an initiative of Aditya Birla Education Trust, a mental health social enterprise, and the Aditya Birla Group hit the tracks on January 15th, 2023 at the Tata Marathon. The 300-strong squad comprised of counsellors, psychiatrists, mental health experts and employees from Mpower and all divisions of Aditya Birla Education Trust, along with employees and top leaders from the Aditya Birla Group. They participated in the Open 10K and the 5.9 km Dream Run at the marathon, which is one of Asia's largest mass-participation sporting events.
The funds raised through the marathon are said to be used to help people who do not have easy access to mental health support and will also provide on-ground mental health interventions to the economically weaker sections of society through projects that Mpower runs under Samvedna and Oorja. Mr. Himanshu Kapadia – Senior Vice President, Grasim from Mpower  Industries Limited, highlights the significance of addressing mental health issues and the overall aim of the marathon in an exclusive interaction with The CSR Journal. Below are the excerpts of the interaction.
1. What does the marathon aim to achieve with regard to addressing mental illness?
Mpower, an initiative of Aditya Birla Education Trust, offers holistic mental health support. This year Mpower plans to focus on youth as India has seen some exponential growth in mental health concerns related to youth.  Thus to drive awareness on mental health we were keen to join Tata Mumbai Marathon, where a large number of young people participate and is a perfect platform to reach out to the youth of the country and encourage them to destigmatize mental health issues and discuss them openly just as they would talk about any physical ailment.
2. How did you get involved with Tata Mumbai Marathon?
I have been a supporter of Mpower for the Tata Mumbai Marathon since its inception. I have been running for the past ten years, and running is a form of meditation. These 2-3 hrs of my personal time are the most relaxed and stress-free time. Therefore, I urge everyone to run because doing so helps the entire fraternity and NGOs to support those with mental health issues.
3. Why is it important to speak up about mental health issues, in your opinion?
Over the years, it has been challenging to discuss the subject of mental illness freely, and many people have a stigmatised image of mental health. It's critical that we put mental health at the forefront of conversation subjects and have open discussions about how we are really feeling because these problems are getting more and more common. There are treatments available to aid in rehabilitation from mental problems, which are actually extremely frequent. However, the stigma frequently keeps people from getting help, which can worsen their ailments and further isolate them. By making it more acceptable for persons who are struggling with mental disorders to seek assistance, develop coping mechanisms, and begin the process of healing, talking about mental health benefits our communities. Furthermore, mental health includes more than just mental illnesses. It also entails maintaining a sense of well-being.
4. What are the signs one should look for when they are wondering if they need to seek professional help?
Professional help may be advised when any emotional or mental health issue interferes with daily life or functioning. One can learn how to manage and why one might feel certain things through therapy. It is a good idea to encourage people by motivating them to research their possibilities for treatment or potential therapists with them. People who face pressure to seek treatment may become more resistant to making necessary changes.
5. Numerous people do not know the difference between a psychologist and a psychiatrist. How can they be educated about these things? What role can CSR play in doing that?
We strongly believe that acknowledging that one has a mental health issue and taking steps to seek professional help as well as believing that this can be treated are the first steps toward self-education. Social investment in non-profits and community-based solutions has immense potential. Reports suggest that 274 million people in the world are in need of humanitarian aid. Each year, 20-30 billion dollars are dedicated to social causes. But less than 2% of it reaches grassroots or local change makers. The answer is a simple one. Social investors supporting non-profits and community-based solutions are the only way for aid to reach the maximum number of people in a sustainable way.
6. What does an ideal CSR campaign that focuses on mental health look like to you?
A CSR campaign in any space needs to prioritise its impact on beneficiaries. At Mpower, the power to change a life through interventions is at the heart of all the campaigns. Mental health is still taboo in India. So each of our campaigns focuses on five pillars- Awareness, Clinical care, Outreach, Academia, and Helpline. Through these verticals, we want to advocate prevention and provide services through a holistic and multi-disciplinary approach, ensuring maximum impact for the beneficiary.
7. With growing urbanisation and the increasing pace of life, there is a rise in stress and anxiety among people. How can these be tackled?
Learning to cope with the stresses of city living will help your physical and emotional welfare. The following tips could be helpful in preventing burnout, loneliness, and despair from stealing urban people's happiness.
Give yourself extra time: If you want to appreciate life in today's fast-paced environment, it is crucial to prioritise your personal health. A positive outlook enhances your ability to concentrate, work more efficiently, and handle stress.
Talk about it: One strategy for managing the stress of city life is to talk about its ups and downs. Realising that you're not alone by finding people who can relate to your situation. Therapy can be beneficial if you're struggling with a mental health issue like depression or anxiety.
Meditation: It is essential to give yourself some me time. Just stare at the sky or the ocean, or like me, just run. Free your mind from the clutter and just be in the present moment.