Disinfectant drones sanitise Worli in Mumbai
Embassy Services Pvt. Ltd. (ESPL) in collaboration with the BMC (Brihanmumbai Municipal Corporation) launched a cutting edge Drone Disinfection Drive in Worli, Mumbai on June 22. Maharashtra Cabinet Minister Aaditya Thackeray and the honorable Mayor Kishori Pednekar oversaw the drive.
This method was used for the disinfection of mosquito breeding grounds and other vector-borne diseases in areas that are usually inaccessible. These drones can fly over 500m high for a period of 12 hours while carrying over 15 litres of disinfectant; they can cover an area of over 50 acres in a single day. This innovation is a much-needed thorough solution for the post-pandemic world.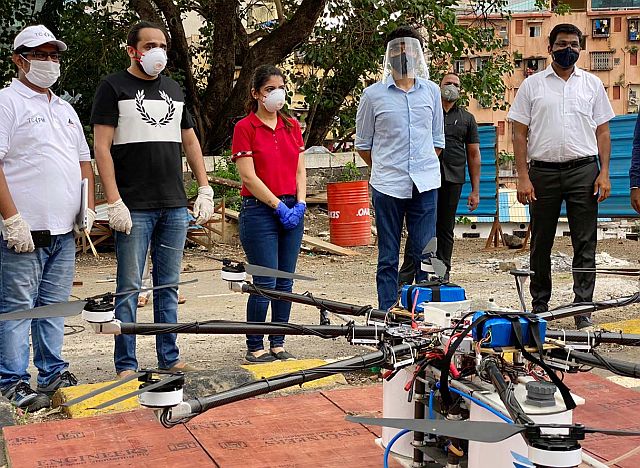 Integrated facility management organizations will be a core function in the future of space management where hygiene and sanitization are of paramount importance, and health and safety will be most crucial. Organizations like Embassy Services will entrust their expertise, ensuring a cleaner world and a safer future for all of us.
ESPL through its operational arm, TCFM (Technique Control Facility Management) were behind this process. With innovation as one of their core values, the team assembled the microbial disinfection kit to have an ability to be hoisted by an industrial drone. Aerial Microbial Disinfection is the terminology of the method used where chemical tanks are hoisted to spray from an aerial view thus covering more space and saving lots of time.
The drone can carry antilarval chemicals to sites usually inaccessible. The tech can also be used to combat the coronavirus in high-density areas with less accessibility. Over 50 acres can be covered in a day using a single drone. The chemicals used such as Virex II 256,  Vecon (Sodium Hypochlorite) Viroff, Pursue, and Lysol solution have proven highly effective against 65 strains of virus from over 19 viral families, 400 strains of bacteria, and over 100 strains of fungi.
"Using technology to elevate the world through integrated facility management has always been one of the key drivers of our organization's success. We take pride in leading this initiative in collaboration with BMC and look forward to working on similar initiatives," said Pradeep Lala, MD & CEO., Embassy Services Private Limited. Such solutions have multiple facets of use and this contributes to the array of efficient solutions needed for the post-pandemic world.
Disclaimer: This media release is auto-generated. The CSR Journal is not responsible for the content.