CSR of Unipads distributes reusable sanitary napkin kits among 200 underprivileged girls in Ahmedabad
As a part of the TGB Charity Campaign for

Menstrual Hygiene

education among underprivileged school girls, reusable cloth sanitary pad kits were distributed among 200 underprivileged girls in Ahmedabad on Tuesday.
The distribution of sanitary pad kits among the 200 girls at Municipal School No. 16 in Bapunagar, Ahmedabad was among the multiple events planned by TGB Charity, along with Unipads India Pvt Ltd and Saath Charitable Trust, Ahmedabad, as a part of their campaign to educate underprivileged school girls on menstrual hygiene management. The kits will help the girls manage their menstrual hygiene for a year.
In view of the Covid-19 pandemic, due care to ensure the use of face masks, social distancing, and hand sanitization was taken at the venue.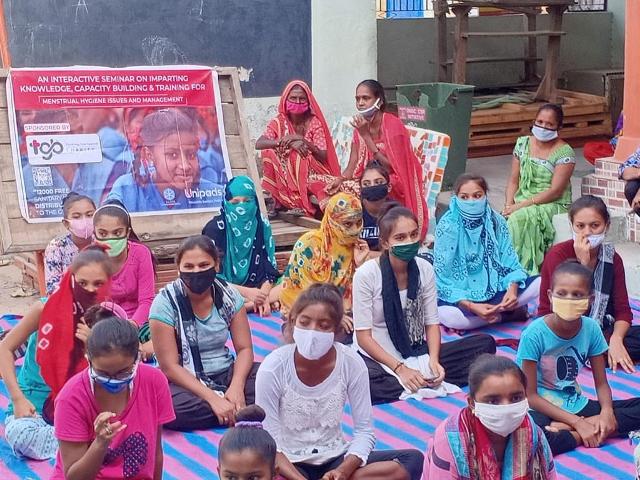 The event comprised an hour's interactive session to make the school girls aware of the right menstrual hygiene practices and busting the myths and taboos around periods. Leaflets in local languages, with information about menstrual hygiene management, were also given to them along with the sanitary pad kits, which contain reusable cloth sanitary pads manufactured by Unipads India.
"Menstrual hygiene is an important aspect of girls' health and wellbeing. Unfortunately, due to lack of right education, awareness or financial issues, the school girls, especially those belonging to financially weaker sections are unable to give proper attention to this. Our campaign is aimed at creating awareness among adolescent school girls about the importance of menstrual hygiene, as well as the distribution of cloth sanitary pads among them. We aim to reach out to 12,000 underprivileged girls in semi-urban, rural and tribal areas of the State in the next four months," said Geeta Solanki, Founder, Unipads India Pvt. Ltd.
Multiple events, each targeting 50-200 adolescent girls, will be organized at different places in the state as a part of the campaign. "We have already covered 1,000 girls in the last three weeks, and will reach out to 5,000 more in the second phase, and 6,000 more in the third phase in the next four months," she said.
In addition to slum pockets in various parts of Ahmedabad city, the campaign will cover villages in the vicinity of Ahmedabad, villages near Rajkot, and villages in Sabarkantha, Dahod, Banaskantha, and other places.
Disclaimer: This media release is auto-generated. The CSR Journal is not responsible for the content